Avon AV92 Cobra Chrome Rear Tire
Item # : 659357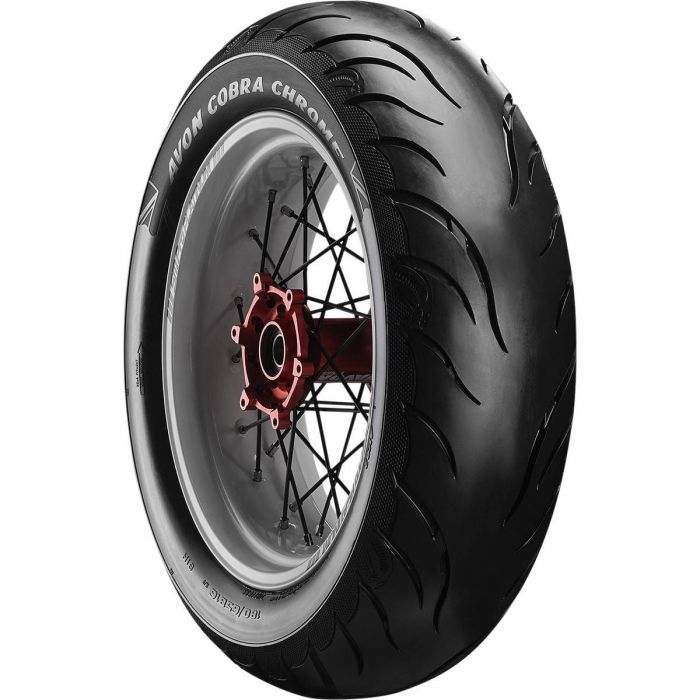 Avon AV92 Cobra Chrome Rear Tire
Item # 659357
Description
Avon AV92 Cobra Chrome Rear Tire
The Avon Cobra Chrome offers premium performance and a stylish Cobra themed design.
With an advanced construction design, the Cobra Chrome delivers improved stability and durability in all conditions for precise feel and tyre feedback. Avon's latest pattern produces over a 5 percent larger footprint to maximise grip and uses the latest compound technology to improve tread life by 10 percent compared with its predecessor. The use of enhanced compounds means that the Cobra Chrome offers excellent wet braking and handling properties.
Features:
Incorporates sportbike tire technology for nimble handling
Snakeskin sidewall effect complements the Cobra logo and tread design; a truly unique custom look
Fits everything from Boulevards to Goldwings to Customs
Enhanced compounds and new construction deliver improved stopping distances in wet braking tests
High stability in all conditions delivering precise feel and tyre feedback
Available in extreme custom sizes with rear tyres up to 23 inch and widths of up to 330 mm
Highly durable compound with % larger contact patch delivering 10% extra mileage
Latest technology pattern design
Tube/Tubeless design: can be used with or without a tube
H-rated for speeds up to 130 mph, V-rated for speeds up to 149 mph or (W)-rated for speeds of 168+ mph
Comparison Chart



Model
Shinko 777
Michelin Commander II
Avon Cobra Chrome
Metzeler ME 888 Marathon Ultra
Dunlop American Elite H-D
Affordability
Most Affordable
Affordable
Affordable
Less Affordable
Less Affordable
Construction
Bias
Bias, Radial
Bias, Radial
Bias, Radial
Bias
Size Count
30
33

68

70

30

Rim Sizes
15-26
15-21
15-23
15-26
16-21
Type
TL
TT / TL
TT / TL
TL
TL
Notable Features
Aramid belted for extra stability and load capacity, improved traction

High density, stiffer frame, can last for up to 25,000 miles

Great wet braking and handling, larger footprin

t, improved life

Made for distance, stiffer tread design, abrasion resistance

Multi -Tread rear-tire technology for great handling and high mileage

Whitewall


Speed Rating
H, V
H, V, W, S
H, V, W
H, V, W, S
H, V
Warranty
2 years from DOT or 1 from purchase
6 years
7 years
Lifetime
6 years
Reviews
Rated

5

out of

5
by
John
from
Great Tires
Purchased these for my Moto Guzzi Audace. Price was $100 less then local purchase. Delivery was fast. Much better grip then the OE Dunlops. Also, excellent performance in rain and wet roads. The Dunlops were a little slippery in the rain. I will be using this tire from now on. Awsome tires!
Date published: 2019-04-19
Rated

5

out of

5
by
KenH
from
Avon Cobra Chrome for 2015 Road King
I recently purchased a set of Avon Cobra Chrome tires for my 2015 Road King. Previously, I was running Pirelli Night Dragons but couldn't find a complete set for the price of the Avons on FortNine. So far (approx. 1,400 kms) they are performing as well as the Night Dragons. Other than the fact that the NDs felt slightly softer, I wouldn't be able to tell them apart.. Both have a rounder profile than the stock Dunlops and feel much more nimble. I originally bought the NDs because they were reportedly a stickier tire. The more nimble handing was just a pleasant surprise. The Avons are definitely on par with the NDs in all respects so far. Now it is only left to see which ones last longer. Although, l ride too fast to worry about tire longevity. For me traction and handling are everything. I have not provided a "Wet Traction" rating below because I have not yet ridden them in the rain. For what it's worth, the NDs had great wet traction. I'll be disappointed if the Avons don't do likewise.
Date published: 2019-06-12
Rated

5

out of

5
by
Rev1
from
Good in snow!
That's right, last ride of the season over the North Cascades on day 1, came out of a corner and hit packed snow/ice on a down hill and managed to stay upright and stop. My partner behind me was not as fortunate but he and the bike survived with mild bruising and scrapes. We rode 2 more days in cool, sunny weather and the tires were noticeably better than my previous OEM, especially with wandering on parallel road repairs like tar snakes and road grinding, bridge grates, etc. Price/shipping was excellent. Was going to rate 4 because I haven't ridden in rain but the snow changed my mind, I'm sure they will do well in the wet as others have confirmed.
Date published: 2019-11-23
Rated

5

out of

5
by
Ron M
from
Great trike tire
Ride a Honda wing trike. Tire handles very well and tread wears evenly. Uses full tread not just middle. Recommend over all other tires for trikes.
Date published: 2019-11-21
Rated

5

out of

5
by
Jeff
from
Avon makes great tires
I put the 250 on my M109 in August, and put an Avon on the front too and what a difference from the old Dunlops. I barely got them worked in before I got stuck having to riding for 2 hours in the rain on a cold miserable day - no traction issues at all. Avon makes great tires. I had Avons on my old Mean Streak and they were great too.
Date published: 2019-11-19
Rated

5

out of

5
by
scooter
from
Goldwing08 Tire
I have not installed this tire yet. Already have this style of tire on my trike so I know it will fine.
Date published: 2019-09-10
Rated

5

out of

5
by
WTSamHell Jr III Esq
from
Smartn'd my Bad Girl right up!
Fresh rub for my Victory with a 250. Feels GREAT, nice traction. Cornering.. wait whaaa?? Rain? Pish! Shawwww! Thank you very much. Will buy more.
Date published: 2019-08-30
Rated

5

out of

5
by
FlingCircus
from
Great grip
Suzuki M109R and have been running Metzler 260s last few seasons. The Avon doesn't let loose as much as the Metzlers did
Date published: 2019-08-28
Questions
Can I run a Cobra on the front of my H-D Streetglide and the Cobra Crome on the back?
Whilst we don't usually recommend mixing tire styles on the front and rear, you should be fine running a Cobra with a Cobra Chrome
Date published: 2019-10-15