Bridgestone Battlecross X30 Rear Tire
Item # : 237768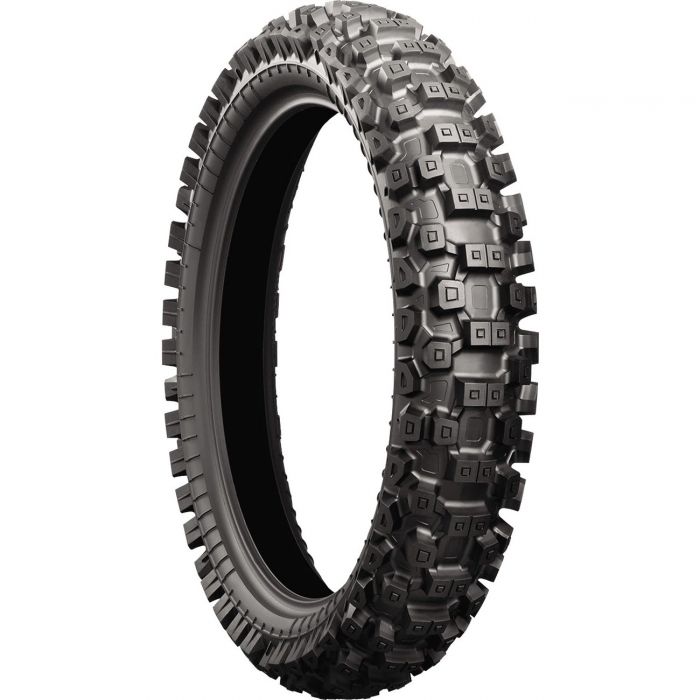 Bridgestone Battlecross X30 Rear Tire
Item # 237768
Description
Bridgestone X30 Intermediate Rear Tire
Bridgestone's first brand new tire in a couple of years, the X30 Intermediate hits the MX track with a tread pattern that is both very innovative and very distinctive. From the large chiseled knobs within knobs design to cooling fins on the rear tire, Bridgestone hasn't held back in the quest for traction and racing performance.
Convex "Castle Block" for enhanced traction in acceleration and braking
Feature cooling fin for better heat dispersion
Asymmetric rear tread pattern also enhances traction during acceleration, deceleration and cornering
Improved grip in all conditions
Available in most big bike sizes
Reviews
Rated

2

out of

5
by
Sam188
from
X30 Rear
If you ride in the single track in the mountains this is not the tire for you. It doesn't handle logs, roots or rock well at all. Its mediocre in loose terrain as well. The carcass is too stiff for offroad. The X40 however handles all of that really well. Its a much better tire, sticks like glue to everything and lasts forever.
Date published: 2019-07-11
Rated

5

out of

5
by
Kyfepint
from
Good tread
Good grip my buddy's don't like riding behind me any more cuase of the roost
Date published: 2019-06-11
Rated

5

out of

5
by
Freddy
from
Hooks up nicely!
Wen't for a mountain ride, climbed rocky hills and hopped logs with ease. Showed minimal wear after 50km of hard riding. Hopefully last as long as the old 403/404's!
Date published: 2017-12-13
Rated

5

out of

5
by
Tony211
from
Great tire, didn't chunk at all and rode it hard.
The 403/404 was a good combo but these Battlecross tires are even better. This tire lasted a long time. Good tread design and bites well. Didn't chunk any knobs at all and I ride lots of various terrains from tracks to rocks.
Date published: 2015-05-20
Rated

5

out of

5
by
Brian
from
Fantastic All Round Tire
I have had the opportunity to use the new Bridgestone Battlecross X30 tires in various conditions from loose rock to soft loamy conditions also sand and mud. They have great cornering abilities and feel very predictable in design. The traction is super with the castle block design. Fantastic all round tires. Would buy again.
Date published: 2019-06-12
Rated

4

out of

5
by
Kelly
from
So far so good
The x30 front tire is pretty epic. Rear seems to be pretty consistent so far. Hope it tracks as well as the front after some serious hrs.
Date published: 2019-04-20
Rated

5

out of

5
by
Benjomain
from
Round and knobby
Really like this tire, wears nicely and doesn't fall apart when you are riding rougher terrain. If you look into how this tire is designed it's pretty impressive
Date published: 2018-07-20
Rated

5

out of

5
by
Cody judge
from
Excellent service
Very impressed with shipping times was suppose to arrive in 10 days got it in 5 days and it's an excellent tire I have it on a kx 450 it passed 100% excellent buy for anyone looking for a good tire and good service
Date published: 2018-06-13
Questions
Is this tire tubeless?
No. 
Date published: 2018-08-24