Bridgestone Exedra G702 White Wall Rear Tire
Item # : 64146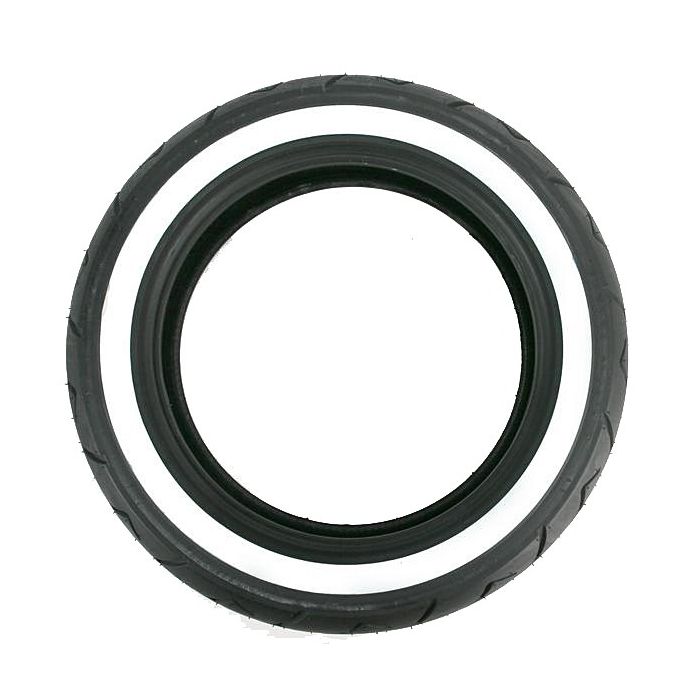 Bridgestone Exedra G702 White Wall Rear Tire
Item # 64146
Description
Bridgestone Exedra G702 White Wall Rear Tire
Tires are specifically designed for each model
Compounds and construction will vary to suit the weight, horsepower and handling characteristics of the model for which each tire was designed
Sizing Information:
180/70-15-J = SUZUKI BOULEVARD C90 (1500) TOURING 05-09 76H TL
150/80B-16 TT = Yamaha XV1500AT Road Star Silverado 98-03 71H TT
150/80B-16 TL = YAMAHA XV1700 ROAD STAR SILVERADO 04-12 71H TL
Reviews
Rated

5

out of

5
by
Drifter
from
Completely changed my bikes handling!
New tires are always great but these tires really seemed to improve the handling of m bike.
Date published: 2016-05-09
Rated

4

out of

5
by
pookie
from
great tire nice fit
Like bridgestone for durability last reasonable long cornering good for my kind of bike
Date published: 2015-10-27
Rated

5

out of

5
by
Darc
from
Great product will be ordering a new front this winter bike has 75,000 km and runs like a champ
Date published: 2019-08-28
Rated

5

out of

5
by
Vernster
from
Excellent tires!
I bought these about a month ago and love them! I got the Bridgestone Excedra for the back and the front. Great tread and comfortable ride! The increased size on the back tire also fixed my speedometer issue!
Date published: 2019-06-26
Rated

5

out of

5
by
Kevin
from
Positive so far
Bought the Exedra G702 for my '06 Venture. Fortnine service on the order was excellent as always. Initial impressions are positive. Tire is quiet, smooth running, and is solid on the road. I've ran a few Avon Venoms prior to this tire. They were nice tires with decent, but not exceptional, mileage. Hoping this Bridgestone will outperform the Avons.
Date published: 2019-06-12
Rated

5

out of

5
by
Steeve
from
Seconde fois
Seconde fois que j'achète ces pneus, tout est parfait merci.
Date published: 2019-04-24
Rated

5

out of

5
by
Bob 55
from
Great grip on the road and excellent tread wear
I had this tire on my bike since new. And always replaced with the same tire. It has excellent tread wear, excellent grip to the road, good on wet roads. And gives a nice ride
Date published: 2018-05-23
Rated

5

out of

5
by
Black Bart
from
Fortnine
excellent service , tire came when they said it would reasonably priced too thx
Date published: 2017-10-27
Questions
Are these tires radial 180/70 15
No, the Bridgestone Exedra G-702 Cruiser Rear Tire is a Bias-Ply tire.
Date published: 2019-09-09
Does it include a tube if not how do I pick the right tube?
None of the tires come with a tube. This tire is tubeless, so does not require a tube. However, if you still wanted to run it with a tube, you would just need to select a tire tube that is the same size as your tire size. You can shop for tubes here: https://fortnine.ca/en/motorcycle-tires?cat=1647
Date published: 2019-07-26
Is this model tubeless?
The sizes with "TT" at the end of the size are tube tires. If "TT" is not in the size, then the tire is tubeless
Date published: 2018-12-19