Dowco Guardian Weatherall Plus Cover
Item # : 37030
$107.99 - $286.99
$106.99 - $175.99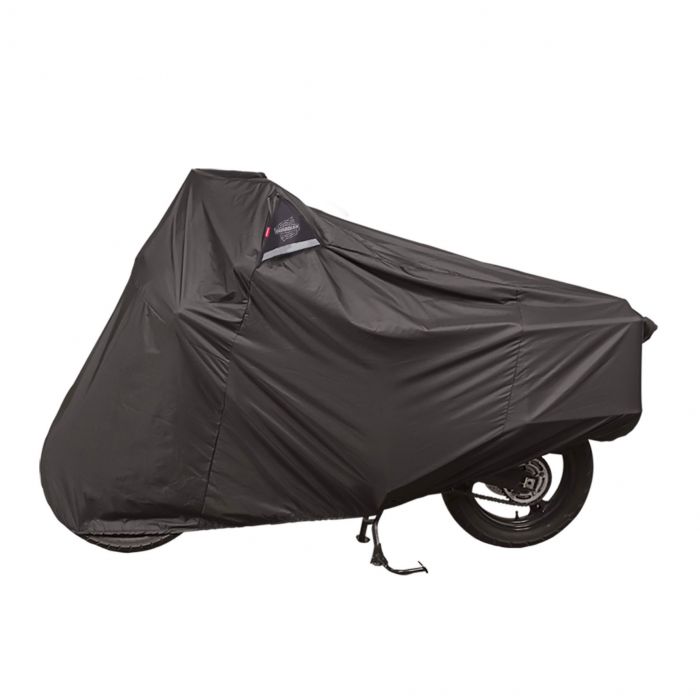 Dowco Guardian Weatherall Plus Cover
Item # 37030
Description
Dowco Guardian Weatherall Plus Cover
Features:
Dowco's most popular cover
Heavy-duty polyester with special Color-Lok® fabric treatment to prevent fading
Exclusive ClimaShield® Plus fabric protection repels water
Waterproof with heat-sealed, taped seams
Moisture Guard™Vent System lets moisture escape
Aluminized heat shields allow immediate use after riding
Interior liner protects windshield
Sewn elastic shock cord and under-bike web strap
Sewn-in grommets allow use of a cable lock (lock not included)
Convenient storage bag
New sewn-in pockets allow use of Guardian® Alarm for added security (Alarm sold separately)
Available in sizes to fit most motorcycle models
Limited Lifetime Warranty
Note:
Alarm not available for Trike or Cruiser Size covers
Sizes listed in Size Chart are for stock motorcycles without additions such as panniers, windshields, high handlebars or sissy bars. Addition of those options will typically require sizing up one to two sizes.
Manufacturer Part Numbers:
50002-02 - Black/Grey - Size M - Small Cruisers without windshield/Standard/Retro
50003-02 - Black/Grey - Size L - Small Cruisers with Windshield/Sport Touring
50004-02 - Black/Grey - Size Xl - Large Cruisers/Touring
50005-02 - Black/Grey - Size 2XL - Touring
50006-02 - Black/Grey - Size 3XL - Large Touring
50124-00 - Black/Grey - Size SP - Sport Bikes
50007-01 - Urban Camo - Size SP - Sport Bikes
50084-00 - Black - Size T - Trikes up to 107" L x 62" W
51060-00 - Black - Size T-2XL - Trikes up to 119"L x 61.5"W
51223-00 - Black - Size CR - Small/Medium Cruisers with Windshield, Sissy Bar and Saddlebags. Angled front.
51614-00 - Black/Grey - Size AT - Adventure Touring /Sport Touring
04583 - Black - Size Can-Am Spyder - All Spyders
04583 - Black - Size Grom/Z125- Honda Grom and Kawaski Z125
50031-00 - Black - Size Scooter M - Medium Scooters from 50cc to 250cc with mirrors only
05142 - Black - Size Scooter L - Scooters from 50cc to 250cc w/full windshield and trunk
50039-00 - Black - Size Scooter XL - Large Scooters Up to 650cc
Reviews
Rated

3

out of

5
by
Jack
from
Just ok
I generally like this cover, but it is NOT waterproof. I store my bike outside all summer, and water definitely will permeate through the cover and allow the seat to get wet. Also the seam sealing on the inside was either applied poorly or has peeled in spots. So neither the cover fabric itself, nor the seams will keep out the water 100%, as advertised. Fit was good for my Shadow.
Date published: 2017-09-12
Rated

4

out of

5
by
TimH
from
Life span of 8 years
After 8 years I'm buying another on. The mold eat the last one. It did a good job while it lasted.
Date published: 2016-02-19
Rated

1

out of

5
by
mick
from
Poor design, not waterproof. Avoid.
Bought recommended model for large adventure bike (KTM 1090r). Fit is good for this bike. Very poor value for reasons outlined below: 1. The cover lacks orientation indicators (eg, color coding for front/back/left/right) to make it fast to put on out of the stuff sack. Always takes a minute or two of fiddling and checking which becomes a huge pain in the dark or bad weather. 2. ***Show-stopper***: NOT waterproof, AT ALL. the fabric is so-so, but none of the seams are sealed (there is tape on the seams, but very poorly applied). After any rain the interior of the cover gets soaked, especially the rear heat-shield area. Adding design insult to injury is poor venting...so you end up with a massive wet rag on the bike that will not dry out. The cargo rack is already rusting. Will try to return. Recommend avoiding this manufacturer. It shouldn't be hard to make a waterproof cover for this price.
Date published: 2018-11-06
Rated

5

out of

5
by
Maddog
from
Motorcycle Cover
I recently purchased this item for my wife's Boulevard C50. Delivery time was very quick (days) and we used the cover during a recent vacation. The fit was perfect and it repels the rain very well, keeping the bike dry. A cover bag is also provided. Well constucted and comes with vents.
Date published: 2016-08-19
Rated

5

out of

5
by
Carson
from
The weather cover was the perfect fit
I bought the Dowco Guardian plus cover in a XL size for my 2016 fatboy S. Fits perfectly with or without the windshield, completely covers the tires to the ground. I also chose the Kurakyn V horn cover the stylize the bike and remove the stock Cow bell one that I have always thought boring
Date published: 2016-05-08
Rated

5

out of

5
by
VESPA GIRL
from
GREAT FOR VESPA SCOOTER 150CC
EXCELLENT COVERAGE FOR VESPA 150 CC PIAGIO FLY. I GOT SIZE MED AND IT IS PERFECT, AND THE WATERPROOFING IS EXACTLY WHAT I NEEDED AS I LEAVE IT OUTSIDE YEAR ROUND. IT WAS BETTER RATED FOR WATERPROOF THEN THE STANDARD SCOOTER COVER. IT IS NOT TOO BIG, EASY TO PUT ON WITH ELASTIC AT BOTTOM AND CONVENIENT TO USE. GOOD BUY!
Date published: 2014-05-31
Rated

1

out of

5
by
Anonymous
from
Waterproofing
I purchased the cover in 2009 to protect my motorcycle from sun and rain from April to the end of October while parked at my home. After a rainfall, the cloth seat covers always seemed to be damp or wet. Initially I thought rain was coming through the vents. In 2012, I saw that the whole bike had signs of water permeating the whole cover. If the cover ever offered waterproof protection it definitely stopped doing so in 2012.
Date published: 2013-06-26
Rated

4

out of

5
by
Anonymous
from
guardian cover
It is perfect for my Vstrom 650
Date published: 2013-10-11
Questions
I own a VTX 1800C cruiser with saddlebags and large windshield what size should I be ordering as the size chart is a little confusing
We would recommend an XL.
Date published: 2018-09-20
Should I choose scooter larger for my dyna lowrider?
No, you would need to select a size Medium in the black/ grey color. Different sizes are available depending on the color you select first
Date published: 2019-09-23
The Dowco website recommends a size medium for my V-Star 650 but that's without the windscreen. How many sizes up should I go if I want to leave the windscreen attached?
Size L should be the way to go with the windscreen still attached.
Date published: 2018-11-02
The Dowco website says to use the SP size for all ninjas but i have a ninja650 which is a sport touring and it also says to use size L for sport touring so just wondering if i can get away with a M/L instead of paying extra for the "SP" size
We would recommend going with what Dowco recommends for your specific bike, which would be the SP model. If it is included in the fitment chart, it usually means they have tested the cover on those specific models.
Date published: 2019-10-04
Can you tell me which size would best fit my Xdiavel S? Thank you for your time.
I ordered a large cruser ( gold wing). It fits my R1200 GS with bags. 
Date published: 2016-08-31
should i use sp or m for 2015 honda cb300f and cb500f?
Sp
Date published: 2019-09-12