Dunlop American Elite Harley-Davidson Rear Tire
Item # : 64490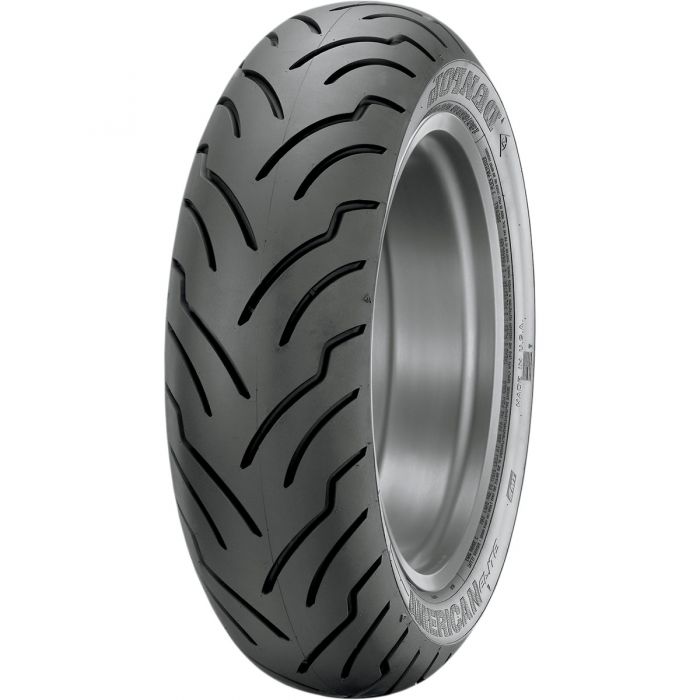 Dunlop American Elite Harley-Davidson Rear Tire
Item # 64490
Description
Dunlop American Elite Harley-Davidson Replacement Rear Tire
The only replacement motorcycle tire for Harley-Davidson bikes that is designed in America, made in America and tested in America
Multi-Tread (MT) rear tire built with long-wearing compound in center of tread and lateral-grip compound in each shoulder to maximize cornering performance
All-new tread design provides even tread wear and quiet operation in all conditions, both wet and dry
H-rated for speeds up to 130 mph (210 km/h)
Made in the U.S.A.
Available whitewall options:
(NW) = Narrow whitewall stripe
(WW) = Wide whitewall stripe
Comparison Chart
Model
Shinko 777
Michelin Commander III
Avon Cobra Chrome
Metzeler ME 888 Marathon Ultra
Dunlop American Elite H-D
Affordability
Most Affordable
Affordable
Affordable
Less Affordable
Less Affordable
Construction
Bias
Bias, Radial
Bias, Radial
Bias, Radial
Bias
Size Count
30
27

68

70

30

Rim Sizes
15-26
15-21
15-23
15-26
16-21
Type
TL
TL
TT / TL
TL
TL
Notable Features
Aramid belted for extra stability and load capacity, improved traction
Excellent traction in wet conditions
Touring Version available
Great wet braking and handling, larger footprin t, improved life
Made for distance, stiffer tread design, abrasion resistance
Multi -Tread rear-tire technology for great handling and high mileage
Whitewall
Speed Rating
H, V
H, V
H, V, W
H, V, W, S
H, V
Warranty
2 years from DOT or 1 from purchase
6 years
7 years
Lifetime
6 years
Reviews
Rated

5

out of

5
by
cycodave
from
Pick of the litter!
I've been riding a long time putting on 15 to 25k a year. I build custom big-inch v-twin bikes then drive the bejesus out them. The Dunlop American Elite is the gold standard. The tire delivers in heat, cold, rain, speed, braking and cornering...my life depends on it.
Date published: 2016-12-14
Rated

5

out of

5
by
Ken Wesner
from
Bravo....Canada's Motorcycle
I have been riding on these tires for almost 10 years. I don't believe that there is a better long distance two up touring tire on the market based on tires my fellow riding companions have purchased. This review is more geared to express my appreciation to Canada's Motorcycle for excellent pricing and swift response.l will definitely be doing more business with you guys.
Date published: 2015-12-05
Rated

5

out of

5
by
jude
from
Goodbye Dealership pricing!
I ordered both front and rear HD tires, my first ever purchase from Canada's Motorcycle. Superior service and super fast FREE delivery! I'll never buy rubber from a HD dealership again.
Date published: 2016-05-12
Rated

5

out of

5
by
Harley Guy
from
Great tire much better than the stock Dunlop .. Great price and fast delivery... only place I buy tires :)
Date published: 2017-02-10
Rated

5

out of

5
by
Jhier
from
Excellent pneus collent bien et durent longtemps
J'ai fait 22000km avec la première paire que j'ai acheté . Pourrait faire 25000 en conduite longue distance seulement.
Date published: 2016-03-23
Rated

4

out of

5
by
Bruce
from
Dunlop American Elite Harley-Davidson Front Tire
This is the third Dunlop I've purchased, I tried the Michelon Commander II, twice, I also tried the Metzler M888, the Dunlop gives me the best mileage, and I've found no real performance difference in any of them.
Date published: 2018-06-09
Rated

4

out of

5
by
Bruce
from
Best wear.
This is the 3rd Dunlop I've had on my bike, including the original, I've had Michelons, and Metzlers, as well, all handle about the same, dry or wet, but the Dunlop lasts 3-4 thousand km longer, I guess it's the tire I will use from now on.
Date published: 2017-08-21
Rated

5

out of

5
by
Marc
from
Super bon pneu très bon dans les courbe et confortable
Date published: 2016-06-25
Questions
What a the H rating on this rear tire example 72H 
H refers to the speed rating of the tire. Your owner's manual will recommend a speed rating for your front and rear tires. You should not select a tire with a lower speed rating than what is recommended for youe vehicle. H= 130MPH, 72 is load rating, which is 783lbs You can find more information on speed and load ratings here: https://fortnine.ca/en/motorcycle-tire-speed-rating/ https://fortnine.ca/en/motorcycle-tire-load-capacity/
Date published: 2019-09-05
looking to find a replacement to the OEM Dunlop D407 180/55B18 M/C 80H off a 2009 Roadglide CVO but unable to finf this size on your website
Hi, can you please tell me what the overall diameter and width of this Dunlop American Elite Harley Davidson MT90/B16 would be?  Can it be used on a Harley 16 x 3 rim? Thank you.
Date published: 2016-01-17
Can these Dunlop American Elite Harley Davidson front tires be used on a 97 Honda Goldwing 1500 SE ? It takes a 130/70B-18 tire. 63H rating
Yes, although this tire is listed as a Harley-Davidson tire, it would still work on your Goldwing. As long as the tire specs are the same as listed in your owner's manual, the tire will work. This tire in the size 130/70B18 also has a 63H rating
Date published: 2019-08-05
Can these tires be used with tubes?
Yes
Date published: 2017-06-12
Hi, can this American Elite in size MT90B16 be used on a rim size of 3 1/2 inch in width?  Thanks
Yes, this tire size can be put on a 3 1/2 inch wide rim.
Date published: 2016-02-17
Which Elite's are these? Elite 4's???? 3's what? People need to know what model of Elite's they are buying.... thanks
These are the Dunlop American Elite Harley-Davidson tires, which are a different product from the Elite 3s and 4s.
Date published: 2018-05-29
Hi. Does this tire need an inner tube? It's been suggested to us by a mechanic that it does. Thanks. 
I want to replace the Avon Gangster M90-16 on my `99 indian chief. The wide whitewall compliments the bike so well....but they are discontinued. Is this tire my best option in appearance?
These are great tires I get my highes mile with these tires great handling on dry or wet .Been using these since 2009
Date published: 2018-08-06