Metzeler ME 888 Marathon Ultra Rear Tire
Item # : 136945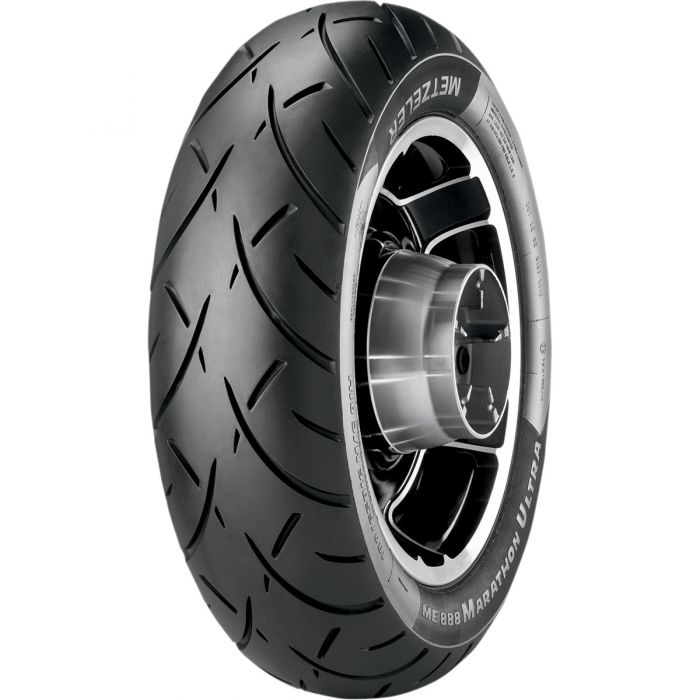 Metzeler ME 888 Marathon Ultra Rear Tire
Item # 136945
Description
Metzeler ME 888 Marathon Ultra Rear Tire
The new Metzeler ME 888 or Triple 8 tires represent a new Ultra High Mileage offering from Metzeler that couples long life with Metzeler's performance and handling. Expect the ME 888 Tire to be rolled out in a myriad of sizes for families of bikes over its lifespan.
Features:
Bias-belted cross-ply carcass construction for ultra high mileage coupled with Metzeler performance and handling
Tire compounds offer better abrasion resistance and an improved grip on wet surfaces
Tread design with variable inclination in the grooves walls improves wear regularity and provides increased mileage and performance consistency
Tread gives increased mileage and better water drainage over the Metzeler ME880 cruiser tires
Profile features a wider and shorter footprint area for reduced wear and increased mileage and stability
Contact patch is 5% shorter and 15% wider than the Metzeler ME880 tires for better transfers of engine torque to the ground
Profile and geometry prevents overheating and keeps structure and compounds properties unaltered for performance consistency
Developed in Germany for the roads of America
Specifically designed for custom touring motorcycles
Technology offering consistent performance throughout the tire's life
Outstanding high and low speed stability and smooth handling
This motorcycle tire is tubeless
These cruiser motorcycle tires are H rated for speeds up to 130 mph
Tire size 160/70B-17 is V rated for speeds up to 149 mph.
Note: Alpha sizes provide higher load capacity and increased mileage over their corresponding metric sizes (MH90 is 80/90, MT90 is 130/90, MU85 is 140/90)
Note: Tire size 180/60R-16 is a radial cruiser tire
Tire sizes 130/90B-16, 140/90B-16, 150/80B-16, 180/65B-16, 160/70B-17 are reinforced.
Comparison Chart
Model
Shinko 777
Michelin Commander III
Avon Cobra Chrome
Metzeler ME 888 Marathon Ultra
Dunlop American Elite H-D
Affordability
Most Affordable
Affordable
Affordable
Less Affordable
Less Affordable
Construction
Bias
Bias, Radial
Bias, Radial
Bias, Radial
Bias
Size Count
30
27

68

70

30

Rim Sizes
15-26
15-21
15-23
15-26
16-21
Type
TL
TL
TT / TL
TL
TL
Notable Features
Aramid belted for extra stability and load capacity, improved traction
Excellent traction in wet conditions
Touring Version available
Great wet braking and handling, larger footprin t, improved life
Made for distance, stiffer tread design, abrasion resistance
Multi -Tread rear-tire technology for great handling and high mileage
Whitewall
Speed Rating
H, V
H, V
H, V, W
H, V, W, S
H, V
Warranty
2 years from DOT or 1 from purchase
6 years
7 years
Lifetime
6 years
Reviews
Rated

5

out of

5
by
WingNut69
from
Great wear, no surprises
I put 10,000 kms on these tires in 13 days, from New Brunswick to Devil's Tower, Wyoming and back, on a loaded down Goldwing. I saw just about every kind of road and every kind of heat. I thought I wouldn't get through 30 miles of dirt mud highway construction insanity in the Bakken shale country of North Dakota and it was 40 degrees C in the South Dakota Badlands. Now, the tires are 2 months old and they have about 12,000 kms on them. They hardly look broken in. Maybe that's because I run with Centramatic wheel balancers, but whatever the case, these ME 888s look like they're a 30K+ touring tire.
Date published: 2015-10-17
Rated

5

out of

5
by
Skull64
from
great tires
Put these on my 06 Electra Glide last year to replace the oem Dunlops I'd been running. What a difference! Compared to the stability of these tires, the Dunlops always made me feel like I was riding in a rut. Road an hour to and from work every day as well as a couple of long mountain trips in the fall and these 888s are showing hardly any wear. I'm sure they'll far outlast the Dunnies. Highly recommend.
Date published: 2015-04-09
Rated

5

out of

5
by
Stinger
from
Excellent tires
Just completed a 15,000 km trip across the US and Canada on these tires. They did excellent on a fully loaded touring bike two up. Handled above my expectations in all weather conditions. The tires still have lots of life left on them and did not developed a flat spot. I ran both the front and rear at max pressure shown on the tire for max weight. These will be the only tire I use in the fiture for touring
Date published: 2015-08-01
Rated

5

out of

5
by
Wardo
from
Outstanding!!
Purchased before a 6500km trip to the Rockies and hit wind, rain and 8 degree weather. Thruout all conditions the tire performance was amazing giving total confidence with two riders a 850 pound bike and full load. 8000 km's later and tire still looks like new with minimal wear. Would definately purchase this product again!!
Date published: 2015-08-09
Rated

5

out of

5
by
Flawless
from
great tire
replaced stock dunlops on 08 ultra with set of these tires..just completed 5300km trip and they were outstanding...rain,heat,lots of mountain twistys,high speed,braking...good looking tire also
Date published: 2015-07-13
Rated

5

out of

5
by
Scuba Steve
from
Smooth Ride. Great in Rain
I bought these tires at the beginning of the season for my 2006 Goldwing. I already have 4000kms on them , and there is no sign of wear. Handle well in heavy downpours as well as gravel.Great for leaning into the curves as well.
Date published: 2015-06-04
Rated

5

out of

5
by
Harley1962
from
Great tire
I've used Metzeler tires on my Harley's for quite some time. I have the 888s on both my road king and ultra. I had previously used the 880s. I find using the 888s I get almost double the Mileage that I use to get from the 880s
Date published: 2016-05-07
Rated

5

out of

5
by
EasyBagger
from
Love these tires!!! I have tried dunlop, avon, michelin and metzler 880's and these tires handle better than them all. I ride a 07 harley bagger and been through rain and hail and stuck good going fast in the corners. will see how long they last.
Date published: 2016-03-26
Questions
Where can I find tech specs on this tire? Overall Diameter, Overall Width, Full Tread Depth. For the MT90B16 & the MU85B16
Hi, You can find all the information at Metzeler's site: http://www.metzeler.com/site/com/products/tyres-catalogue/ME_888_marathon_ultra.html ~Emily, Customer Representative, Canada's Motorcycle
Date published: 2018-04-28
I have 2013 Street Glide and want to know if there is any problem going to radial tire vs the stock bias the bike came with?
The manufacturers always recommend to stick to the stock tire sizes and specifications to ensure optimal performance and safety. ~Emily, Customer Representative, Canada's Motorcycle
Date published: 2016-03-08
I am replacing my rear tire with a me888 However I have a Perilla night dragon on the frt that I do not need to change can I mix the 2 Thanks
Hi bud. I put this tire on a 07 roadking harley davidson last year. The bike is decked out with bags and trunk. Since putting it on I've driven aprox. 5200 kms. The tire still looks like new and it has incredible traction on both wet and dry pavement. I replaced both front and back last year and am impressed with them in every regards. I would highly recommend putting on a set. They are the best choice you could ever make.
Date published: 2016-08-04
Currently ha ve an me 888 on the front but fear tire is out of stock any idea on timeline till 180 55 18 becomes available or is 880 in same size compatable?
I use these tires on my BMW K1200LT...they are one of the few choices for this bike...I've only used the 880 series, the 888 series is a newer design, apparently developed for Harleys, with a different tread and compound. Not sure I would put an 888 on the front and an 880 on the rear? see: http://www.motorcycle-usa.com/2014/07/article/tire-evolution-metzeler-me888-marathon-ultras/
Date published: 2016-08-18
Can i put a tube in this tire
Yes, you can run a tube in a tubeless ME888 Marathon Ultra rear and front tire if required by the type of wheel, for example a spoked wheel.
Date published: 2018-07-26
2010 streetglide flhx rear tire me888 180 65 b16 should i use the me888 130 70 r18 or 130 70 b18 on the front
Hi Don, You should use the 130 70b 18 for the front tire. Sam | Customer Service | Canada's Motorcycle
Date published: 2015-02-11
Is the 100/90 19 a radial or biased
The 100/90-19 tire is biased. If the tire is radial, it will have a "R" before the rim size
Date published: 2019-09-04
Is it not possible to get the WW rear tire in 180/70/15?
No. Metzeler do not currently make the WW version of this tire in that size.
Date published: 2020-03-16