Michelin Pilot Activ Rear Tire
Item # : 26384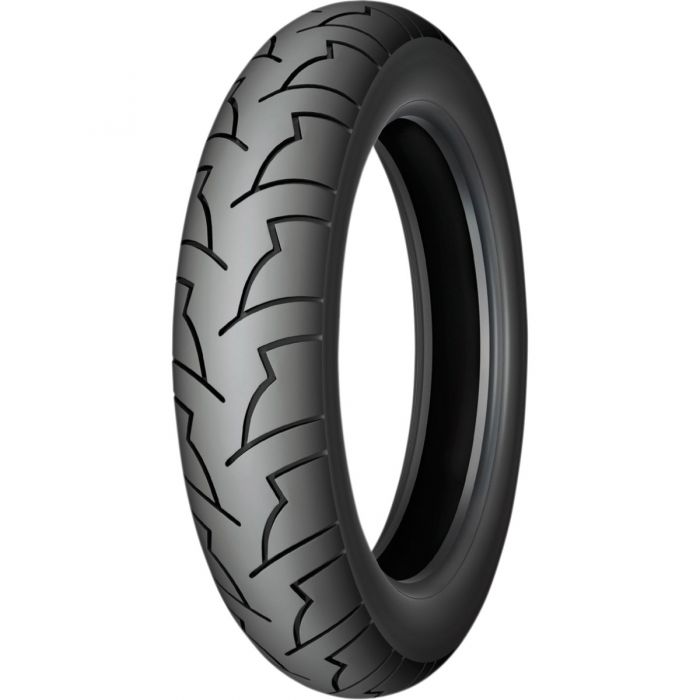 Michelin Pilot Activ Rear Tire
Item # 26384
Description
Michelin Pilot Activ Rear Tire
Click here to see the differences between the various Michelin Road Tires.
MICHELIN Road Tires Positioning Chart
Pilot Activ tires set the standard for bias-ply replacement tires. No other tire at this price offers this level of performance and durability. Compared to Macadam 50 tires, Pilot Activ tires deliver an increase of 20% in tread life*, giving Pilot Activ tires an unbeatable price/performance ratio in this market segment.
20% greater tread life* than Macadam 50*
For older bikes, a significant improvement over OEM tires
Minimal performance deterioration even when worn
Wide range of sizes to fit popular bikes that use bias-ply tires
Excellent value
Significantly improved wet* and dry grip compared to Macadam 50 tires, thanks to Pilot Activ tires* increased rubber contact with the road (5% more than Macadam 50* tires) and a reformulated rubber mix.
Optimum performance throughout the life of the tire with virtually no difference in wet grip* between a new Michelin Pilot Activ tire and a worn Pilot Activ tire.
Reviews
Rated

5

out of

5
by
Canadianwindlover
from
Best trike tire I have experienced
I have seen lots of reviews on Trike talk about this tire and I have to say that it is a great front trike tire. I now have 17,000kms on this tire and hardly seems worn. Looks like I still have many more clicks to go before it needs to be changed. Canada's Motorcycle has a great price and fast delivery :)
Date published: 2016-01-23
Rated

5

out of

5
by
Yvanhoe
from
The best tire for Trike /No contest
HI, it's me again. I now have 11,000 km on my Michelin Pilot Active Rear Tire in the front of my Honda Goldwing Trike. I've did a check this morning with the depth gauge and I've got a little bit over 6/32 in almost the whole tire and the lowest reading was at just a little hair below 6/32. I've just completed a 4 days ride ( 1400 km ) in the New York, Vermont and Massachusetts state with hundred of tights turns going up and down in the Appalachians mountains, with 70 pounds of gear, my wife riding with me and temperatures up to 35 degrees Celsius. That marvellous piece of rubber is still looking good for another 5 to 10,000 km of manly riding.... at least, if not more. No more to say. I'll ride it for another while, at least 5,000 km and give another assessment. Bonjour c'est encore moi, j'ai ce pneu au devant de mon trike Goldwing et j'ai roulé à date 11,000 km avec ce pneu. J'ai fait une vérification de la profondeur des rayures sur le pneu ce matin et j'ai encore 6/32 de profondeur sur la majeure partie du pneu avec quelques rayures avec un peu moins que 6/32. Je viens d'aller faire une fin de semaine de 4 jours ( 1400km) dans les états du Vermont, New York et Massachusetts avec des centaines de virages serrés en montée ou en descente dans les montagnes des Appalaches. Chargé comme un boudin, je pèse 200 lbs, ma femme 115 lbs, les coffres a baggages remplis et un sac a baggage sur le rack arrière ( 70 lbs total) et pour compléter le tout des températures jusqu'a 35 Celsius. Ce morceau incroyable de caoutchouc est certainement bon pour un autre 5 à 10,000 km de performance musclé ... au moins et sans doute plus. Je vous reviendrai dans un autre 5,000 km pour vous dire comment ça va. Plus rien à ajouter, ça parle de soi-même.
Date published: 2015-09-08
Rated

5

out of

5
by
Swordfish
from
Great Tires. Solid Ride.
Replace standard Bonneville Metzlers for these and so far they are performing great.
Date published: 2013-05-16
Rated

5

out of

5
by
Jack
from
Great tires I been using them for a few years.
Tires hold up to higher mileage and have very good traction.
Date published: 2019-08-28
Rated

5

out of

5
by
Oldrunner
from
Good tire
I bought one of these last year. I put 12738 miles on it before it got to the wear indicators. It has excellent wet and dry road grip and lasts well.
Date published: 2019-06-12
Rated

5

out of

5
by
Helter
from
tires
Always used the Michelin Macadam 50s, they were great , now I use the Michelin Pilot Active and love them too . Keep making tires for the vintage bikes Michelin and I will keep buying them and recommending them to others. Brian Coombe
Date published: 2019-04-20
Rated

5

out of

5
by
ATV Newb
from
Front of trike
Used in reverse of direction arrow on front of a Goldwing trike. Got over 20000 km. Went across country 3 times. East to west, back, and east to west again. Replaced with a Avon trike front tire beginning of last season. Not impressed with that. Have this tire on shelf for start of next season.
Date published: 2018-08-26
Rated

5

out of

5
by
Kondor49
from
Best Tire For Front of Trike
Past experience with this tire has demonstrated, for me at least, that I can triple the millage of competitors tires when I use it on my 2004 Goldwing / Hannigan Trike. I use this "Rear" tire on the front wheel. A standard front tire from other known manufacturers will be so badly scalloped that it has to be tossed in 5 to 6 thousand kilometers and within 2 thousand, you can both feel and see the scalloping. The Pilot Activ gives me 16 to 20 thousand kilometers, usually does not start to scallop for around 5 and progresses to worn out at a much slower pace. Just maintain your tire pressure and it is a solid performer that will save you from the aggravation of frequent tire changing.
Date published: 2018-05-09
Questions
I am interested in the Michelin Pro Activ bias ply tires for my 1981 BMW R 100 motorcycle.My sizes are 3.25x19 front , 4.00x18 rear.You only list in metric sizes.I see in the states they are available in imperial sizes.I would need tubes as well.
Hi, The tire sizes you are looking for would be the equivalent of 100/90-19 and 110/90-18. These Michelin tires would not work for your application. Our Customer Service department will contact you with more information on tire/tube recommendations for your bike. ~Danielle, Customer Service, Canada's Motorcycle
Date published: 2017-01-27