Shinko 777 Whitewall Rear Tire
Item # : 114795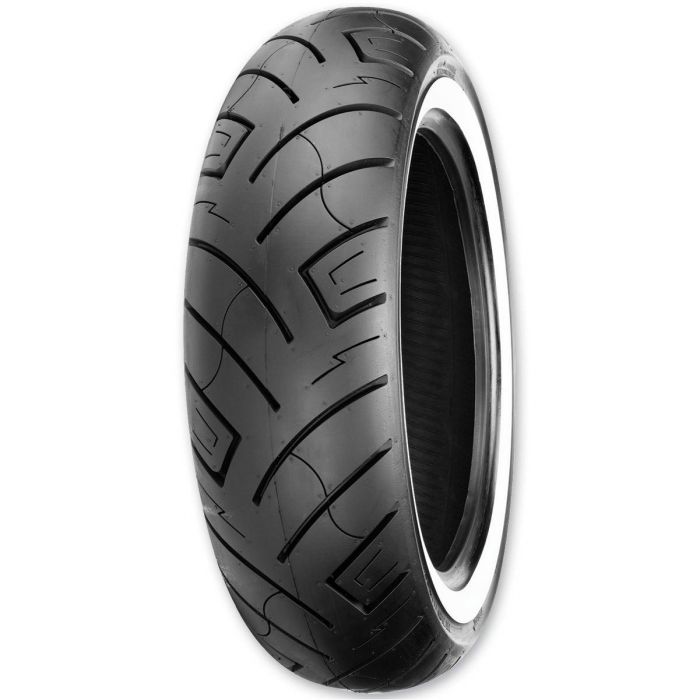 Shinko 777 Whitewall Rear Tire
Item # 114795
Description
Shinko 777 Whitewall Rear Tire
The 777 was specifically designed for cruiser machines.
H rated (130 mph)
Tubeless, 4 or 6 ply design
Comparison Chart



Model
Shinko 777
Michelin Commander II
Avon Cobra Chrome
Metzeler ME 888 Marathon Ultra
Dunlop American Elite H-D
Affordability
Most Affordable
Affordable
Affordable
Less Affordable
Less Affordable
Construction
Bias
Bias, Radial
Bias, Radial
Bias, Radial
Bias
Size Count
30
33

68

70

30

Rim Sizes
15-26
15-21
15-23
15-26
16-21
Type
TL
TT / TL
TT / TL
TL
TL
Notable Features
Aramid belted for extra stability and load capacity, improved traction

High density, stiffer frame, can last for up to 25,000 miles

Great wet braking and handling, larger footprin

t, improved life

Made for distance, stiffer tread design, abrasion resistance

Multi -Tread rear-tire technology for great handling and high mileage

Whitewall


Speed Rating
H, V
H, V, W, S
H, V, W
H, V, W, S
H, V
Warranty
2 years from DOT or 1 from purchase
6 years
7 years
Lifetime
6 years
Reviews
Rated

5

out of

5
by
Bugs in my teeth
from
Found my tire!
I just finished a 1,500km (900mi) "test" trip on my '08 Shadow 750. These tires (front & back), are better than a good day of fishing. No, they're better than bragging to your friend about your "first time". Scratch that, these tires will make your bike like s3x on wheels! Absolutely no fighting the road. Zero. None. No grabbing cracks on the road, filled in cracks, painted lines, NOTHING! I was riding down Grand Canyons in the middle of the road, and these tires didn't even think about flinching, unlike my old tires that grabbed absolutely everything. Cornering was excellent and smooth. I didn't run into any rain on my trip, but I'm not too worried about that after reading other reviews from people who had. I absolutely will not even try any other tire. I have also started recommending these tires to everyone I know already. So, stop looking, and just buy these tires! You won't regret it.
Date published: 2017-07-30
Rated

5

out of

5
by
caper22
from
surprisingly good tire
This tire has been great in dry roads, smooth, lots of traction. Today I had to ride on very wet roads, got caught in a thunderstorm, and I have to say that I was completely surprised by how much traction these tires have on water soaked roads. It felt like I was riding on a dry road. No slipping or sliding. Overall I'd say you won't regret having them on.
Date published: 2016-05-28
Rated

4

out of

5
by
Xman247
from
Great replacement so far
I had a Shinko 777 front tire installed on my 2016 Road Glide mid August and just completed a 5000km trip through Wyoming, Colorado and Montana and back into Alberta. So far very impressed with tire and is much smoother than the stock Dunlop. Soaks up the small bumps easily and doesn't track the far snakes as you ride over them...during the trip we had dry and wet roads. I was most impressed with this and the smoothness of the tire. My only reason I give the rating a 4 is because I don't how long the tire will last. My dunlops got 25000+km. If these make that mileage then they are keepers for my type of riding mostly.
Date published: 2017-09-03
Rated

5

out of

5
by
lincoln
from
great tires!!!!!
previously had Dunlops(stock) then Metzler's and lastly Avons on my 2001 HD heritage ...installed 2 new wide white"s on suggestion of a great Tech and WOW this thing has never handled so well and seems to soak up those annoying road cracks to the point were you hardly notice ....corner turn in is very smooth and consistent and the floorboards grind way before there is any hint of traction loss ( and my other bike is a Aprilia RSV4 so I know what that is ..lol.....very happy
Date published: 2015-12-05
Rated

4

out of

5
by
Xman247
from
Colorado bound-now home
I bought this tire mid august and immediately left on 5000 km road trip to southern Colorado and back to Alberta. The tire performed very well and was extremely smooth compared to stock Dunlop. I covered mostly hot dry roads but did have some rain along with about 15 miles of fresh chip seal gravel. No problems with either rain or the chip seal. The tire performs extremely well going over or following tar snakes and does not track them. The only reason for giving the tire a 4 is that I do not know how many miles i will get out of it. If it lasts as good as the Dunlop, it is a keeper. Right now it looks good with very little noticeable wear after this trip.
Date published: 2017-09-08
Rated

5

out of

5
by
imnuts
from
great product for the price
i bought this tire last year and I have to admit, for the cost, you can't beat this tire. well worth the money. just as good as any other at 1/2 the cost.
Date published: 2016-05-01
Rated

5

out of

5
by
Vallier Dubé
from
Rapport Qualité prix A+
Je ne connaissais pas Shinko avant de commander ce pneu, et je suis plus que surpris par la qualité de construction et la rigidité structurelle de la carcasse. Comportement routier excellent, reste a comparer la longévité.....
Date published: 2017-02-10
Rated

1

out of

5
by
MikeV
from
Low cost - Low life
Worst tire in terms of longevity that I have ever tried in over 40 years of riding. I Bought the front and rear wide whitewalls for my 2010 Soft-tail Deluxe at the beginning of the 2018 riding season. Used them for about 4 months (the length of our season here in Cape Breton). About 3 weeks into the 2019 season I noticed the rear was pretty well done. I got about 6,500 KM from the rear tire, and I do not ride aggressively at all. The front tire still looks OK, good for maybe 2,000 km more. I can't complain about handling, comfort or noise from the tires, but the tread life is pathetic. The Shinko's were lower priced than the Metzler or Dunlop. I guess the old saying holds with this Shinko tire - you get what you pay for.
Date published: 2019-06-27
Questions
i would like to run these tires on my 04 vulcan 1500 but i think i need a tube tire because i have spokes can i still run with this tire on my bike????
I have a new set on my 96 Vulcan. I'm taking the front one off. I have had front end wobble at both low and high speeds and I can feel it under certain wind conditions before it starts.
Date published: 2015-05-24
I was wondering what the load rating for 150/80-16 model 777 is. I will be putting them on a 2008 Electraglide
Hi Gunner, According to Shinko, the 777, in 150/80-16 has a load index of 77. Maximum load: 908. ~Emily, Customer Service, Canada's Motorcycle
Date published: 2017-01-27
Will this rear tire fit an 1996 Kawasaki Vulcan 1500 classic vn 1500D I have a 150/80/16 Dunlop white wall but it's getting bad just wondering if this is a good tire 
Yes, any rear tire that is available in the size "150/80-16" will fit your bike. The Shinko 777's are a great compatible option to some of the Dunlop cruiser tires, at a slightly lower price. They may not get quite as much mileage as the Dunlop tire though
Date published: 2019-10-03
I have a 2003 Vulcan 1500, I saw in an earlier post that these tires are not "recommended" for my bike. Is there any reason these tires will not work fine on my bike? I see reviews from other customers with virtually the same type of bike. 
I've had these on my 06 Vulcan 1500 Classic for a couple seasons and I have no complaints .These were on the bike when I purchased it. Great wear and ride . Was looking to purchase another pair of the same .
Date published: 2015-05-07
I ride a 2007 yamaha silverado 1100, will these (shinko w/w 777) work with my bike. I plan on using both front and rear of the same tire.
If you are riding a 2007 Yamaha Silverado 1100 Classic, then both the front and rear Shinko 777 Whitewall tires will fit. If you are riding a 2007 Yamaha Silverado 1100 Custom, then only the rear tire is available in the size you need. The front tire is NOT available as a 110/90-18.
Date published: 2015-06-18
Are these tires Radials or Bias ply?
These are bias-ply tires.
Date published: 2017-08-03
Can I use this tire on my 2001 RoadStar 1600. Came factory with Spoke wheels. I am told I can use it with an tube inside??
Hi, The Shinko 777 Whitewall Front Tire, size: 130/90-16 will fit on your 2001 Roadstar 1600. This is a tubeless tire, but can be used with or without a tube. ~Emily , Customer Service, Canada's Motorcycle
Date published: 2017-07-11
what would the tube size be for 100/90-19 tire?
Tube size will always be the same as the tire size 
Date published: 2019-10-09