TCX Hero Waterproof Boots
Item # : 526492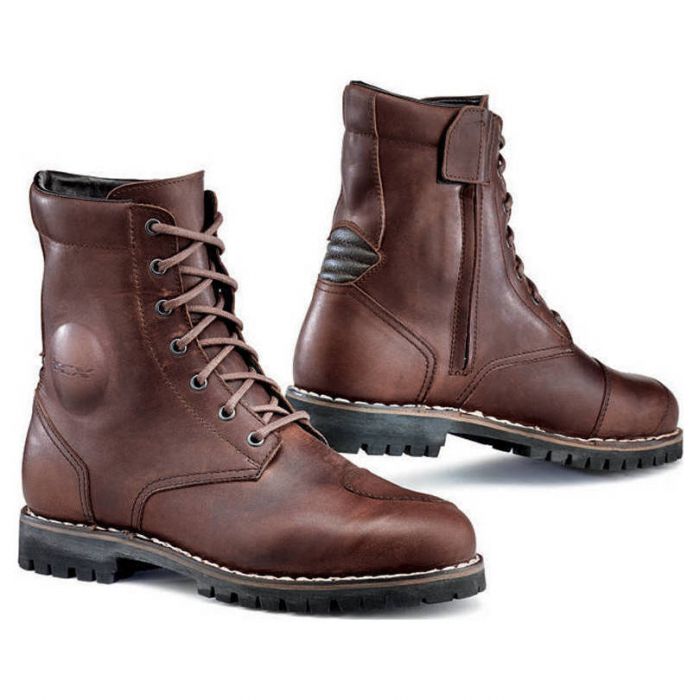 TCX Hero Waterproof Boots
Item # 526492
Description
TCX Hero Waterproof Boots
Clocked from zero-to-hero in however long it takes you to zip ' em up, the TCX Hero Waterproof Boots will undoubtedly make you feel like a fireman who just untreed a litter of kittens in Hugh Hefner's yard. Though you will feel heroically impervious to mortal danger, there are medial and lateral malleolus reinforcement discs and toe and heel counters just in case. For grandiose ergonomic excellence, the TCX Hero Waterproof Boots use accordion stitching at the achilles for flexibility and TCX' s Comfort Fit System to ensure an anatomically correct construction. The laces allow you to adjust to the perfect snugness and then use the zipper, complete with leather zipper stay and VELCRO® brand closure, for dauntless ingress and egress. In the event you have to make a daring rescue in inclement weather, the TCX Hero Waterproof Boots have a full waterproof lining, so you can ride your gallant metal steed fearlessly, rain or shine.
Features:
Full grain leather upper
CFS Comfort Fit System
Waterproof lining
Toe and heel counter
Malleolous reinforcement
Leather shift pad
Anatomic and replaceable insole
Laces plus lateral zipper with VELCRO® brand band fastener
Sole tread offers a superior grip on any terrain
Reviews
Rated

5

out of

5
by
Valk Rider
from
Best boots I've ever owned
Have had these for a month or so now, have worn them every day for the ride to and from work and at the office all day. Comfortable out of the box. A little too "new" looking at the start but they wear beautifully. Where the shifter rubs, the finish is worn off giving a cool look. The toes are nicely scuffed to make them look like a trusted old pair of boots already. I like the worn distressed look and these are just that. If you like a shiny dressier boot, these aren't for you, they look like an old boot quickly. Should be able to replace the soles when needed and have them for a long time. Great, great boot. Couldn't be happier with them. I wear a 12 in everything and a 46 fit perfectly.
Date published: 2017-10-27
Rated

5

out of

5
by
Shaun_ns
from
Great overall!
Bought theses to take with me to Laconia Bike Week (waterproof footwear can be required). No rain, however we did get close to 800 miles of riding in. No issues with the boot being to stiff. The boots are very comfortable, larger sizing (order the next size down of what you typically wear), walked around on various terrain with no issues. Maybe could use a better insole, I did not have one to try.
Date published: 2018-06-19
Rated

5

out of

5
by
Rick 1
from
Comfy boots
I really like the boots, no break-in required as they were comfy on day one.I normally wear a size 12 but order a 47 or 12.5 and they fit fine. They came in a few days and service was great. Returned another item that I bought cause I ordered the wrong colour and got a refund within a week!
Date published: 2019-09-10
Rated

5

out of

5
by
joer
from
Comfortable, Waterproof, and Very Stylish
I've owned these boots for about two months. I wore them for an 8-hour ride from Ottawa to Boston. For 4+ hours, it POURED. My feet stayed quite dry. It was shocking. (Compared to how soaked my gloves were and a bit around the zipper of my rain suit.) Apart from inclement weather, they're very comfortable. They look amazing, rocking these with a pair of jeans. Probably some of the most fashionable boots I own, motorcycle or no. They even look OK if I'm wearing shorts (which frequently are what's on under my riding pants when I head to the office). The side zipper makes them very convenient to get on and off, which is something I appreciate more and more every time I take them on and off. The soles are very stiff, which makes them perfect for being on the pegs for very long rides. But it also makes walking long distances in them (2+ KMs) a bit tiring. The fit and finish is excellent. The leather is of a high quality and it feels as though it will last. a long time. It does start to patina fairly quickly. For this style of boot though, it just adds character. I normally wear a 13 in Nike/Adidas. I got the 47 (about a 12.5) and they fit perfectly. I cannot speak to how well they'll protect me in a crash. I kinda hope I will never be able to tell you that. I suspect they're less than my full-on track boots, but I couldn't walk more than a few 100 meters in those bad boys. The track boots also take far too long to put on and take off for every day use. These go on fast and look so good, that it's pretty easy to wear them even for just running to the store or going to work. So since I'm wearing them way more, I guess that makes them more protective. Knowing what I know now, I'd buy these again in a heartbeat.
Date published: 2019-08-31
Rated

5

out of

5
by
Stella
from
Comfy right out of box.
Loved them right away. Cool looking, very comfortable. Well made.
Date published: 2019-08-30
Rated

5

out of

5
by
Bob Newhart2013
from
I have had these boots for month now and right out of the box they fit perfect. I wear them a lot very comfortable. I may order a second pair to have for back up.
Date published: 2019-08-28
Rated

5

out of

5
by
Ajaybs
from
Best Motorcycle boots I've worn
The leather just feels right and comfortable. Like a part of your feet. I thought it would be heavier, but I was surprised by how easy it is to walk on these. It's a bit pricey but it's definently worth it if you like this style.
Date published: 2019-06-25
Rated

5

out of

5
by
jbean
from
Super comfortable and stylish
I debated buying these boots for a long time as I wasn't sure that they were worth the money, but I am so happy I got them! I wanted something that I could wear on my daily commute to and from work, cruising around the city and on long haul trips. I love the cafe boot style, but I also wanted the ease of access that the zipper provides. They are incredibly comfortable on and off the bike, feel very durable and all while being protective, stylish and water resistant. I'm a size 10/10.5 in womens shoes, so I got a 42 and the length is perfect, the only thing I noticed is that it is a little wide for my foot (understandable as I believe this is a men's boot) but not so much that it impacts how I walk or ride. I could tighten the laces but then I can't slide my foot in and out when they're unzipped.
Date published: 2019-06-12
Questions
Is the waterproof lining removable?
No, it isn't removable. But really, other than the little flap behind the zipper, you don't even know it's there. They aren't bulky, they fit like a normal non-waterproof boot. I've had mine for over a year and they're the best boots I've ever had, and are still waterproof. I wouldn't hesitate to buy them again, but because they're so well built and the soles are replaceable, I'll be able to do that. 
Date published: 2019-02-25
Est-ce que la doublure imperméable est en Gore-tex ?
La doublure à l'épreuve de l'eau n'est pas faite en Gore-Tex.
Date published: 2018-12-20