TCX Street Ace Waterproof Shoes
Item # : 526686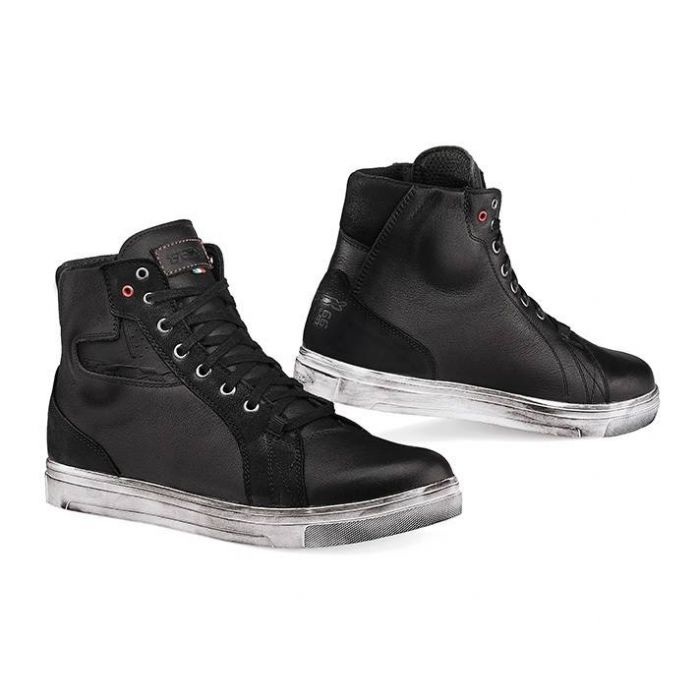 TCX Street Ace Waterproof Shoes
Item # 526686
Description
TCX Street Ace Waterproof Shoes
Haters gonna hate, sneakers gonna sneak. The TCX Street Ace Waterproof Shoes are packing waterproof moto protection in spades, with a distinctly casual appearance that doesn' t advertise an ounce of the features within. The handsomely finished full grain leather upper is not only easy on the eyes, but disguises sneaky moto amenities in the way of heel and toe counters as well as both medial and lateral malleolus ankle inserts. Complete with a waterproof lining, the TCX Street Ace Waterproof Shoes are everyday riding shoes that are ready for a rip around the block or a trip around the country.
Features:
Full grain leather upper with suede inserts (black), or with a vintage look (coffee brown)
Waterproof lining
CFS Comfort Fit System
Malleolus area and toe/heel reinforcements
Lace closure
Anatomic and replaceable insole
High wear-resistant rubber sole
CE certified
Reviews
Rated

5

out of

5
by
Lannister
from
Excellent commuter shoes
I looked long and hard before I decided on the TCX Street Ace. I wanted a shoe that looked like a sneaker and was WP. I wanted some protection (as much as this type of shoes can provide) and I did not want to spend a fortune. After looking at a bunch of reviews, I chose the TCX in Black. I am sure there are better options out there, but I did not want to pay big $$$ for a sneaker. The quality is very good for the price point. All the stitchings are perfect with nothing to cut or burn off. I had a bit of glue on top of the right shoe, but a quick rub made it disappear. The quality of the leather appears to be quite good, a tad more shinny than I expected, but not bad. I will see in the long run if it scratches easily or not and how it ages. I did not see any defects in the leather. The lacing system is comparable to a regular sneaker with top locking eyelets (the red ones). The tongue is attached to the side of the shoe which cinches around the ankle region, to help with waterproofing. To prevent scratching of the left shoe (shifting), TCX provides an elasticized leather "band" to put on the toe box of the left shoe, which will be useful for folks who want to keep their shoe pristine when kept on at the destination. It does not look like it will remain in place and has a tendency to fall off with no other retention than the elastic compression. I personally find it awkward to wear and do not need it, but it is great that TCX includes it. The insole is ergonomic and good but somewhat thin. I might change it for an aftermarket one, once I have worn the TCX for a longer period. For now, it does OK.. The shoe does not flex like a regular sneaker, but it is not stiff either, if 0 is loose and 10 is tight , I would give it a 6.5 or so. The sole is thick, but you still can feel the controls. The bottom of the sole has a straight groove pattern from side to side with minimal crosshatch. The shoe lifts you about 1.25 inches at the heel. As far as comfort goes, no break-in period required. They are comfortable out of the box. I can see that they can become warm in the summer months, especially if kept on all day. During riding, they feel OK. I guess this is a tradeoff to have WP shoes. I might look into the Street Ace Air if this becomes a real issue. The fit is bang on for me. I wear a size 7 (yeah, small feet...) I ordered a size 40 and it is perfect. My feet are not the widest, but still above average. The TCX fits great. I will say the shoe "space" becomes reduced at the toe box, so "hobbits" might want to be aware... So time will tell, but for now, I am happy.
Date published: 2017-05-17
Rated

5

out of

5
by
Nath
from
Great shoes
I love my new riding shoes. They were comfortable as soon as I put them on. Be careful though. I usually wear size 8 shoes so according to the chart I got size 40. I read the comments of other buyers before buying my shoes. Some said the size was perfect and some said they were big. I had to return the size 40 and order the size 39 instead but it was super easy to exchange with Fortnine.
Date published: 2018-08-28
Rated

5

out of

5
by
Vinny
from
Great shoe!!
They are a very well made shoe, I have wide feet and they are a little tight at first but they do stretch. They look good and have an awesome toe cover for your shifting foot
Date published: 2018-08-27
Rated

5

out of

5
by
Mr B
from
Great boot if you want more safety
Just got these in chocolate brown today and had to take them out for a ride. They are replacing the dr. Martens I used to ride in. The sizing seems to be a bit of a point of contention online for these boots and ordering online can be tricky. I got the same size that I wear in birkenstocks (43) and they fit a bit on the snug side but definitely not uncomfortable. If you don't have a place where you can try the boots in person I would recomend trying to find birks to have a size comparison. The colour was not as worn as the picture if that matters to you, but they do look great. Boots feel really good to ride in, and didn't feel too hot in 27 degree heat.
Date published: 2018-08-03
Rated

5

out of

5
by
Spyder Girl
from
Best all around shoes ever!!
No sooner had I received my new shoes, I was wearing them around the house to break them in which I quickly found out I didn't have to. They are so comfortable that I wear them even when I'm not riding. I hope FortNine gets the women's vented version also. I usually wear W8-1/2 to 9 and ordered one size down 40 and they're perfect. Appear to be of great quality, although I live in Northern Ontario so the riding weather has not fully arrived yet. They are very warm and definitely won't be very cool during hotter weather which is why I hope to see the vented ones online. soon.
Date published: 2017-05-04
Rated

5

out of

5
by
Signals
from
Waterproof Shoes
Got those for Christmas and have been wearing them every day to break them in to be ready for the riding season. They are great, the right fit for size, water or snow they are waterproof just what I was after. The bonus is the comfort.
Date published: 2019-01-18
Rated

5

out of

5
by
shight
from
All around good
Was tired of always having to wear my boots for short rides around town so picked these a couple of months ago. I don't wear my boots anymore. These are far more comfortable and I feel safer in these.
Date published: 2018-11-20
Rated

1

out of

5
by
Road Warrior
from
Very poor quality
Purchased these shoes and soles almost worn out in just two months. For the price of this shoes that is very excessive. Tried to contact TCX and must the customer service is pathetic. Suffice to say I will never purchase another TCX product again.
Date published: 2018-09-27
Questions
If I'm a 10.5 size what size should I order? 44 or 46?
The FortNine sizing chart for TCX is not to be trusted! I'm 8/8.5 and 38 was too small, 39 was not available, and 40 is a little big but works. I believe the chart below is more helpful in determining sizing. If you are a women's 10.5 I would start with a 41. https://www.softmoc.com/ca/shoesize.asp
Date published: 2017-08-01
The picture for the grey fuschia appear to be for the vented version, but they are listed as the waterproof version. Which are they?
The picture is more indicative of the colour, these are the waterproof ones.
Date published: 2017-10-30
How to take care of these shoes ? This is upper leather, right ? So just polish them as we do normally ? Does it affect the waterproofing ? Or just wipe with damp cloth ?
I personnel just wipe them with a damp cloth. I have used them for more about two seasons now and it works for me.
Date published: 2018-05-21
Could these be worn with shorts in public without looking dumb? On hot days, I wear shorts under my riding overpants, and would rather not bring extra shoes if I didn't have to.
The shoe height is similar to that of the converse hightop, but with more bulk. If you can pull off hightops with shorts, I don't see why you wouldn't be able to do the same with these.
Date published: 2019-01-18