100 Percent Accuri OTG Goggles
Item # : 288271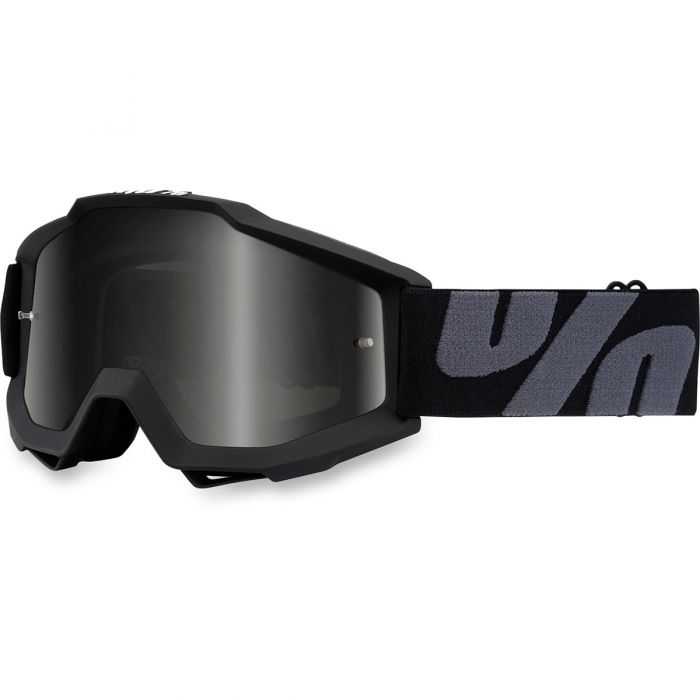 100 Percent Accuri OTG Goggles
Item # 288271
Description
100 Percent Accuri OTG Goggles
Our new "over the glasses" model is the ultimate goggle for riders wearing prescription glasses. The high performance features of our popular Accuri goggle have been integrated with specific engineering modifications to provide riders with the most comfortable OTG fit while maintaining premium performance.
Features:
Expanded eyeport for a quick and easy fit even with larger framed glasses
Integrated temple arm pocket with cushioning foam provides a secure fit
Widened nose bridge foam aids in a superior fit while reducing fogging
Oversized 45mm wide silicon coated strap eliminates slippage
Thirsty triple layer moisture managing foam soaks up sweat
OTG goggles utilize the same replacement lens as all other 100% goggles
OTG model is designed to be worn over glasses
Superstition includes Anti-fog smoke lens and extra clear lens
Reviews
Rated

5

out of

5
by
ColinT
from
Can't even tel I'm wearing glasses
I was reluctant to purchase OTG goggles. As someone who can't wear contacts, but needs to wear glasses (otherwise I'll hit a tree.... more often) these have definitely impressed me. So much so that you forget you're wearing them. Isn't that what it's all about? I couldn't be more happy. I have a pair of medium thickness framed Hugo Boss glasses, and they fit in perfectly. I have zero obstructions without the frame. I can see, finally!
Date published: 2017-04-20
Rated

4

out of

5
by
JohnDoe
from
Works great with glasses
Positive: Works great with glasses very comfortably. Negative: Have seen it fog up in fairly warm temperatures after working hard myself, so it's not perfect, but breathes well as soon as you start moving. Overall dark OTG googles come with two lenses and is good value for the money.
Date published: 2019-10-29
Rated

5

out of

5
by
james28
from
great fit
i bought these goggles over 1 month ago and i use them everyday and they fit over my glasses great
Date published: 2019-08-28
Rated

5

out of

5
by
Macalamashama
from
It works
I wear big nerdy type glasses. These work great fitting over them would buy again.
Date published: 2018-09-05
Rated

4

out of

5
by
Mamom
from
I bought these OTG goggles as my dirt bike gear rental place didn't have any that went over my glasses that didn't feel too tight. It was nice to be able to pull off my goggles with out pulling my glasses with them They did what they were intended for
Date published: 2018-09-04
Rated

5

out of

5
by
Moike
from
Perfect
Finally got a pair of goggles that for comfortablely over my glasses
Date published: 2018-08-28
Rated

5

out of

5
by
Atlas
from
The goggle work great
These goggles work well with my glasses which have a fairly large frame .
Date published: 2018-07-16
Rated

4

out of

5
by
Yzer
from
Nice googles
Got the Hi-Vis Yellow and they are more fluorescent light green. To me they look yellow on-line but not in real life. If I get stuck in the mud they will be able to find my head via the Hi-Vis goggles and pull me out. LOL. Have tried a few different brands of googles and they seem to all seal out dirt & dust well but will fog up some when not in motion. My solution is to go to a scuba diving store and for approx. $15 buy a small squirt bottle of clear liquid (more like a gel type substance) that is anti-fogging spray. Smear a dab onto the interior of the lens, let sit a few minutes & then rinse of the lens under running water as well as my hands per instructions. Then let the foam & other parts of the google dry that may have gotten water on them. I set the google on the dash in the sunlight of my vehicle as I trailer the bike to my riding place. Works great. Scuba diving anti-fog has the advantage over other anti-fogs (such as the popular Pert shampoo soap (see YouTube) in that it will not be affected by water. So it will not run off during rain or puddle, river ride.... Will not fit large frame sized eyeglasses unlike 100% claims in my opinion. I was disappointed in the opening sizing. To put them on I hold the goggles at the sides and gently flex them forward a tad to flatten out the curvature of the lens area and then slip then over my eyeglasses. This places the glasses into the eye pocket area of the lens.Otherwise the foam will not let them slide over the frames of my eyeglasses. Do notice the bright coloured frames when wearing them. I am sure I will eventually not see the frames when riding. Need to go faster. LOL. I formerly only always wore black frames.
Date published: 2018-05-30
Questions
Hi.  Do these come with pins for mounting tear offs?
All 100% MX goggles share the same lens and tear-off profile.
Date published: 2019-10-03
Do these fit a Large Bell Moto 3 ?
Bell do not confirm the compatibility of specific goggles with their helmets, but other customers have used the 100% OTG goggles with this helmet with no issues.
Date published: 2020-03-18