Fox Racing Bomber S Gloves
Item # : 164990
$87.99 - $99.95
$59.99 - $66.99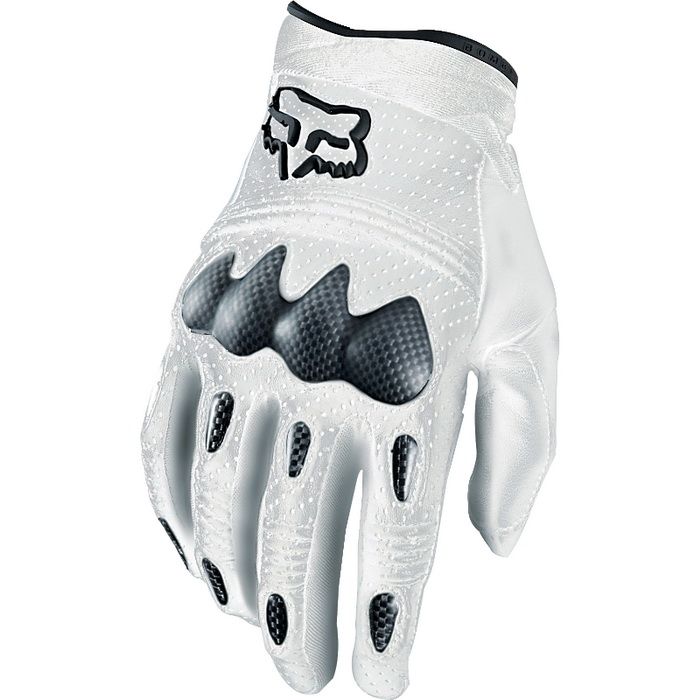 Fox Racing Bomber S Gloves
Item # 164990
Description
Fox Racing Bomber S Gloves
The only glove in the Fox line to feature leather palm construction. The Bomber S features a double layer leather palm, molded plastic knuckle coverage and long cuff for enhanced wrist coverage.
Features:
Double layer leather palm
Silicone lever grip
Hook and Loop Closure
Ballistic knuckle coverage
Reviews
Rated

5

out of

5
by
Dano
from
Fox full leather mx gloves
I am glad I purchased the full leather version of these gloves over the partial textile. The leather offers better protection for street use and more stretch . At first I could really feel the molding on my knuckle but as they broke in they became much more comfortable. I think they are great value and happen to look good as well.
Date published: 2019-07-05
Rated

5

out of

5
by
Leighton
from
nice feeling glove, nice leather
Initial response to the first couple times using the gloves was adamant. I had hoped the leather would break in, and I was questioning the size of the knuckle protector. After a few times of wearing them around the house to do general tasks, they broke in quite nice. the sizing chart is bang on. My only complaints are the material bunching up in the pam when gripping the bike, and the cuff on the under part of the wrist slides forward contributing to the bunching in the palm. The thumb also seems to be a tad short, almost feeling as if the webbing between my thumb and index finger is tighter when trying to extend my thumb to reach for that signal switch. The white is great and looks really tidy. Overall a nice glove, especially for the price.
Date published: 2017-05-16
Rated

2

out of

5
by
Badger
from
Poor quality? One off?
Bought this glove last month to replace my worn out Icons. The leather on the glove torn between the thumb and index finger (not stitching) one the first pull on. I normally wear a Large glove but these fit quite small. Would definitely size up next time. Fortnine customer service was awesome and took care of the return with no hassle. 5 stars for that. The glove itself once on felt really nice. Good control feel, and a good snug fit that felt like it would break on nicely. Unfortunately the wrist opening was too small and wouldn't break-in or get any bigger.
Date published: 2019-08-28
Rated

1

out of

5
by
Chris
from
Ripped trying them on
Just tried them on for the first time, size is correct, right hand way tighter than the left, stiching and leather tore first try.
Date published: 2019-01-14
Rated

4

out of

5
by
NLrider
from
Good gloves, weird thumb
These are comfy and seem to provide quite a bit of protection. They took a ride or two to break in the knuckles, but not me they fit pretty well. Oddly the thumb on the right hand is 1/2" longer than the left, which is awkward, leaving a little extra fabric that isn't doing anything on one hand. the left hand fits great. I wouldn't buy them again because of this though.
Date published: 2018-07-25
Rated

3

out of

5
by
Joel
from
Nice Gloves but quality could be better
Very nice to wear but the rubber strap pulled off the one glove the 3rd time wearing them
Date published: 2018-06-06
Rated

4

out of

5
by
mark
from
Good light weight cloves
The knuckle pad is very flat and stick out at the edges and leather feels thin compared to my last gloves. Great for off road and short road rides but not enough protection for me for longer road usage
Date published: 2017-05-09
Rated

4

out of

5
by
umwisnig
from
Fits the bill with bang for your buck
Pros: + Size chart is accurate. My hands are 8.75" - 9" around and the medium fits + Leather is broken in after three rides + Good tactile feel on controls + White gloves are easily seen from afar Cons: - Left glove opening is smaller than the right and left thumb is longer - Shorter wrist cuff doesn't reach jacket - Somewhat difficult to remove - Knuckle protector is noticeable at first The Bomber S is not refined enough to be a #1 do-all glove, but for the price, its features list can't be ignored.
Date published: 2017-04-22