Maxima Clean-Up
Item # : 61004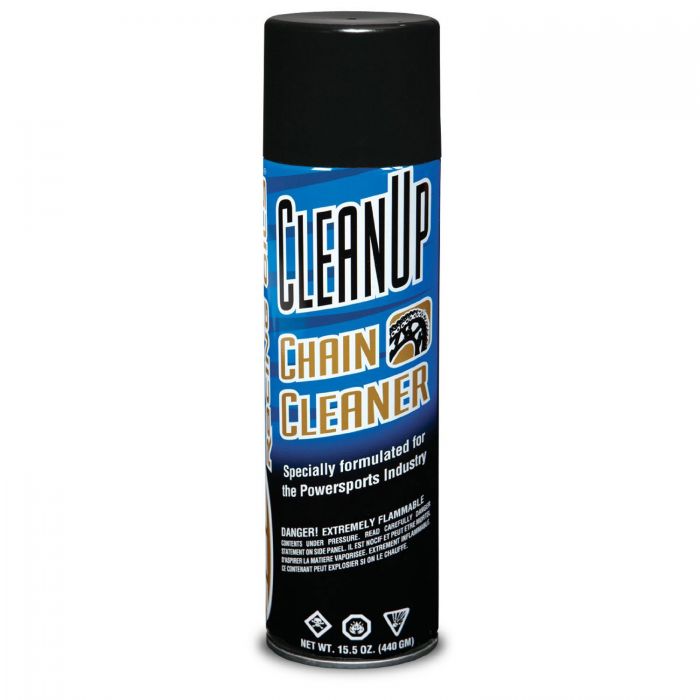 Maxima Clean-Up
Item # 61004
Description
Maxima Clean-Up
Maxima Clean Up is a heavy duty, emulsion type cleaner designed to thoroughly clean chains without harming rubber o-rings or metal surfaces. Outstanding performance on aluminum. Maxima Clean Up quickly dissolves and removes hard to clean buildup on your chains. Stop robbing horsepower. For best results, use Maxima Clean Up with your routine maintenance. Clean Up's handy aerosol container allows you to spray it on, allow it to set for a minute and then thoroughly rinse it and the dirt away with a hard stream of water.
Excellent chain cleaner
Removes caking and build-up
Breaks down dirt
Dissolves Grease and other contaminants
Specially formulated for the Powersports industry
Note: Contains no CFC's! May cause some painted surfaces to discolor! Do Not use on plastic or Lexan® windshields! Flammable!
Manufacturer Part Numbers:
Comparison Chart
| | | | | | |
| --- | --- | --- | --- | --- | --- |
| | | | | | |
| Model | Tirox Chain Cleaner | Maxima Clean-Up | Motul C1 | Motorex Chain Clean | Ipone Chain Cleaner |
| Price | Most affordable | Affordable | Affordable | Affordable | Least affordable |
| Benefits | Great degreaser, safe on all chains, contains Kerosene | Quickly dissolves, no harm to finish, no CFC's | Chlorine-free formula, acts fast on encrusted deposits | X-ring and o-ring tested, effective residue removal | Efficient against tough grease, powerful spray |
| Sizes | 14.1 oz | 15.5 oz | 9.8 oz | 16.9 oz | 25.3 oz |
| Included Gloves | | | | | |
| Brush version | | | | | |
Reviews
Rated

4

out of

5
by
BowHunter
from
Cleans nicely
This chain cleaner worked well. I did the job of cleaning my chain in sub temperatures and this spray didn't want to work very well (it is not like brake clean). Besides that it will melt the grime right off, so I can not speak negatively about the cleaning power of this product. Will buy again for the price.
Date published: 2019-03-15
Rated

5

out of

5
by
MicG
from
Efficace
Très efficace, odeur un peu forte mais parfait pour le travail auquel il est destiné.
Date published: 2017-12-10
Rated

5

out of

5
by
Robert
from
Excellent travail
Nettoyage de la chaîne se fait très rapidement avec la brosse
Date published: 2017-08-14
Rated

4

out of

5
by
wesmiller
from
Works Well, Not Amazing
This Maxima Clean-Up gets your chain looking nice with minimal effort. I feel like I've used products that do a more thorough job, but for the price, this is my go to.
Date published: 2016-11-18
Rated

4

out of

5
by
Anonymous
from
Great Product Easy to Use
This product works excellent as it's described to. Spray on and the grease/dirt/gunk merely rinses right off for a sparkly clean chain. Although I'm sure that the contents is merely some other easily acquired concoction, it's easy and not pricey at all.
Date published: 2013-07-28