Motul C1 Chain Clean
Item # : 122159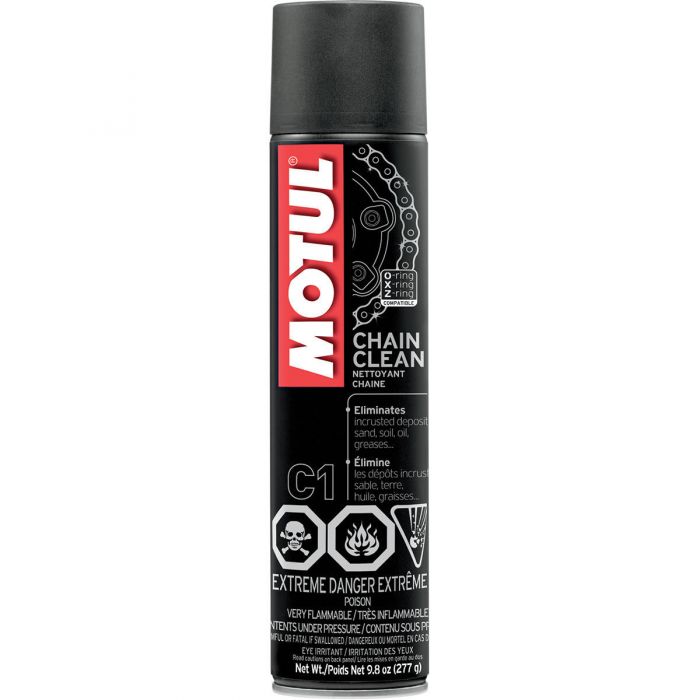 Motul C1 Chain Clean
Item # 122159
Description
Motul C1 Chain Clean
Made to work on all types of chains, Motul Chain Clean cuts through grease and gunk to give you a clean, fresh chain ready for lubing.
Features:
Removes all encrusted deposits : dust, sand, soil, oil
Its chlorine-free extreme grease removal formula is perfectly suited to O-ring, X-ring, Z-ring chains
Evaporates quickly
Net 13.5oz/Fluid 9.8oz
Manufacturer Part Number: 103243
Comparison Chart
| | | | | | |
| --- | --- | --- | --- | --- | --- |
| | | | | | |
| Model | Tirox Chain Cleaner | Maxima Clean-Up | Motul C1 | Motorex Chain Clean | Ipone Chain Cleaner |
| Price | Most affordable | Affordable | Affordable | Affordable | Least affordable |
| Benefits | Great degreaser, safe on all chains, contains Kerosene | Quickly dissolves, no harm to finish, no CFC's | Chlorine-free formula, acts fast on encrusted deposits | X-ring and o-ring tested, effective residue removal | Efficient against tough grease, powerful spray |
| Sizes | 14.1 oz | 15.5 oz | 9.8 oz | 16.9 oz | 25.3 oz |
| Included Gloves | | | | | |
| Brush version | | | | | |
Reviews
Rated

5

out of

5
by
Castro
from
As advertised
Cleans chain really well and works well with their off road chain lube. Impressive.
Date published: 2015-11-04
Rated

5

out of

5
by
Nortoon
from
Excellent chain cleaner
This is an excellent chain cleaner at a reasonable price. There is no point oiling a chain unless it is cleaned first. This makes it easy. It is also handy for removing oil stains from the garage floor.
Date published: 2016-06-24
Rated

5

out of

5
by
bidou
from
Super
Un excellent produit pour nettoyer les huiles et tout résidus de la route .
Date published: 2016-05-12
Rated

3

out of

5
by
Nic G
from
It cleans, but nothing impressive...
As the title says, it cleans, but I wouldn't say it's impressive... I'll give kerosene a try next time. At least, it'll be a lot cheaper for just cleaning.
Date published: 2018-05-14
Rated

5

out of

5
by
Christian
from
Excellent dégraisseur
J'ai acheté ce dégraisseur et c'est probablement le meilleur que j'ai jamais acheté ... Mieux que du "BRAKE CLEANER".
Date published: 2019-11-18
Rated

5

out of

5
by
Markyb
from
Excellent
Usually clean and lube chain every 1000km. Breaks down old grease and dirt easily
Date published: 2019-08-28
Rated

5

out of

5
by
Wesley
from
Full clean - No fuss
I was very impressed with this cleaner, as it tackles the grease and grimes of the chain as well as you see dish soaps remove kitchen messes in a TV commercial. Spray on the cleaner, let it soak for a moment, then wipe the grime away! I'll admit sometimes you need a couple passes for the really grimey bits, but with how fast you can work using this product I don't mind as the total cleanup time is minimal.
Date published: 2018-12-28
Rated

5

out of

5
by
Roonie
from
chain cleaner
Product cleaned my 3 yr old chain on my trials to look like new amazing spay and brush
Date published: 2018-06-18
Questions
How does this clean the chain when direction say to spray on and let dry. Where does the crud go?
Spray on chain and let dry for 5 minutes. If the chain is very dirty, brush with a non abrasive brush an spray again. Lubricate the chain with MOTUL Chain Lube. To increase the lifespan of the chain, repeat every 1000 km.
Date published: 2019-10-11
Does that cleaner cleans all type of chain lube (i.e grease and wax based?)
Yes, it would clean all types of chain lube. It contains Petroleum, Butane, Propylene and Monobutyl Ether. It is intended to clean all types of motorcycle chains (street bikes/off-road bikes), also Quads and Go-Karts. It has strong degreasing power and is suitable for chains with O-ring, X-ring and Z-ring. I use it on my CBR and it makes the chain look like new!
Date published: 2016-09-15