Memphis Shades Batwing Fairing
Item # : 140319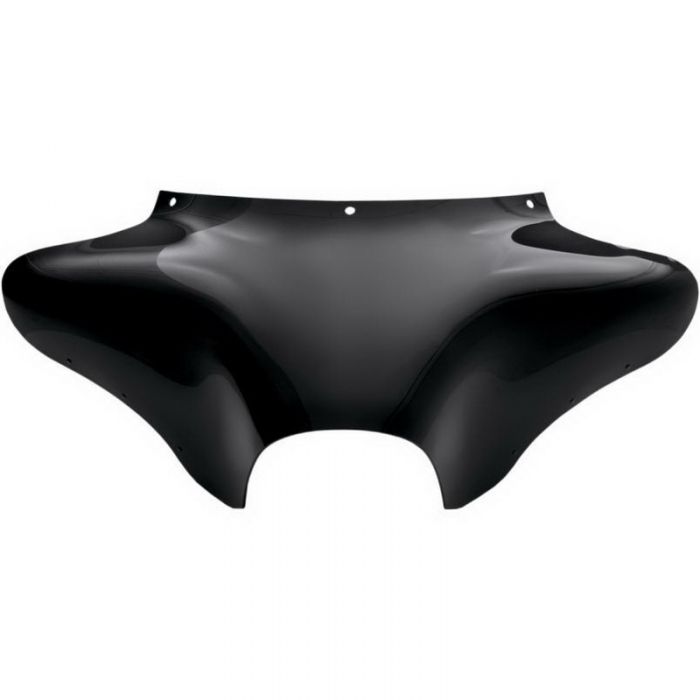 Memphis Shades Batwing Fairing
Item # 140319
Description
Memphis Shades Batwing Fairing
Features:
Aerodynamic shape with an inner structure constructed of black textured ABS and outer structure of opaque black Lucite with a finish that can be painted but is designed to look great as is
Fairing is predrilled and fitted with push-out hole plugs for easy deflector installation
Trigger-Lock mount kits (sold separately) allow you to quickly and easily remove or install your fairing.
Windshields are available (sold separately) in three heights and seven translucent colors
Optional wind deflectors (sold separately) extend the lower fairing surface for smooth and increased air flow
---
WHAT TO ORDER:
1. Batwing fairing
2. Trigger-Lock mount kit specific to bike model; Softail models will also require turn signal relocation kit
3. Windshield of your preference height and color
---
**Notes:
This is the fairing only, the windshield is sold separately
Batwing Fairing is not compatible with any other fairing windshields, wind deflectors, or accessories
Dimensions: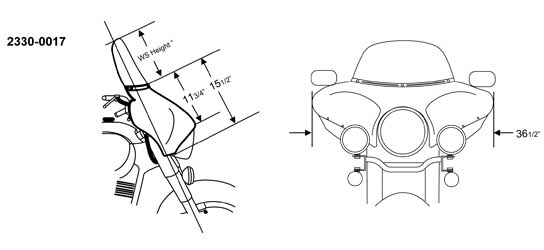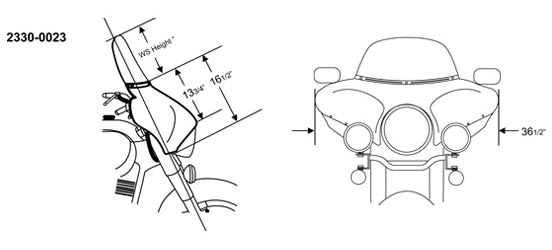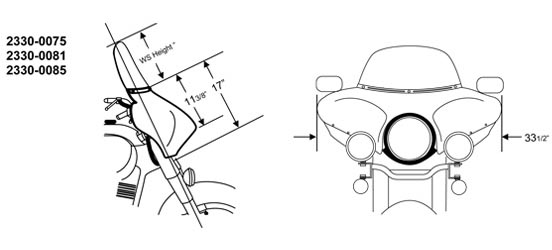 Reviews
Rated

5

out of

5
by
Munch
from
Great fairing
I recently purchased a Batwing Fairing, Spoiler Batwing Windshield and Fairing Wind Deflector from Canadian Motorcycle. Everything fit perfectly and the whole setup has greatly improved my ride experience on my 2003 Kawasaki 1600 Vulcan. Head buffeting has been reduced to near zero. Should have done it years ago. Install was quick and straight forward. I had a small issue with the fairing wind deflector about a month after installation one of the nylon screws that secure the deflector to the fairing broke. I had only hand tightened them as I didn't want to over tighten or crack the fairing or deflector. I contacted Canadian Motorcycle and they directed me to Memphis Shades customer service. Memphis Shades customer service was happy to help and quickly supplied replacement screws. Overall I'm very happy with my purchase and experience with both Canada's Motorcycle and Memphis Shades customer service. I recommend dealing with either company.
Date published: 2015-11-19
Rated

3

out of

5
by
Keith
from
Effective but Flimsy
I bought this fairing near the end of the the 2014 riding season. Pros + Does good job of blocking wind around hands Totally changes the look of the bike After trigger mounting kit is installed the fairing is extremely easy to take on and off Addition of windshields can make the fairing a total wind blocker. I have a 5" screen that does nothing for wind but looks awesome. I have a 12" screen that doesn't look as awesome but blocks the wind and I don't get any buffeting which is very hard for me to find at 6'5". Cons - Feels very flimsy - the fairing bends and twists and shudders down the highway at 100kph as well as if it's somewhat windy. After a full season I still worry the fairing is going to snap and lop my head off. It also creates a little bit of a chatter or tapping when it starts shaking at highway speed. Extremely easy to take off after trigger mounting kit is installed. If someone wanted to steal this it would take about 10 seconds. Overall it feels a little flimsy which can be disconcerting at times yet it's a relatively inexpensive way to massively change the look of your bike as well as provide some good wind protection.
Date published: 2015-08-20
Rated

5

out of

5
by
jNick
from
Great fit
The Faring fits and looks great. It's a bit tricky to line up but once it's on it's very easy to take on and off with the quick release system. It deflects the wind perfectly and makes long road trips more enjoyable.
Date published: 2016-07-19
Rated

5

out of

5
by
BIG OLD NORM
from
great design and easy to install.
I order the fairing about a mouth ago it came in three days and it only took an hour install, it looks great and works well to, its money well spend. It take all of two minutes reinstall the old wind shield.
Date published: 2015-08-08
Rated

4

out of

5
by
The Hulk
from
Looks and fits well
I bought this recently. I was impressed how quick and easy it installed . The fit and finish is real good The delivery was prompt. The quality is good. I am a very satisfied customer
Date published: 2016-08-19
Rated

5

out of

5
by
spade
from
Awesome great for the wind when your on the freeway
Date published: 2016-08-14
Rated

5

out of

5
by
gregrideshd
from
Great look
Adds a whole new look to my Dyna FLD. I wouldn't say it was easy to install because I didn't use their mounting brackets or turn signal relocation kit. If you know how to drill a couple holes and cut a metal bracket you can use the existing windshield brackets to mount the fairing and the billet turn signals can be attached to the bottom bolt of the mounting brackets. The lights took some time to get the mounts in the right position but it can be done. Don't forget the lock tite. one thing to not is that the description says it comes with the turn signal relocation kit but it doesn't, at least mine didn't
Date published: 2016-03-25
Rated

4

out of

5
by
Baloo
from
Nice addition
Really impressed with this product except the fit around the headlight is excessive I am debating removing the mount bolts and lowering the assembly for a better fit around the light
Date published: 2016-03-23
Questions
is there an instrument cluster for this bat wing a real radio or blue tooth
We only stock a "Hogtunes Memphis Shades Speaker System Kit" for the Batwing Fairings listed under item #161194
Date published: 2019-09-06
Does this fairing have an inner fairing to mount stereo
Yes, you can mount a stereo. We sell the speaker kit under Item # : 161194
Date published: 2018-12-21
Can you mount speakers in the batwing or do you have to mount speakers on the handle bar?
There's a company called Hog Tunes that make speakers that mount to the fairing. It comes with two 40 watt speakers, a fifty watt amplifier, handlebar mounted docking port with volume controls for an iPod or phone and a cable to charge your phone. I think everything costs around $450.
Date published: 2016-11-06
Does this for 2011 Harley Davidson Sportster custom XL 1200
Yes, you would need to order the correct vehicle specific mounting kit for this, which you can find here: https://fortnine.ca/en/memphis-shades-trigger-mount-kit
Date published: 2019-03-29
Does this come with mount plates? Is the trigger lock necessary for mounting? I have a 2002 Vulcan Nomad 1500FI with stock windshield.
No it does not. This is just the fairing. This item requires a trigger-Lock mount kit specific to bike model - item #140013 you would then need to order one of the Batwing specific windshields - item #139604 or item #139811
Date published: 2019-10-11
Hey there, Would this fit a 2009 Suzuki C50 Boulevard Se and if so what other parts will I need to install?
Yes. If you enter the year, make and model of your vehicle on the product page, you will be able to order the vehicle specific part for your bike. You would also require the following items: Memphis Shades Trigger Lock Mount Kit - #140013 Windshield - #139811 or #139604
Date published: 2019-09-18
Which mounting kit do i need to put this on a honda Shadow spirit 750DC?
Item #MEK1956 or #MEK1957, depending on the color that you want
Date published: 2019-10-11
Hi, I am interested in the Bat Wing for my 04 VTX 1300S. Please confirm what is meant by wind buffeting mentioned by several people in the reviews. Thanks Tom
Hi Tom, They are talking about the wind being redirected over the fairing. Many people who add this product may not have a windshield, or a winshield that is attached to a fairing at least. ~Danielle, Customer Service, Canada's Motorcycle
Date published: 2015-03-25