Motul 300V 4T Factory Line Synthetic Oil
Item # : 60099
$24.99 - $103.99
$24.29 - $94.99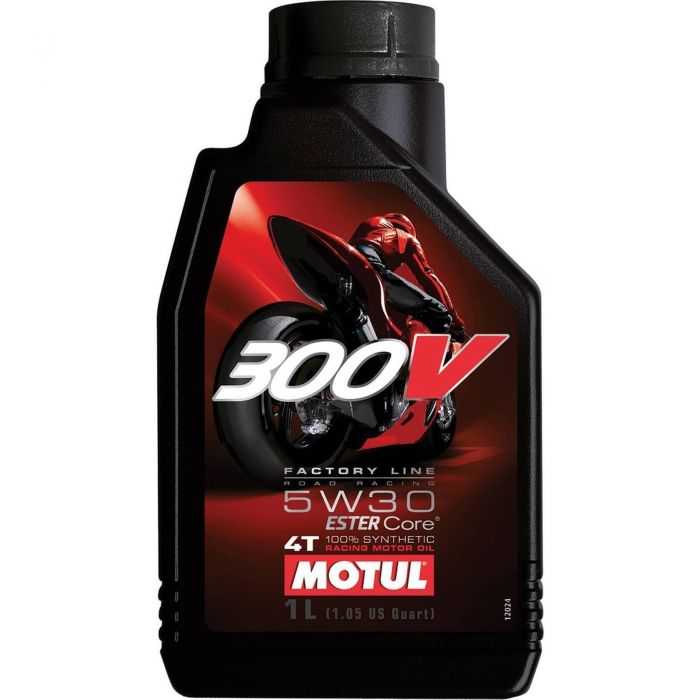 Motul 300V 4T Factory Line Synthetic Oil
Item # 60099
Description
Motul 300V 4T Factory Line Synthetic Oil
Features:
4-stroke competition lubricant
Double Ester technology, developed for the leading factory teams
Lower friction for increase power
Exceptional film strength to protect the engine and gear box
Perfect for oil wet clutches
Exceeds JASO MA
Standards: Above existing standards
Manufacturer Part Numbers:
104108 - 5W30 - 1 L
104111 - 5W30 - 4 L
104112 - 5W40 - 1 L
104115 - 5W40 - 4 L
104125 - 15W50 - 1 L
104129 - 15W50 - 4 L
104118 - 10W40 - 1 L
104121 - 10W40 - 4 L
Comparison Chart
| | | | | |
| --- | --- | --- | --- | --- |
| | | | | |
| Model | 3000 4T | 5100 Ester 4T | 7100 Ester 4T | 300V 4T |
| Affordability | Most Affordable | Affordable | Less Affordable | Least Affordable |
| Engine Type | 4-Stroke | 4-Stroke | 4-Stroke | 4-Stroke |
| Quality | Mineral | Semi-Synthetic | Synthetic | Synthetic |
| Viscosity | 10W40, 20W50 | 10W30, 10W40, 10W50, 15W50 | 5W40, 10W40, 10W50, 10W60,15W50, 20W50 | 5W30, 5W40, 10W40,15W50 |
| Details | Meets OEM & Harley specifications, wet clutch | Meets OEM spec, specifically Honda SAE 10W30, wet clutch | For all 4-stroke engines, wet or dry clutch, high performance | Maximum power output, high performance applications |
| API Standards | API SG / SH / SJ | API SG / SH / SJ / SL / SM | API SN | Above all existing standards |
| JASO Standards | JASO MA2 M033MOT109 | JASO MA2 M033MOT111 | JASO MA2 M033MOT117 | Exceeds JASO MA |
Reviews
Rated

5

out of

5
by
kmoney
from
Top quality.
Running the 15w50 in my air cooled Honda. 7-800kms of riding and a couple long sessions stuck in traffic and most oils seem to turn to water. With this, shifting and performance remain the same through the entire 6K OCI -- they claim it is immune to thermal and mechanical shearing, and I 100% believe them. Worth every cent.
Date published: 2015-07-24
Rated

5

out of

5
by
miguel
from
Love it
My bike never run so smoothly. Changing gear is as smooth as it can get.
Date published: 2017-05-04
Rated

5

out of

5
by
Matt
from
Best oil you can buy
I have used 300V religiously in my race bikes with amazing results. It truely is exceptional oil.
Date published: 2016-01-10
Rated

5

out of

5
by
Dscangia74
from
Great
I'mi happy about my purchase and the shipping was perfect
Date published: 2016-08-13
Rated

5

out of

5
by
Infest0ne
from
Awesome
I bought this 3 week ago and i'm very thankful for the fast shipping 3 days and it was home! Very great product for my motorcycle it's running the gears much smoother .
Date published: 2016-06-24
Rated

5

out of

5
by
Audi403
from
Best price!
Cheaper than buying local. Most local shops in my area don't seem to appreciate the business anyways.
Date published: 2018-08-30
Rated

5

out of

5
by
miggyc
from
Only oil I use in my motorcycle. Smooth shifting/ running motorcycle.
Date published: 2017-12-31
Rated

5

out of

5
by
Mmm
from
Excellent for my Shiver
Improves clutch/gear shifting performance
Date published: 2012-10-20
Questions
Is this a good motor oil for a 2019 Kawasaki Z900?
Being a full synthetic racing oil, the 300V would be more than good, but unless you do a lot of track days or sustained high rpm riding it is probably overkill. I have a number of sport bikes and went to the cheaper semi-synthetic Motul 5100 at the dealer's recommendation, which is more than adequate in my opinion for normal sport riding. I'm not a certified mechanic but have been riding for 40 years.
Date published: 2019-10-07
I have a 2017 Triumph bonneville t120 black and the manual says to use 10W40 oil and I was wondering if I could use this 300V oil??? I don't care that it's more expensive if it's better for my engine in the long run for my motor and clutch.
I'm a long time enthusiast but not a mechanic. I have a Triumph Daytona 675 and did the last oil change myself after the bike's warranty ended. I used to use the 300V on other bikes, but when the price increased significantly I checked with the dealer what they put in for the D675. Service said that 300V is good if you do track days, but unless you do sustained near-redline riding the cheaper Motul 5100 is fine - the latter is what they use. The T100 revs a lot less than the D675 so if I were you I'd go with the 5100 and use the money saved to buy gas and go riding!
Date published: 2017-11-12
Will 300v cause engine to run cooler? And is it api sf or sg?
Motul 300v is a very high performance oil.Racing and high rpm engines.Engine may run a bit cooler,you will notice the transmission and clutch operate smoother.It surpaces SJ/SH/SG and JASO MA MO 33MOTO5.Hope this Helps.Also use a good oil filter that is recommended for synthectic oil.K&N is a good choice.
Date published: 2018-02-08