Motul 3000 4T Mineral Oil
Item # : 60221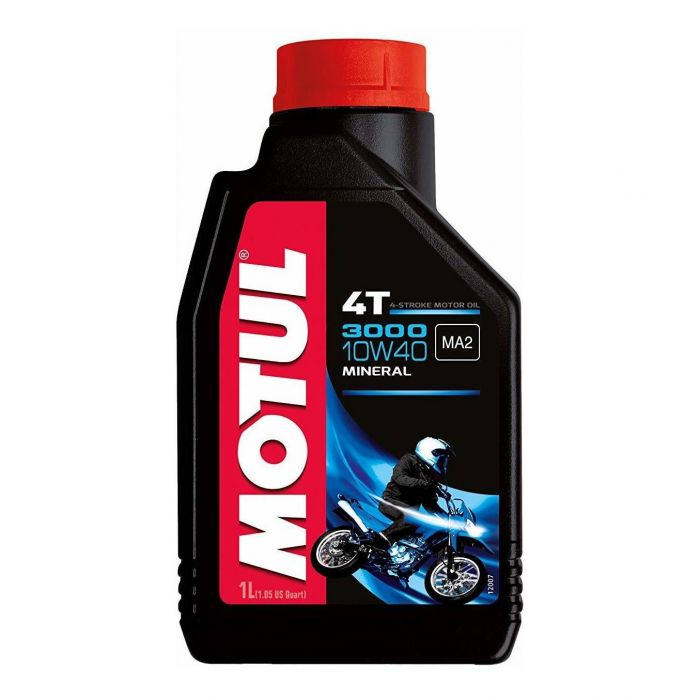 Motul 3000 4T Mineral Oil
Item # 60221
Description
Motul 3000 4T Mineral Oil
Features:
Petroleum Based oil
Formula especially reinforced with extreme pressure additives for gearbox
High lubricating properties which decrease friction and wear and increase engine lifetime
High detergent and dispersive properties
Meets JASO MA
Standards: API SG
Manufacturer Part Numbers:
104045 - 10W40 - 1 L
104046 - 10W40 - 4 L
104048 - 20W50 - 1 L
104050 - 20W50 - 4 L
Comparison Chart
| | | | | |
| --- | --- | --- | --- | --- |
| | | | | |
| Model | 3000 4T | 5100 Ester 4T | 7100 Ester 4T | 300V 4T |
| Affordability | Most Affordable | Affordable | Less Affordable | Least Affordable |
| Engine Type | 4-Stroke | 4-Stroke | 4-Stroke | 4-Stroke |
| Quality | Mineral | Semi-Synthetic | Synthetic | Synthetic |
| Viscosity | 10W40, 20W50 | 10W30, 10W40, 10W50, 15W50 | 5W40, 10W40, 10W50, 10W60,15W50, 20W50 | 5W30, 5W40, 10W40,15W50 |
| Details | Meets OEM & Harley specifications, wet clutch | Meets OEM spec, specifically Honda SAE 10W30, wet clutch | For all 4-stroke engines, wet or dry clutch, high performance | Maximum power output, high performance applications |
| API Standards | API SG / SH / SJ | API SG / SH / SJ / SL / SM | API SN | Above all existing standards |
| JASO Standards | JASO MA2 M033MOT109 | JASO MA2 M033MOT111 | JASO MA2 M033MOT117 | Exceeds JASO MA |
Reviews
Rated

4

out of

5
by
lego
from
Great product always loved
Uses motul in my classic honda and engine/trans are running smoothly
Date published: 2015-06-02
Rated

5

out of

5
by
Gorillaman
from
Always Fast - Always correct
Motul is not that common in North America. But in Europe and Australia it is Number One. I have a 2016 Harley Bagger and have tested every Synthetic Oil out there. What a waste of money. The Motul Dino Oil (mineral) is far superior to the HD oils and I change mine out every 5-6k with very little if any discolouration.. It quietens the motor and I even use this (10W/40) in the primary. Amazing stuff.
Date published: 2018-03-22
Rated

4

out of

5
by
Yanz
from
Excellent
Great mineral oil for street riding. Fair price as well. If mineral oil is your choice, you can't go wrong with something from a reputable brand like Motul.
Date published: 2018-07-11
Rated

5

out of

5
by
Simran
from
Awesome
Did a oil change on my bike month ago and it's great oil for decent price.
Date published: 2018-07-09
Rated

1

out of

5
by
Frederik
from
Not so good.
I was usually using Bikemaster performance mineral oil (20w50 in the summer) in my KLR 650 and it was burning very little oil (~50ml every 1000km). Try this oil the last oil (also in the 20w50 vicosity) change and for some reason this oil burn a lot more than the Bikemaster mineral oil that I was using (~200ml every 1000km). It might be due to the fact that this oil only have the SG API specification (1993 and older) while the Bikemaster oil (which is also cheaper) have the SL API specification (2004 and older).
Date published: 2017-09-18
Rated

5

out of

5
by
memette
from
huile
excellent pour ma motocross tout les produit motul sont excellent
Date published: 2019-11-18
Rated

5

out of

5
by
80sWildChild
from
Trying this out
I use Motul semi synthetic in my ZRX1200R and love it, so this was my natural choice for new/old 1975 Honda CB500T. I'm sure it will be a perfect match.
Date published: 2019-06-24
Rated

5

out of

5
by
Rémo
from
Excellente qualité
Je suis très satisfait et je recommande pour votre moto.
Date published: 2019-06-14