TecMate USB 21mA SAE Charger - O-107
Item # : 447998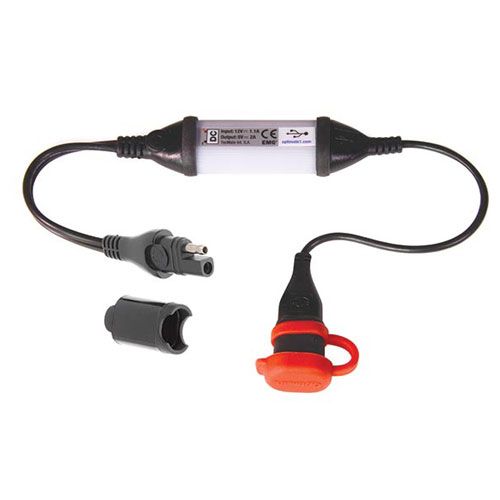 TecMate USB 21mA SAE Charger - O-107
Item # 447998
Description
TecMate USB 21mA SAE Charger
Fast charge your phone, GPS, camera & tablet from your vehicle battery with the industry standard 2-pin SAE connector .
Features:
Low input (<12.4V) auto-off protects vehicle battery from total discharge
Supply range: 12.4 to 16Vdc.
Power cable with SAE connector charge delivered via weatherproof USB cable outlet.
Short circuit, overheat, overvoltage protection.
Premium USB charger designed by TecMate. 3 year limited warranty.
Manufacturer Part Number: O-107
Reviews
Rated

5

out of

5
by
Mayoo
from
Best Charger !!!
I am coming from a bad experience from Battery Tender USB. This charger not only chargers my phone but also auto shuts off when i left the phone charging accidentally
Date published: 2017-05-26
Rated

5

out of

5
by
Daniel
from
Perfect
I recently crossed Newfoundland on a dirtbike through about 900 km of trail. I used the charger to charge my cell phone and to hook up a charger that would charge 3 gopro batteries at once. I had two days of rain, and lots of puddles and then dust throughout the trip, with lots of vibration, bumps and everything that that could cause a failure, but this charger worked flawlessly...plus you can leave it charging on your bike when the bike is off knowing it will stop when the battery level hit 12.4 volts or less....fantastic product!!!
Date published: 2017-07-19
Rated

1

out of

5
by
kpelleri
from
Charger not working
Bought charger a year ago, it never worked. Input voltage is 14.6VDC, checked with DMM. Do yourself a favour and avoid this brand
Date published: 2019-05-12
Rated

3

out of

5
by
Tartosuc
from
A fonctioné quelques temps
J'ai utilisé ce chargeur a l'automne dernier sans problèmes. Ce printemps le circuit qui detecte le bas voltage et le haut voltage a cessé de fonctionner corretement et le chargeur se mettais a off toiut le temps. Apres de nombreux echanges courriel avec tecmate ils on refusé de le garantir(3 ans de garantie) et m'on simplement offert un escompte sur un de leur autre produit... Au prix de cet items vous pouvez en acheter 3 en ligne et avoir un backup si le votre lache. Bon produit, tant qu' il fonctionne et que vous n'avez pas besoin de garantie.
Date published: 2018-05-15
Rated

5

out of

5
by
BigBadWolfMoto YouTube
from
Great little accessory!!!
I connect it to the existing plug that is used for the battery tender, and immediately, I have power to charge any USB device! I am a motovlogger and a long distance rider, so having my gadgets charging on the go is crucial! Loving this!
Date published: 2018-03-16
Rated

5

out of

5
by
Dave CB1000R
from
Chargeur Optimate
Jai installer le chargeur direct sur la plug OEM de Honda sur la batterie. Charge mon Note3 parfaitement!! Super achat!!
Date published: 2016-06-24
Questions
is this a usb charger so I can charge my phone from the trickle charge cable?
Yes it is
Date published: 2019-05-31
Aside from this item, which other items are needed for a full setup to work? Also, the cable on this item seems extremely short, what did you do to make it work?
I personally also ordered the TecMate Universal USB 40in. Extender Set - O-109 Item # : 237683 to extend the USB up to where I wanted it aswell as ordered Battery Tender Quick Disconnect Harness - 081-0069-6 Item # : 36451 to wire it to the battery.
Date published: 2018-06-06