TecMate Optimate Lithium Charger - TM-291
Item # : 237671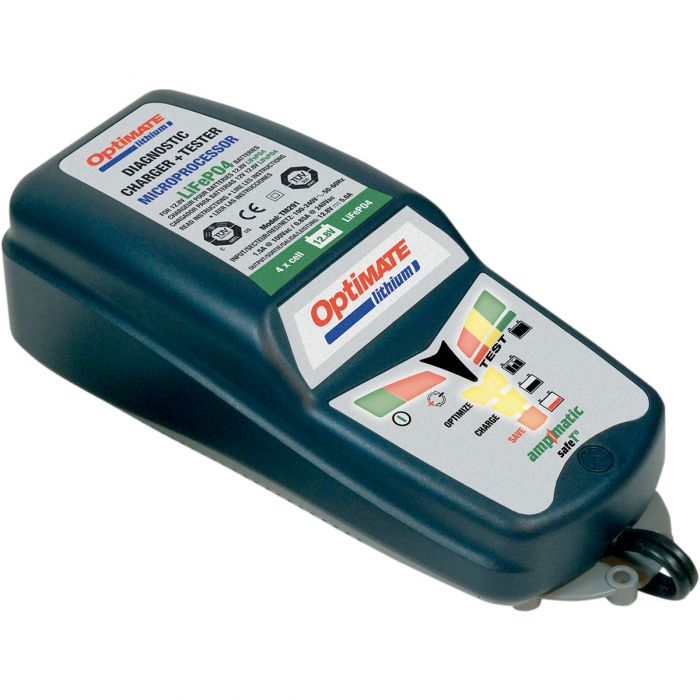 TecMate Optimate Lithium Charger - TM-291
Item # 237671
Description
TecMate Optimate Lithium Charger
Features:
OptiMate lithium, the first OptiMate to protect your LiFePO4 battery in a way no other charger has
Will protect your investment and keep your Lithium Iron Phosphate (LiFePO4 / LFP) battery performing as advertised for a very long time
With 5 Amps of charge current available OptiMate lithium unique multi-step ampmatic program recharges and balances cells within the battery quickly and efficiently
OptiMate lithiums maintenance program delivers current to the vehicle circuitry, protecting and keeping the battery at 100% charge
Tests and displays battery condition before charging
Voltage retention test is conducted for 30 minutes during which no charge current is delivered, with and provides results indicating the batterys general state of health
The 12-hour MAINTENANCE CHARGE CYCLE consists of 30-minute float charge periods at a voltage of 13.6V followed by and alternating with a 30 minute rest (no charge current) periods
During the float charge period current is delivered only if the battery has lost charge due to connected vehicle circuitry; a refresh cycle may be performed if the charge level has dropped significantly
Charge progress is tracked against the ideal LiFePO4 charge curve, internal damage will be detected and unnecessary charging is prevented of a battery that cannot be recovered
Includes permanent ringlet connector with weatherproof cap and a set of battery clips
Manufacturer Part Number: TM-291
Reviews
Rated

5

out of

5
by
HI VOL
from
Lithium ion-The way to go pro!
It was so good to be able to place my order by telephone for the Tecmate Optimate battery charger. . Quality is great. So easy to use .Plug it in-it does the rest!
Date published: 2018-03-15
Questions
Is it good for lithium ION batteries also
This charger is designed for lithium (lithium ion) batteries, so yes.  I use it on my Anti-Gravity lithium ion battery on my bike. Works like a charm.
Date published: 2018-11-28