Bridgestone Battlax S20 EVO Radial Rear Tire
Item # : 295218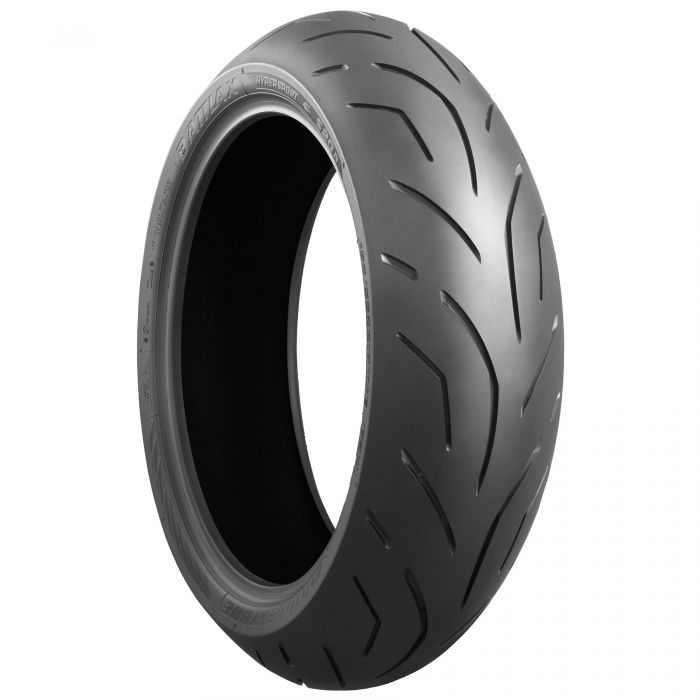 Bridgestone Battlax S20 EVO Radial Rear Tire
Item # 295218
Description
Bridgestone Battlax Hypersport S20 EVO Radial Rear Tire
Ultra-High performance radials improving upon the S20 to enhance handling performance and cornering using existing tread patterns with updated construction and rubber technology from MotoGP
Handling and stability are improved by optimized stiffness of both front and rear tires
Wear life is enhanced without losing performance of S20
S20 EVO (front) has Dual Compound (3LC) technology plus a high strength belt package
Rear tire re-introduces Triple Compound (5LC) technology originally introduced in the Battlax BT-016 to provide both good grip and wear life
Rear tire center compound provides good stability, the shoulder compound transfers power to the road with strong traction and the edge compound offers high grip and a secure contact feel
Rear grip is also enhanced by providing a compliant contact patch
Other technologies used include: (MS-Belt) Mono-Spiral Belt, (HTSPC) High Tensile Super Penetrated Cord and Enhanced Bead Filler, to achieve high levels of all-around sport bike performance
H-speed rated tires have modified rubber compounds (single rubber tread compound) and carcass constructions to offer enhanced grip and handling for smaller motorcycles
Tubeless
Blackwall
H-rated for speeds up to 130 mph, (W)-rated for speeds of 168+ mph
Reviews
Rated

5

out of

5
by
Fast Eddy
from
Great grip and wear
I've done 2 track days on my BMW S1000rr on these tires and expect to do a couple more and plenty of street/highway riding. I've been doing track days for about 15 years and I find these to be the best tire for both track and road riding. Quick warmup , great grip and long wearing.
Date published: 2015-06-02
Rated

5

out of

5
by
5309Racing
from
Best
Simply put this is the best tire you can mount for a small sport bike. Many hot laps at a tight but fast track and they held up very well. Highly recommended.
Date published: 2016-05-19
Rated

5

out of

5
by
Lewis008
from
best all round tire
This is the best tire I've had. Great in all weather even in extreme rain on the highway. This is the only tire I buy for my 3 bikes
Date published: 2015-07-04
Rated

5

out of

5
by
ksharp
from
fantastic
I bought this to replace my Pirellis on my 1199, the bike has amazing grip as well as the Pirellis are sticky, but these tires are crazy good I haven't killed many miles on it yet but they have given me amazing water desperation as well as sublime handling I will never buy the Pirellis again for the money difference
Date published: 2015-08-19
Rated

5

out of

5
by
Ninja 300 Rider
from
Very good tire! Highly recommended!
This tire grips hard and love the tread pattern too! I was a bit confused about the S20 Evo's front tire tread patter because it looked opposite to the rotation direction but I guess that's what they engineered for. The tread wear looks fine so far for this much of grip. It was a huge upgrade from BT45, but BT45 was meant to be a touring tire so we'll see how long this one will last.
Date published: 2015-07-04
Rated

5

out of

5
by
07CBR600RR
from
Great Handling
I bought this tire as a replacement for the wore out tire that was on my 07 CBR600RR when I bought it earlier this summer. So far, the handling has been excellent as well as the grip. It's paired with a Pilot Power front tire and they seem to work well together. No complaints here, nice tire!
Date published: 2015-08-08
Rated

4

out of

5
by
JohnnyDangerous
from
Good grip
I got 4400 Km out of this tire on my KTM 390 Duke. It always gave good traction and handling. Don't expect high mileage out of this tire as it is only a singkle compound tire.
Date published: 2019-08-27
Rated

5

out of

5
by
throttle
from
bon pneu belle gomme beau tred
j ai acheter ce pneu pour la moto de ma copine et je suis tres content , car il est beaucoup mieux que le pneu d.origine et elle va rouler plus en sécurité. On n'a pas encore essayer les pneus Hiver oblige mais on n'a bien hate.
Date published: 2019-02-09
Questions
I'm planning on replacing my stock rear BT090R currently on my wr250x with the Bridgestone Battlax Hypersport S20 EVO Radial however the stock tire has a tube in it. Will the S20 EVO work with a tube?
Yes, i installed mine on a DRZ400sm with tube. You will need to ballance your wheel. 
Date published: 2016-08-09
What is the difference between the Bridgestone Battlax S20 EVO Radial Rear Tire and the Bridgestone Battlax Hypersport S20 Rear Tire?
The S20 Evo is the updated version of the S20, the compounds and riding efficiency has been updated, as well the rear tire now has a triple compound improvement for grip and wear vs the dual compound construction on the front. The S20 has only dual compound for both tires. For now sizes are limited for the updated Evo version.
Date published: 2016-04-03
Hi... what is the E spec version? I am finding the same tire with the same size... but ome of tge optioms is E spec!..what does that mean?
The E spec is a stock (OE) replacement for a Yamaha FZ-10.
Date published: 2017-08-29