Shoei RF-1200 Solid Helmet
Item # : 179162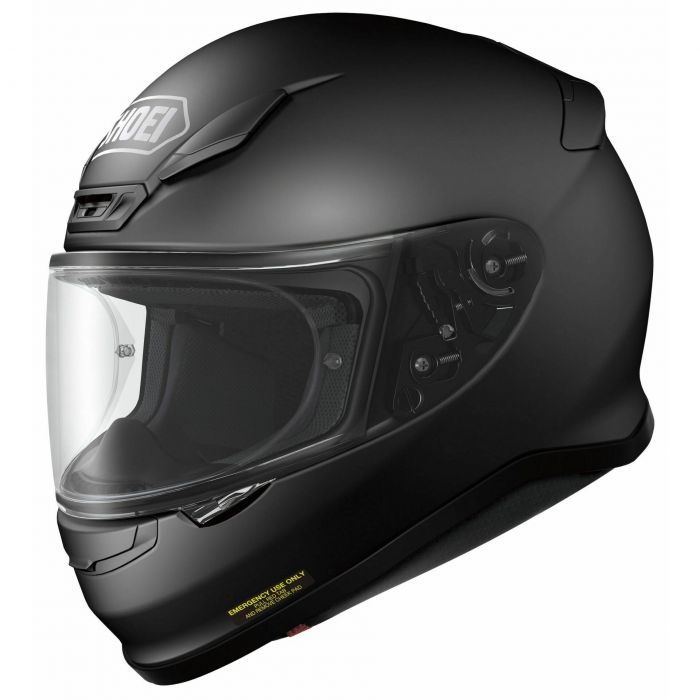 Shoei RF-1200 Solid Helmet
Item # 179162
Description
Shoei RF-1200 Helmet
The latest generation in the most prestigious pedigree of premium full-face motorcycle helmets, the RF-1200, like its many RF predecessors before it, is the new pinnacle of helmet performance and technology. A lighter, more compact and streamlined helmet with next-level functionality, SHOEI's RF-1200 rules every aspect of the road, and then some. But don't just take the critics' rave reviews for face value; it's your turn to experience the excitement of riding in an RF-1200.
Features:
Four shell sizes
Dual density EPS liner
Superior ventilation
3D Max-Dry System II Liner
E.Q.R.S. (Emergency Quick-Release System) CWR-1 Shield System
Neatly secure-chin strap
Includes Pinlock pins and lens insert
Includes breath guard and chin curtain
Snell M2015 and DOT Certified (Depending on the manufacturing date, this helmet may come with a Snell 2010 sticker instead of a Snell 2015 sticker.)
Comparison Chart
Model
RF-SR
RF-1200
X-Fourteen
GT-Air II
Neotec II
Starting at
$530
$640
$940
$770
$930
Designed for
Upright position
Versatile.  Sport or Tuck position

Tuck position + lighter + more aerodynamic.

Racetrack helmet

Premium helmet with Integrated Visor
Premium Modular Helmet
Shield model
CWR-1
CWR-1
CWR-1
CNS-1
CNS-3
Sun Visor
QSV-1
QSV-1
Snell M2015
Dropped down visor
Modular Helmet
Made in
Japan
Japan
Japan
Japan
Japan
Reviews
Rated

5

out of

5
by
protojimmy
from
I didn't know a helmet could be this good
An all-around fantastic helmet, I didn't realized that a helmet could be this well fitting and comfortable! Great air flow, soft padding, a fairly wide field of view, and a pinlock included. I was nervous about buying a higher-end helmet online but the size guides are spot-on for finding your fit, after a few hundred kilometers riding it has only gotten more comfortable.
Date published: 2015-07-13
Rated

5

out of

5
by
Darth Vespa
from
First impressions.
Just got it! Looks fantastic, great design, feels strong. Love the ridges on the shield that makes it stiffer. Seems to have plenty of ventilation. Fit is great too (size Large for me). My previous helmet was a Shoei RF-700 that is still in excellent condition, but time made the inside foam too soft to continue using it (though was stored for about ten years in its original box). Weight of the RF-1200 is only 63grams less than the RF-700, but it feels like it's more than that. I will report on my "while riding" thoughts later, I live near Montreal and we just got another 10cm of snow dumped on us yesterday...
Date published: 2014-03-23
Rated

5

out of

5
by
jay99
from
Best I have owned
I've owed 20 give or take motorcycle helmets in my life. This one is the best so far. Very stable at speed, light, functions all work as they should. But IMO needs more venting. More quiet than most I have owned. High quality premium helmet. Very happy ;)
Date published: 2015-05-31
Rated

5

out of

5
by
SKP71
from
Finally plunked down the cash for a Shoei
Worth paying little more to get a quality product. I went from a Victory Modular helmet that I thought had great features and comfort for half the price, was wrong. In the long run it cost more to buy a cheap helmet first then switch up. How much difference could there be, right? I measured my head and it came within the XL size, I tried on a GT air which was my other choice but having the drop down visor on the Victory I didn't use it much at all and prefer sun glasses on bright days. When I received the RF1200 I quickly tried it on and wow was it tight on the cheek pads compared to the GT Air I tried on. I looked up new cheek pads and didn't feel like spending another $100. Took the pads out and laid the half that contacts the upper most part of cheeks between a box of flooring for couple hours. Re-tried fit and much better. First ride was without ear plugs to compare. Helmet is definitely quieter, still wind noise but notice big difference! I also opened the vents one at a time and you can hear and feel a difference, not tons of air moving through but works very good compared to old helmet which didn't feel like anything going through. The biggest difference, no neck strain!! I don't feel my head being pushed back like old helmet while going 70 MPH. In fact depending on wind direction it sometimes feels like not wearing a helmet. Awesome!! Then with ear plugs in it is very quiet. I really wish you didn't have to wear ear plugs in any helmet. Having the raised bottom on helmet above shoulders also helps with shoulder checking, my old helmet would snag my jacket when turning head to side to check. Note, I ride on a Victory CrossRoads - no windshield at all, so each bike or rider will be different. Bottom line - Worth paying more for quality, comfort and safety!!!
Date published: 2016-06-05
Rated

4

out of

5
by
oldf--t
from
a good upgrade
This is a step up from my RF1000 which is a really good helment.I tried a loaner RF1100 but am glad i went with the 1200 .Shield seals really well and ventilation works well .it feels lighter than the specs claim .this is my 5th Shoei over the years and they just get better !
Date published: 2014-05-28
Rated

5

out of

5
by
johndo007
from
Good helmet
I bought this helmet to replace my RF-1100. Though it is comfortable (a bit tight at first but normal), high quality, offers good visibility, just don't expect it to be so much greater than the RF-1100 which was already a pretty decent helmet. They've improved the visor (much more rugged and simpler mechanism), but the helmet isn't more silent than the RF-1100 (keep in mind I ride a Scrambler so no wind protection). The chin vent produces a high pitch whistle (on my RF-1100 it was the visor). So all in all, it's a great helmet, but just don't expect it to be more quiet or to feel lighter. Someone coming from a cheaper helmet will most likely see a huge improvement, but I'd say it's about 5% better than the RF-1100 :)
Date published: 2016-06-24
Rated

5

out of

5
by
Brian
from
Comfortable Fit
It's a great helmer - comfortable, light weight and it provides great peripheral vision.
Date published: 2016-12-16
Rated

3

out of

5
by
sparkleboots
from
Almost perfect
This is my second high-end Shoei. Overall it's very nice. I have an issue with the chin vent, it sits crooked with the slightest of bumps and looks like it's broken. Everything else functions OK. Photo chromatic lens is great but scratches very easily. Almost perfect.
Date published: 2016-05-07
Questions
Which shield would fit this helmet? I'm looking for a smoked one
You'll want the CWR-1 shield: https://fortnine.ca/en/shoei-cwr-1-pinlock-shield
Date published: 2016-11-04
Hi there, is the "black" option gloss? I'm looking for a shiny black RF-1200 but the "black" picture looks slightly matte. Cheers!
Yes, the "black" option is gloss
Date published: 2019-01-08
does this helmet have speaker pockets?
Yes, this helmet has speaker pockets.
Date published: 2019-02-26
Does this helmet have pull down sun visor?
No it does not 
Date published: 2019-02-26
Does the liner allow the wearing of eyewear? Is there enough of a slot to allow the arms to pass though?
There is no problem to me. But maybe i need more bigger size.
Date published: 2017-03-16