HJC FG-17 Solid Helmet
Item # : 140925
$274.99 - $279.99
$178.99 - $181.99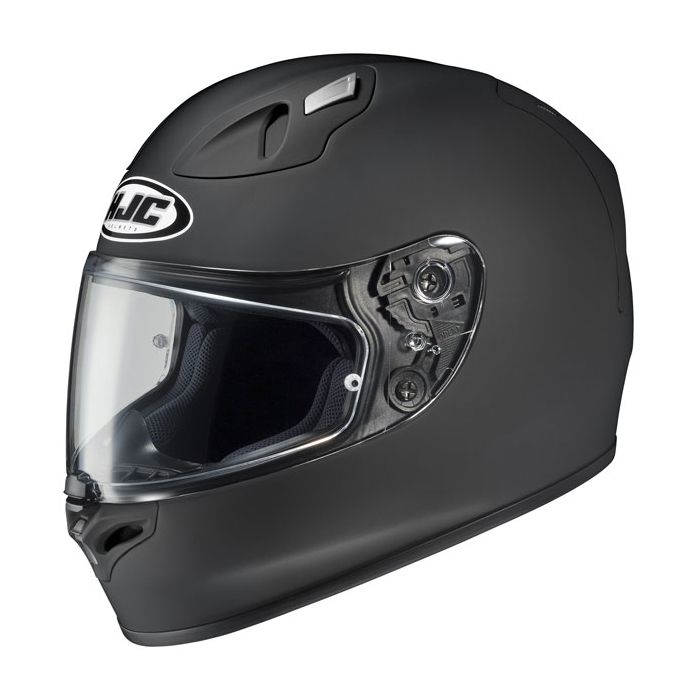 HJC FG-17 Solid Helmet
Item # 140925
Description
HJC FG-17 Solid Helmet
The HJC FG 17 shares DNA from the RPHA side of the house while maintaining a more modest level of investment to the rider.
Features:
Advanced Fiberglass Composite Shell
Lightweight, superior fit and comfort using advanced CAD technology
Large eyeport opening for greater visibility
ACS Advanced Channeling Ventilation System
Scoop top intake vent combines with rear exit vents to provide flow-through ventilation, helping to pull heat out of the helmet's interior
Chin bar vent provides airflow across the shield interior to help eliminate shield fogging
Removable, washable Silvercool antibacterial moisture-wicking comfort liner
Rapid Fire II tool-less Shield Replacement System
Pinlock-prepared HJ-20M Shield (Item #: 153326) anti-fog, scratch-resistant hard coating (insert lens sold separately)
Optically correct 3D design
DOT and SNELL M2015
Reviews
Rated

5

out of

5
by
gsxr7racer
from
Crash tested!
I bought this at a local shop for a little cheaper than Fortnine but wanted to do a crash test review for anyone interested in this "cheap" helmet. Don't waste your money on Arai or Shoei, this lid did awesome! I was really enjoying this lid, airflow from the top vents could have been better but that was my only real nitpick about this lid. Had a deer jump into my path yesterday and went over the bars onto my right shoulder and head area. Shoulder is stiff and sore but I didn't even realize until re-inspecting the helmet today that I had taken more impact to the my head than I thought. No headaches, head feels fine. Helmet still looks usable until you knock on the impact point, sounds very dead. As it should for absorbing an approximately 30 to 40kph impact! Great lid, great protection! Get it!
Date published: 2017-03-27
Rated

4

out of

5
by
PBlemieux
from
Great looking, quiet.
Great looking, quiet. But the attach straps could be way better. Appart from that. Really happy about it.
Date published: 2015-07-04
Rated

5

out of

5
by
Tuony
from
Lightweight, round oval fit, great value
Lightweight due to fiberglass construction. Same weight as the RF-1200. Round oval head fit. But tight around the chin bar. Many people swap out the cheek pad to a thinner set for a larger sized helmet to make it fit well. I had to swap from my boom mic to the low profile stick on mic in my Sena 10s because of the tighter fit around the chin bar. The boom mic foam windsock would touch my lips so I had to use the low profile mic. Love the center (ambidextrous) visor locking mechanism. Very positive lock, yet easy to crack open with either hand. Way better than the visor lock on the CL-17 or even the Shoei Qwest, it'll actually keep the visor totally locked down, and not allow it to open a few millimeters like the CL-17 and Qwest allow when locked. Chin vent flows a lot of air, maybe too much. When open it tends to irritate my eyes at worst, and dry them out quickly at best. Top vents work ok for the scalp, but I'm amazed at how well it seems to vent at the forehead considering it doesn't have brow vents like the RF-1200 and CL-17. Mine came with the pinlock included. Visor quality seems MUCH better than on the CL-17 or Icon's Proshield and on par with Shoei's. Pinlock is amazing for anti-fog. Will never use a helmet without one ever again. Chin strap is on the short side, but I like it that way. May make getting it on with gloves on a little harder, but also means you don't have a bunch of extra strap looped when done up. I found the one of my previous Icon helmet too long, which meant getting it strapped up was a little easier, but once strapped up, there was a bunch of strap under my chin. Annoying if you ride in colder weather and have a neck gaiter with face mask or balaclava, which I tend to do, so I don't like longer straps. Bought it because CM was blowing it out on clearance in a colour/pattern scheme I didn't hate. At the clearance price it was a great value. The next closest online Canadian based online retailer pricing was about $20 more. Too bad I needed to buy another set of cheek pads to make it fit, as well as a chin curtain because it didn't come with one. But I guess most manufacturers don't include the curtain either. Would be nice if you could simply trade in cheek pads for some of a different size so you don't end up with cheek pads you're never going to use, and have to buy another set to make any size of the helmet actually fit your head.
Date published: 2016-06-24
Rated

5

out of

5
by
Garagamus
from
Great Helmet, great price, awesome service.
Was looking to replace an older HJC IS-16. Wasn't sold on the "Mamba" graphic in lime green, but my size was still available in the matte black colour scheme. For the price, I'm not going to complain, considering the solid colour models were much higher. Love the weight, XL fits my 59cm oval head pretty well, cheeks are tight, but they should loosen up with use as per the fitment write-up. Mine still came with the pinlock visor included even though they supposedly stopped putting them in after 2014, (bonus, but may not ship with solid colour models). Best feature is the visor lock, holds well and seems to create a very tight seal. Fit and finish is miles ahead of the helmet its replacing. Its December in Alberta, so I'll have to wait for spring to comment on noise levels, air flow, and buffeting. Good quality and looks smaller on my head compared to the old one. Love the fact that fortnine is a decent sized retailer in Canada that can offer value without the exchange rate or shipping charges negating any savings.
Date published: 2016-12-19
Rated

4

out of

5
by
sharpstud
from
Nice lid
Just changed to the HG-17. I added the light smoke visor and was very happy on our nine day trip we just returned from. I haven't tried the pin lock visor yet but was happy with the upper vents that kept me going while it was over a hundred crawling down the I-5 through Olympia Wa. last week.
Date published: 2016-08-31
Rated

2

out of

5
by
joe shmo
from
week shield clips
very comfortable breaths great no stuffy hot air in your face but the face shield clips keep breaking replaced them twice in 3 months try to be gentle opening/switching shields but there just cheep garbage for clips wouldn't recommend it for this reason
Date published: 2013-09-09
Rated

5

out of

5
by
GoPapi
from
Great helmet for the price
I bought this helmet to replace my old FG-17. I can't think of another helmet in this price range with such a high quality build. I got the silver one because it should be a bit cooler than a dark coloured one and I find that on the long run you don't get tired of the graphics. Just got back from a 17 day 5000 km trip and love it even more!
Date published: 2019-08-28
Rated

5

out of

5
by
Gillis82
from
Super satisfait!
J'ai acheté ce casque d'abord parce qu'il est très beau! Mais après quelques balades, je constate qu'il est aussi très confortable, bien insonorisé et que la ventilation y est très bonne! J'avais un Bell avant et il s'y compare! Je suis très satisfait de mon achat!
Date published: 2019-08-28
Questions
I was told the Pinlock insert isn't included, but the desc. says, "100% MaxVision lens included". Several reviewer's helmets came with an insert. The 2018 Parts Canada catalog says, "Pinlock insert included with every helmet," for FG-17. What's the deal?
Yes, the Pinlock insert is indeed included.
Date published: 2018-03-03
Does this lid come with a chin curtain or chin padding? Thanks.
No the HJC FG-17 helmet doesn't come with a chin curtain or padding
Date published: 2018-12-21
Is this helmet Snell rated?
Yes, this helmet is DOT and SNELL M2010 rated
Date published: 2019-08-05
Does this come with the internal sun shield (HJ-V9)? If not is it an option to add to this helmet?
No, this helmet does not come with an internal sun shield, and does not have the capability to add an internal sun shield
Date published: 2019-08-05
I currently have an HJC AC12 model helmet in size XL. I have had it for ages. What size HJC helmet should I order? just XL and cross my fingers? I could measure my melon, are there measuring instructions available?
you should stick with your current size, it's pretty standard for helmets. head shape and confort may vary by models but usualy you keep the same size.
Date published: 2017-03-02
does anyone know whether this helmet comes with the tinted visor?
Mine came with the clear visor and clear Pinlock insert.
Date published: 2016-09-19