HJC IS-Max 2 Solid Helmet
Item # : 263214
$289.99 - $299.99
$187.99 - $194.99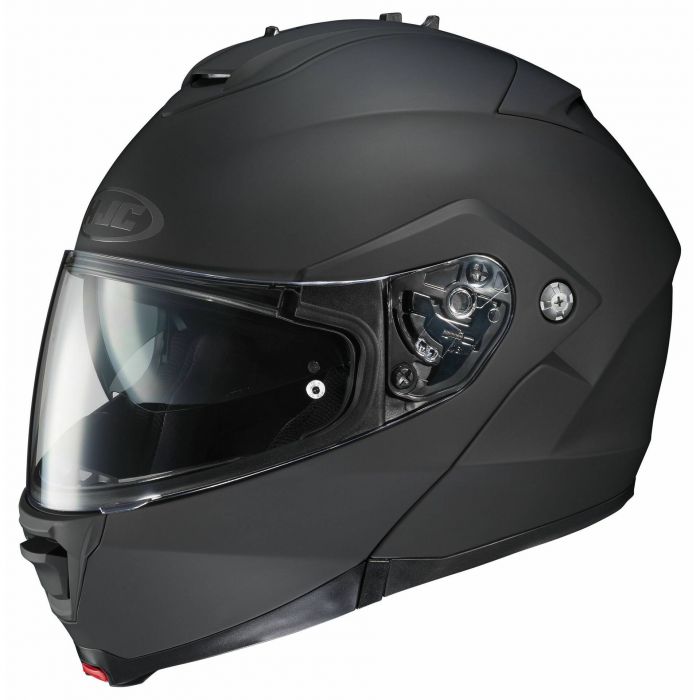 HJC IS-Max 2 Solid Helmet
Item # 263214
Description
HJC IS-Max II Solid Helmet
The HJC IS-Max II is a feature-rich modular helmet that features a drop down internal sun visor for cutting down glare and making your ride all that much more enjoyable. A moisture-wicking anti-bacterial liner pulls sweat towards the integrated ventilation channels and the chin bar raises with a single button that is easily operated with a gloved hand.
Features:
Advanced Polycarbonate Composite Shell with Adjustable Polycarbonate Chinbar: Lightweight, superior fit and comfort using advanced CAD technology
Single-Button One Handed Chin Bar/Face Shield Release
Optically Superior Pinlock Face Shield HJ-17 (Item #: 17106): Provides 95% U.V. Protection. QuickSlide Tool-less Shield Replacement System.
One-touch Integrated SunShield HJ-V5 (Item #: 17111): 3-stage adjustable SunShield with locking mechanism deploys quickly and easily
"ACS" Advanced Channeling Ventilation System: Full front to back airflow flushes heat and humidity up and out
SuperCool Interior: Moisture-wicking anti-bacterial fabric. Removable and washable liner and cheek pads
All sizes of cheek pads are interchangable in all helmet sizes
Pinlock insert and smoke internal sun visor included
Meets or Exceeds D.O.T. Standards
Reviews
Rated

5

out of

5
by
Robert
from
Light weight, well made helmet
I recently purchased this helmet in XL. Although I have a 60cm head, reading other reports elsewhere as well as trying on a XL HJC in a local [50km away] shop led me to choosing the XL. And it fits very well. I am amazed at how light it is too. When I first was riding years ago the cans we had on our head were heavy fibreglass things with the only feature being it had a place where your head fit. Visor is easy to remove and re-attach. We will see about venting though that is new to me after my long hiatus from riding. I like the sunshade; with my modest nose it does not touch it in either down position nor does it touch the prescription glasses I wear. The modular portion lifts and resets easily. I'm looking forward to getting on the road with this helmet - it even matches my '86 Yamaha Venture in blue gray a bit not that I'm big on matching everything. I just did not want a solid matte helmet like everyone might get but I was a bit reluctant [more cowardly than anything really] when it came right down to it to getting the high-vis IS Max ll helmet which has just come into stock. Helmet comes with nice bag. Shipping is good and quick and well packaged.
Date published: 2015-02-13
Rated

4

out of

5
by
roli001
from
My first full face helmet and I get to review it..
I know...this is a modular helmet not a full-face helmet but take it from someone who has ridden all his life in a half helmet that to some degree, to me they are the same. OK. Let's start with the delivery. It was on time. I received the helmet in a few days. No problem here. Size: This is a tricky one. Measuring my head, I should have an XL, however my son has a CL in XL size and it is too small for me in the cheeks...so I ordered the 2XL. Here's the story... I went on the RnR rally in the US in April 2018 and I knew that the weather was going to be poor, so I bought the IS-Max 2 thinking that it would protect me from the elements and ... it did. Good job. Wearing the 2XL helmet however over 4000k in 4 days, I got to know the helmet quite closely and I can say that the 2XL is slightly too big for my head and slightly too small for my cheeks. I'm what today's world would say "big" and what they used to say when I was a kid...fat so my head is like a ball. If I were to buy this helmet again I would have bought the XL size as per the size chart recommendation and smaller, 14mm cheek pads, which I will be ordering as soon as I build an order to warrant free shipping. Just to be fair to Fortnine…I asked for an RMA, when I received the helmet, wanting to order an XXXL because my cheeks felt tight and I received one without a problem but after trying on both XL and XXXL the next day in a store nearby, I decided to stay with the XXL that I had. The 4k ride however proved that I should have an XL size as per recommendations and smaller cheek pads because of my fat head. Ventilation: Riding in April with close to 0 C temperature, I did not have the opportunity to test the ventilation but opening the top vents let a lot of cold air in the top of my head. The front vent however is a different issue. I did not feel any difference between having the vent open and having it closed and I had a chin curtain on, so I should have felt something. Even though I had the pinlock insert attached, I found myself in the early morning having to open the shield not only when stopping at an intersection but sometimes when riding at 120 kM/h to relieve some of the due that was gathering between my pinlock and visor. Something seems to be wrong with the front ventilation and the pinlock. Noise: Can't really speak to that too much having ridden a half helmet all my life. Modular lock: No problem here. Worked without a flaw opening and closing whenever needed, even while riding. I used it whenever I had to put gas in my bike. A nice relief. Intercom: I have a Sena 10 intercom that I mounted on the side of the helmet. The headphones fit nicely into cavities designed in the chin pads. No problem here. Sun visor: Worked nice. No issue here. Would I recommend this helmet? I would…if you understand that my recommendation is based on the fact that this is my first "full faced" helmet and I know no better.
Date published: 2018-05-11
Rated

5

out of

5
by
Derek
from
Great helmet!
I bought it for a ride from San Fran to Las Vegas - great piece of equipment with the combination of full face and modular, flip visor and inner flip down sun visor which I used a lot riding through the desert early in the morning as the sun came up!
Date published: 2016-08-13
Rated

4

out of

5
by
Limbs
from
Love this helmet
I found it fit a little tight. Ended up returning the first one, and getting the next size up. Fit perfect. It's not too loud. Wore it in the pouring rain and didn't fog up. It's not very heavy for a modular. My first trip with it was 1800km over 3 days and it held up great. Would recommend.
Date published: 2016-06-26
Rated

5

out of

5
by
Mikabell12
from
Super
Très satisfait le site est très facile d,utilsation
Date published: 2016-08-13
Rated

5

out of

5
by
Denhen
from
Nicely finished light helmet
Bought this helmet to replace a competitor helmet that was totally sub-standard (completely knackered after 3 years). This helmet exceeds my expectations for a lower to mid. range helmet. It came with a pin lock visor (unexpected) but without the chin screen (which I would have expected). The fit is spot on but I ordered a size down from my measured head size. The chart said I need an XL but ordered large and its perfect (perhaps I have a weird head shape as most other reviews say the sizing is very accurate). Overall a very good buying experience but will update review when riding season begins if there are negative attributes, which I doubt having owned HJC products previously.
Date published: 2018-02-23
Rated

4

out of

5
by
Brian
from
Great but not perfect
For the past 20 years I've been riding with Shoei and Arai and this is my very first HJC helmet. I was on the market for a modular lid and want it to no only try something different but save money as well. IS-Max II definately fits the bill. The helmet comes with bunch of great features and IMO performs quite good. After approximately 3,000km I would rate it like this: Pros - For a modular helmet IS-Max II is quite light - Sunvisor is a great add-on feature - Fairly quiet - Waterproof seals are great and it will keep your head dry - Very easy to install any bluetooth com device - Easy to operate (vents, sunvisor, main visor) - Price Cons - Airflow could be better especially on hot summer days - Main visor is pretty flimsy. I wish HJC did a better job with the closing mechanism - Interior is good but not great (understandable considering the price) - The helmet doesn't come with a chin curtain (if you want to further soundproof this helmet get one)
Date published: 2017-09-20
Rated

5

out of

5
by
Markus
from
Best bang for the buck
A few years ago I crashed wearing an IS-Max BT, and it more than did it's job. When I was replacing it, though, I decided to "upgrade" to a Nolan. Big mistake. Much heavier, poorly vented, lousy face shield. So I "upgraded" again, this time to a Shoei Multitec. Again, big mistake. No sun visor, even more poorly vented, loud, and the liner can't be removed and washed. So I finally really did upgrade, this time to an IS-Max 2. I couldn't be happier. It's quiet (for a flip up), snug, well-vented, has a great sun visor, and - don't let them fool you - it comes with the pinlock insert. At least, mine did. So happy. It's not a Schuberth, but it also cost $700 less. Winning!
Date published: 2016-06-08
Questions
I got this helmet and I'm looking to get a blue tinted mirror visor but there's so many HJC visors which one do I need specifically for my helmet? 
The replacement visors we have available for the HJC IS-Max II can be found on item number 17106.
Date published: 2019-09-17
is there a chin shield or a breading mask that can be use on this helmet?
You can find the breath box as well as the chin curtain available for purchase separately below: https://fortnine.ca/en/hjc-is-max-2-helmet-breath-box https://fortnine.ca/en/hjc-is-max-ii-m-c-chin-curtain
Date published: 2017-05-31
Is the shield anti-fog? if not which shield should I purchase to replace it with?
Hi Moh, This helmet comes with a pinlock ready shield. The pinlock inserts can be purchased separately under our item 64976. ~Danielle, Customer Service, Canada's Motorcycle
Date published: 2019-04-12
Hi Does it fit a cardo freecom or i need special adjustment, parts, new one ? I already have this one!
Yes, the HJC IS-Max 2 Solid Helmet is compatible with the Cardo Freecom. It is recommended to equip it using the Cardo Long Clamp and the Cardo Long Skirt.
Date published: 2019-10-22
Hi, I'd like to know if the different sizes come in different shell sizes. Thanks.
According to HJC's website there are 3 different shell sizes: sizes XS-M use EPS 1; sizes L-2XL use EPS 2; and sizes 3XL-5XL use EPS3.
Date published: 2017-05-31
I am looking at buying the sena 3S-B bluetooth system, and would like to know if it will fit in this helmet( HJC IS-Max II).. I can't find any info on speaker cutouts for this helmet.. Thx.
This helmet is great for glasses wearers. There are depressions where the glasses arms go and they don't press on the head. I don't know about the Bluetooth speakers size but if it's like wearing glasses they will work.
Date published: 2016-08-01
I was looking at the HJC IS Max 2 helmets and was wondereing what the difference was between the solid and mine models were.
I own both helmets and the only difference is the graphics. Both are great helmets
Date published: 2017-10-19
The high-vis yellow version looks green in some pics. Is it more yellow or green? Would it match up with my green Kawi? Also does it have any retro-reflective patches?
It does have a bit of green to it. But I have an Alpine Star jacket that's black and yellow and it matches well. Great helmet
Date published: 2017-06-09