Icon Variant Construct Helmet
Item # : 86727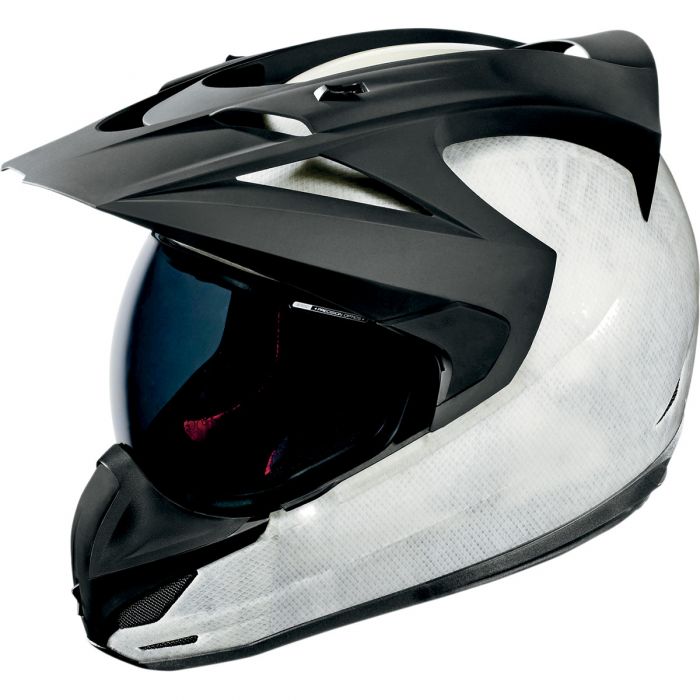 Icon Variant Construct Helmet
Item # 86727
Description
Icon Variant Construct Helmet
Stripped of graphics and devoid of undo flair - the Construct wanders the earth in opaque minimalism. It is purity of form amongst the flamenco masses. It is truth of materials amid the technicolor hordes. In a world where no two helmets are created equal, the Variant Construct and its raw shell stand alone.
All World Standard, meets or exceeds the following: DOT FMVSS 218 (US), ECE 22-05 (Europe), SAI AS1698 (Australia) & SG (Japan) Safety and Testing Standards. Does not ship with SAI or SG Certification stickers unless purchased from an authorized dealer in that country.
Fiberglass/Dyneema/Carbon Fiber Shell
Long Oval Headform
Anti-Lift Visor to Reduce Glare
Multiple Oversized Intake and Exhaust Ports
Quick-Change Fog-Free Shield
Fully Removable/Washable HydraDry Interior
Rear Spoiler for Reduced helmet Buffeting
Removable Chin Curtain
Comparison Chart



Model
Airmada
Airform
Airflite
Variant Pro
Airframe Pro
Starting at
$250
$250
$350
$470
$520
Head Shape
Long Oval
Intermediate Oval
Intermediate Oval
Intermediate Oval
Intermediate Oval
Construction

Polycarbonate

Polycarbonate

Polycarbonate

Fiberglass / Dyneema / Carbon Fiber

Composite

Shield Model
Icon Optics
Icon Optics
Airflite Shield
Variant Pro Shield
Icon Optics
Sun Visor






Weight

3.78 lbs

3.68 lbs
3.79 lbs

~ 3.6 lbs

3.61 lbs

Certification

DOT, ECE

DOT, ECE

DOT, ECE

DOT, ECE

DOT, ECE

Venting
Better -

6 intakes, 4 exhaust ports

Good -

4 intakes, 1 exhaust port

Good -

4 intakes, 2 exhaust ports

Best -

8 intakes, 2 exhaust ports
Best -

9 intakes, 7 exhaust ports
Reviews
Rated

4

out of

5
by
bikeboy1
from
Does what I need.
I purchased this helmet for the cooler months of the year. I wanted something with a wide view and a visor that sealed reasonably well and was replaceble. The fit is comparable to most helmets of this size and the venting works ok but I normally tape the vents for cool riding. I still wear ear plugs for wind noise with all my helmets. This one is no quieter than any of the others. I wish the peak was a little lower to block more of the autumn sun but I will just have to wear sunglasses instead which doesnt pose any problems for comfort. Yes when you turn your head you will catch more of the wind but its no different than any other helmet of this shape with a peak.
Date published: 2015-11-07
Rated

4

out of

5
by
tony crapman
from
sport bike riders! *read*
love the helmet, I use a chrome shield and it looks bad to the bone. ride an aprilia tuono 1000r. at high speeds (sport bike high speeds) the visor can blow open from wind pressure which can be quite startling. only at high high speed. just a warning. love the helmet still where it everytime I ride. *do not buy if you have neck problems.
Date published: 2016-10-21
Rated

4

out of

5
by
Iggy
from
Good helmet excellent perriferal vision
Used on a 4700 km Baja trip and on my bagger for wet riding. Great fit, lots of venting but do have problems closing a top vent. Switch to an amber shield and like it much better. Fairly quiet but still wear ear plugs for Hwy speeds. I wear specs and no issue there. Cool feeling thanks to the venting. Also warm for cold weather riding.
Date published: 2016-06-27
Rated

4

out of

5
by
Samy
from
I love this helmet so much it's my second in a row. Last helmet lasted two years and 45000 km. Noisy at high speed if you sit straight but surprizingly comfortable on liter bikes. The style and design is fantastic and looks rebel with a tinted or colored visor. I wear correction glasses and it is a charm with this helmet. Plenty of space for an intercom along with it's microphone and speakers. Suitable for almost all weather (I ride from April to Novembre - Canada).
Date published: 2015-10-25
Rated

4

out of

5
by
Calgary Marvin
from
Good helmet for city riding with aggressive look
Bought this as an alternative to my normal lid (Shoei GT-Air). Wanted something a bit more edgy looking and that moves a bit more air at low speeds. After a few rides I'm happy with the Variant. Looks wicked and fits true to size chart. Only complaints so far are: -bought the silver mirrored lens and its lousy! I know all mirrored lenses are fingerprint magnets but this one picks up every last touch. Other issue is there's a lot of internal mirror effect (i.e. you see yourself when the visor is down) which is very distracting, to the point I won't wear it. -the lens doesn't have the same tight fit you'd get out of a Shoei or an Arai, there's a slight gap on the lower left side, maybe I can fiddle around and make a better seal Fitted it with a Cardo Q3 base and there's sufficient room for the speakers without pressing against my ears. Obviously with a dual sport helmet its fairly loud when riding so not the best audio quality if you're wanting to talk to someone.
Date published: 2015-06-06
Rated

5

out of

5
by
Pacco
from
Bon service rapide.................................
Date published: 2015-08-08
Rated

4

out of

5
by
Vader
from
Great look, Wide view, unique design.
This is a very comfortable, well fitted helmet, vents well, fits true to size, helmet ducts make riding really smooth, but it does pull hard if you look off to the side while riding, simply because of its size, it is a fair bit larger than most other helmets(excluding xd4). Shields are very time consuming to change is my main peeve. Beyond that it is a good helmet.
Date published: 2015-06-21
Rated

4

out of

5
by
Brian311
from
the wind resistance wow
great looking helmet at first i thought i bought it to snugg, but soon i relalised it needed it to be tight due to the wind sail of a sun visor. great at low speeds but once you are over 100km and start looking around it grabs the helmet. still happy with it.
Date published: 2016-08-16
Questions
Can I purchase a mirrored shield?
Absolutely! Here are the available shields for this helmet: https://fortnine.ca/en/icon-replacement-shield-for-variant-helmets
Date published: 2017-05-30
I have to return a Large Biltwell Gringo LE in size large. My head is a little too oval for it, there are gaps on the sides but pressure front to back. I was wondering if XL or XXL would be appropriate for the variant?
The Icon Variant Helmet is very different from the Biltwell so it's difficult to compare the two. The Variant has an intermediate oval headshape and we recommend to following the sizing chart when choose a size.
Date published: 2016-03-28
Does this model come with both clear and smoke tint face shields??
Yes, this helmet ships with both shields.
Date published: 2017-01-27
Hello, I need to buy an ADV helmet and I'm struggling . It will be my first year on ADV bike (15 years on road) and I don't want to splah the money. I'm looking between Scorpion EXO AT950, AGV AX 8 DS or Icon Variant. What will be the best choice ?
I ordered the Icon Variant but had to send it back. I planned on using it as more of a Dual-Sport helmet but it was way to huge, bulky, heavy, and flashy for that. As a more street oriented ADV helmet it might be great, but its definitely more street than anything.
Date published: 2019-05-14
Is the black visor removable?
Yes. A flat head screwdriver is all you need to change out the visor. I believe a small tool is also provided when you purchase the helmet.
Date published: 2016-10-03