This product has been discontinued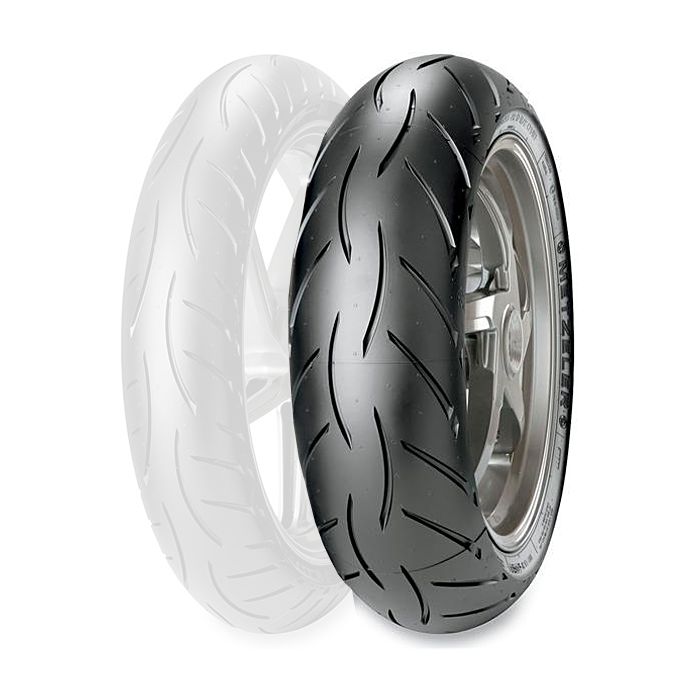 Metzeler Sportec M5 Interact Rear Tire
Item # 36829
Description
Metzeler Sportec M5 Interact Rear Tire
The Metzeler Sportec M5 Interact Rear Tire is the first tire with 5 tension zones, designed to give you maximum control, confidence and agility no matter what the weather conditions. Metzeler's new high-Silica with dedicated resin compounds sets a new benchmark of the segment in terms of wet traction. While the effective tread pattern with optimized land/sea ratio engineered for better performance in all weather conditions.
Features:
Offers high level of grip on both wet and dry conditions, while providing excellent mileage
Five tension zones for maximum control, confidence and agility - superior performance for city riding and/or canyon carving on supersport or naked motorcycles
New tension layout ensures a high level of confidence and control while leaning with the best progressive feedback of the supersport segment on the street as well as the track
New high silica formula with dedicated resin compounds sets a new benchmark of the segment in terms of wet traction
Effective tread pattern with optimized land/sea ratio engineered for better performance in all conditions
High steel tension/low compound flexibility in the crown center area for mileage and stability; low steel tension/high compound flexibility in the shoulder for better handling and grip
W-rated for speeds of 168+ mph
Model Specific Fitment:
190/50ZR-17 (E Spec) tire is designed specifically as OEM replacement for the 2012 Kawasaki Ninja ZX-14R
D Spec tire feature Metzeler's Multi-Zone Compound Technology
Reviews
Rated

5

out of

5
by
FEAR3D
from
The M5 is an all-star tire!
After 500+ kms I think this is a very decent tire. I replaced a toasted pirelli corsa and despite the m5 not being as sticky as the corsa it gives me the same confidence in the corners. I have not rode in the rain with the m5 yet so not comment on wet traction. I will also order the front tire when the time comes. Purchased here at Canada's Motorcycle store last month. Great tire, lowest price and fast shipping!
Date published: 2013-08-20
Rated

5

out of

5
by
Weeber
from
Very good Tire
Bought two of these for my '08 CBR 125 I did a lot of pre-purchase research and the reviews from a plethora of owners seemed to report the same thing - that these tires had now become their defacto tire of choice. The majority of reviews I read came from owners of high-end litre bikes. These riders had already tried pretty much every high-end tire on the market, Michelin, Dunlop, Bridgestone etc. In almost every case this tire set the new standard for them and permanently replaced what they thought was the best tire they had ever had. In particular, I noticed immediately that wet weather performance was incredible - similar to dry weather performance. This is probably the #1 comment about these tires from owners. The minute you ride on them in the rain/wet you'll notice an entirely new level of confidence. Braking improved by several orders of magnitude. This is because of the tires increased traction. As far as performance goes, Metzeler themselves state that the difference between this tire and their all out racing tire is only about 1 second on a 3 mile track. That should be indicative of the tire's performance. I can't speak to lifespan (yet) although from other reports the average seems to be about 7K, if that's accurate then it's on par with any other quality tire. In my case, I'm running them in a non-standard configuration anyway (I'm running two front tires - using a front as a rear) so it's entirely possible that I will see abnormal wear/lifespan which should not be taken as an indicator of tire lifespan. The bottom line on these are that discriminating riders, with exotic bikes, who have lots of experience with high-end tires seem to prefer these. I can see why. In my case, my little bike will likely never be able to break them loose - I bought them primarily for wet weather performance. So, for me, they are overkill but I've always been a fan of buying the best possible tire period and given the importance of traction/handling on a bike - that's these puppies. I also found the price to be extremely reasonable - I don't think I paid any kind of a penalty at all for getting, arguably, the best tire on the market. In fact, I'd go so far as to say the price was cheap, if anything. As for Canada's Motorcycle, this was my first purchase, the price was excellent, the site worked very well, free shipping was the clencher for me. It took longer then I expected to get them but not abnormally long. I was OK with that and they sent out the right ones and they arrived without a hitch so I'm pleased.
Date published: 2013-01-30
Rated

5

out of

5
by
BT642
from
Fantastic Tire
I used these tires last season and put on 14000 kms. I rode to Deals Gap and slayed the Dragon in the rain. The tires are super sticky and give you great confidence, (excellent in rain/wet weather). I ride an 08 GSX 650F.
Date published: 2015-03-02
Rated

5

out of

5
by
mmiller
from
Good Deal - Happy with Purchase
I haven't had a lot of time to run these tires due to the weather but I did get out for a quick blast. Excellent ride quality, excellent wet weather performance. I did a lot of pre-purchase research and it was clear to me that these are top-line tires. Many of the rave reviews on them come from people using Michelin's and other former top-line tires. In most reviews the owner's reported that the Interac M5's were their new standard over and above their previous tires. In particular, there are tons of comments about the increidble wet weather performance. I bought these here from Canada's Motorcyle. It took them about 3 days to process and ship the order, which was fine. They arrived in good order and the shipping was free. The price was also very, very good. So, as far as this company goes, I would say well done. I've got a new source for any purchases in the future. Once I get more ride time on the tires I'll update this post but I am certain that these are the best tires out there from all the independant end-user reviews I've read. They were tough to install but this is because I put them on a CBR 125 (!!!) and they are a bit too wide for the rims. (This is due to the bike itself and is not a typical issue.) I would recommend having somone install them for you though as they are stiff, really stiff and they are low profie Z-rated tires, which lends itself to incredible performance but that stiffness makes it hard to install them yourself. Not impossible, but it's a good workout!
Date published: 2012-12-21
Rated

1

out of

5
by
Brad
from
Terrible
Got this tire on for 4000kms and I hate it. Worst tire i've ever put on a bike. No traction in the cold, wet, and even on warms days it's sketchy.
Date published: 2015-10-21
Rated

5

out of

5
by
Gagnon333
from
Super marchandise, bon prix, super service !
Bon pneu de moto ! Je suis Content de cet achat internet !
Date published: 2017-08-25
Rated

5

out of

5
by
oldirtay
from
Great Tire
So far it's been treating me well! Smooth ride and sticks to the road.
Date published: 2017-05-21
Rated

5

out of

5
by
Yammy
from
Very good tire!
I bought my 2nd set already - very good tire. 15,000km on a rear when it was done. Great response in corners, fast warm up. Recommend!
Date published: 2016-08-13