Scorpion Yosemite Jacket
Item # : 290537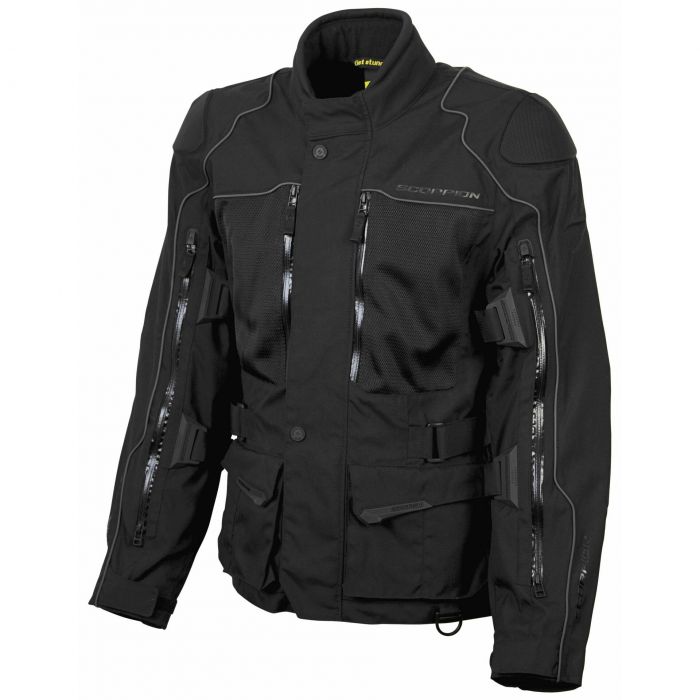 Scorpion Yosemite Jacket
Item # 290537
Description
Scorpion Yosemite Jacket
The Scorpion Yosemite Jacket is an amazingly versatile jacket. It is a windproof textile jacket for cool days, but fold down the windproof panels on the chest, and back, open the full length arm vents and side torso vents, and you have maximum air flow on hot days. An additional removable zip out Airguard waterproof liner means you can handle wet weather, and the included removable thermal EverHeat liner keeps you warm when it gets cold. All nylon exterior construction, with heavy duty 1680 nylon abrasion zones, lots of pockets, and ample use of NightViz reflective material, make this jacket useful for a wide range of climates and riding applications
Sas-Tec armor at shoulders and new infinitely adjustable elbow pads mean you can set the armor exactly where you want it for a perfect fit. Back pad pocket with PE foam can be upgraded to Sas-Tec Level 2 CE certified back protector for extra protection. This jacket is also compatible with Scorpions' optional kidney belt for additional support and lower back protection
From touring in cold wet climates, to commuting in hot humid places, the Scorpion Yosemite Jacket will handle it all.
Features:
500 denier nylon main body material
1680 denier nylon abrasion zones
Exo-Stitch Safety Seams at critical seams with heavy bar tacking at high stress areas
Heavy duty mesh ventilation areas on chest and entire back panel
Zip-down wind blocking panels, torso vents and full-length arm vents can be adjusted for optimal air flow
Two large cargo pockets on lower front, two chest pockets, one large cargo pocket on rear and one internal waterproof pocket in liner
Adjustment straps at waist, biceps and forearm for perfect fit
CE certified Sas-Tec armor with molded velcro at elbows for adjustability
Sas-Tec CE certified armor at shoulders
PE Foam back pad in back protector pocket can be upgraded to Level 2 Sas-Tec protector (sold separately)
Ample use of NightViz reflective on front and rear of torso, arms and elbows for increased nighttime visibility
YKK exterior urethane zippers coated with Black Oxide sliders
Velcro adjustment tabs at wrists, and YKK Fold Lock zippers for easy on and off
Removable full sleeve AirGuard waterproof / windproof liner
Removable full sleeve EverHeat thermal liner
Compatible with optional Kidney Belt (sold separately)
Comfortable Neoprene collar
Accordion stretch panels at elbows for easy range of motion
8" #5 YKK zipper and elastic panel for connecting jacket to pants
Reviews
Rated

4

out of

5
by
Kstrom
from
Yosemite Jacket (Sand)
Recently purchased the jacket...just before the price bump. I realize the price jump has nothing to do with Canada's Motorcycle...rather the distributor out of the US. Very pleased with the jacket though. The armour in the elbows is definitely hard and I needed to actually switch it out for my old elbow armour (Tourmaster Jacket), which fit into the sleeves...I may look at trying to find some padding to use on the SAS TEC because it definitely is more rigid and offers more protection. The sizing in the jacket is small...so if you are looking to get an Large (based on Scorpion's website) best that you get a XL. I had re-order the first time to get the size right. Some really nice features, and the venting is superb. Wish it had a inner jacket zipped pocket for wallet (at chest level), but the cargo pockets work well, as does the external breast pocket (but it is mesh so it could get wet if the weather turns inclement). The sleeves are a tad long...and I have long arms. The sand color is pretty slick looking. I ordered the Yosemite pants as well...in grey. A close match to the jacket but the pants are lighter in color. Too bad they don't make the pants in sand color to match the jacket (like they do in the Yuma jacket). Oh well, minor gripes. I found the service at Canada's Motorcycle top notch!!
Date published: 2016-06-10
Rated

2

out of

5
by
River
from
So far I'm still dry
I expect alot more from a jacket at this price, the stitching has torn in two places and the overall quality and structure is lacking. The liners bunch up and are a pain to keep in place would have been a very simple thing for them to get right. The armor in the elbow is so stiff its painful to wear, like having planks of wood in your sleeves, simple changes in design would make this an amazing jacket. But the quality does not match the cost. $200 cheaper and I'd have nothing to complain about. Daily commuter on the wet coast
Date published: 2018-11-23
Rated

5

out of

5
by
Damien
from
Perfect
I've used it for a while now and I have absolutely nothing negative to say about this jacket. I love it. It does everything it says. Strong protections all around. I can transform this jacket when cold, rainy or when it's hot. This jacket has a snug fit when wearing the in liners and dosn;t leave a lot of space without them either. I'm skinny and tall. I measure 6 and 1/2 inch, with about 160 lbs. I bought the large and fit real tight. Usually I'm between sizes: medium and large depending on the cut.
Date published: 2018-06-14
Rated

5

out of

5
by
PL1234
from
Love the Jacket
I am very please with this jacket as it is very comfortable and functional. I prefer the Sas-Tec over D3O Armour so this is a big reason why I chose this jacket. My previous gear was also Scorpion and my new gear did not disappoint me. The Jacket is extremely breathable with all vents open.
Date published: 2018-07-05
Rated

4

out of

5
by
GTrob
from
Seems good
I bought this jacket on sale and for the price it's a steal. It's well made. Fits properly. The three layers work well together. It has a crazy amount of venting. The back armour from my Dainese jacket fits well. My only complaints are the pockets. First, there aren't enough on the outer shell. The two lower pockets aren't all that big and they don't have zippers, only Velcro. There are two pockets higher, sort of. They are behind the mesh vents. So not at all water proof and anything you put in there will block the airflow. The rear larger pocket is okay. But again, bang for my buck, it's a bargain.
Date published: 2019-11-25
Rated

4

out of

5
by
flying mango
from
Satisfied
As I am just returning to riding from years of being away it has taken me some time to adjust to the new equipment. I tried on soooo many jackets over a couple of months and found them all so uncomfortable. They felt like a straight jacket. So I really took a flyer on ordering the Scorpion online. First try on was disappointing. So tight I couldn't move. I was told by a couple of people to take some time with the jacket before sending it back. I have, and I'm much happier with it. I still can not wear it with all 3 layers. Way too tight. I can wear it with the outer shell and the rain shield. It has loosened up and now I'm very comfortable with it while riding. I've even opened up the vents because up the unseasonably warm weather on the west coast in March. Very happy with the air flow. I know I'm not a svelte as I used to be but I am 55 5'10" and 225lbs. I ordered an XL so keep that in mind when you order.
Date published: 2019-04-01
Rated

5

out of

5
by
marek
from
AWSOME
I live and ride year round in Squamish. Have you ever rode in the winter in Squamish?......pant and jacket to match.....50mm of rain 24hr / day all day every f****ing winter day......ENOUGH SAID
Date published: 2017-05-07