Sena Prism Tube WiFi Action Camera
Item # : 643087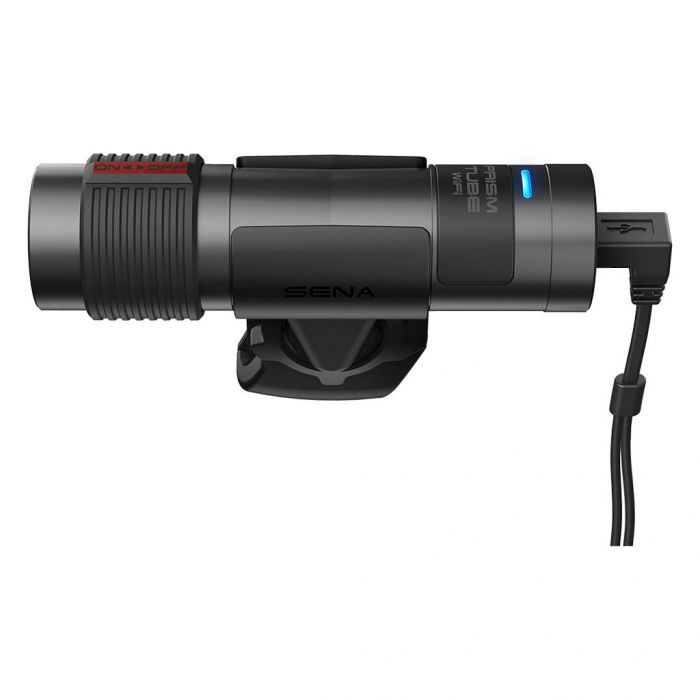 Sena Prism Tube WiFi Action Camera
Item # 643087
Description
Sena Prism Tube WiFi Action Camera
2K high quality, low profile package
Capture your ride with the touch of a button, using the Prism Tube WiFi. Easily capture video in 2K Quad HD quality, 1440p: 30fps. Wind noise reduction ensures that ambient noise doesn't interfere with the audio captured from the dual external and internal microphones for crystal clear voice recording. Users may also hear voice feedback and prompts, which gives users instant device updates.
Shoot at virtually every angle
The Prism Tube Action Camera comes with two mounting options which attach quickly and easily on all types of motorcycle helmets. The Prism Tube boasts a 125° field of view and allows for spherical adjustment, providing 360° lens rotation along with 25° camera tilt to capture an even wider variety of shots.
See what you're shooting
The Sena Camera App allows users to preview their shot on their smartphone in order to ensure perfect camera setup. Easily download content straight to your smartphone with the convenient app for the Prism Tube WiFi.
General
Recording time: 2 hours
Operating temperature: -10°C - 55°C (14°F - 131°F)
Water resistant
Dimensions: 26 mm (diameter) x 99 mm (length), 31 mm (switch diameter) (1.0 in (diameter) x 3.9 in (length), 1.2 in (switch diameter)
Weight: 73 g (2.58 oz)
WiFi
Audio
Internal microphone
External microphone
Wind noise reductions
Optical
Field of view: 125 degrees
3.5 M pixel CMOS
Aperture f/2.0
Video
1440p: 30 fps
1080p: 30/60 fps
Battery
Charging time: 3 hours
1000mAh
Type: Lithium polymer
External memory
MicroSD card (class 10 or higher) up to 64 GB (not included in package)
Certificates
In the box
Prism Tube
Lens Cap
Rear Cap
Rear Cap for USB Cable
Prism Tube USB Cable for Speaker and Microphone
Wired Microphone
Hook and Loop Fastener for Wired Microphone
Speaker
Hook and Loop Fastener for Speaker
Glued Surface Mounting Plate
Tube Swivel Mount Kit
Sena Prism USB Power & Data Cable (Micro USB Type)
Manufacturer Part Number: PT10-10
Reviews
Rated

5

out of

5
by
BigGus
from
Mount system quality.
Got it a few days ago. Image quality is really good and close to exceptionnal at night, compared to the other 3 different cameras I have (none are cheap chinese multibrands). Sound quality with the external mic (inside my fullface) should be a reference, close to no wind noise, external traffic sounds are well picked up and no distortions. The mounting bracket is simple small effective and low footprint. Simple operation, just one control, on or off. The cell phone app is usefull only for settings and positionning changes, quite minimalist and I dont need it after setting things. I found the instructions to be incomplete lacking some interesting details but this kit is so simple you will get around easily. First thing to do when you get it, reflash to the latest firmware, a five minutes job easily done.
Date published: 2019-06-21
Rated

3

out of

5
by
Ilya
from
OK for the price, I guess...
This review is written based on 1 month of usage. The good: - OK-ish picture quality and sound. Did not expect any better from a budget 2K camera. Not a GoPro, but not a cheap Chinese knock off, either. Somewhere in the middle of the range as far as video quality goes. - Aerodynamics is good. - OK battery life in warm conditions while not riding. About 2-3 hours. The bad: - Comes with extremely limited accessories. You get like 2 mounts. That's it. On the good side the tubular shape enables you to get creative and come up with some mounting systems of your own. - Takes some practice to aim the camera. The wifi-feature is helpful, but not as convenient to use. The problem is that the moment you turn the camera off, its network disappears and the phone connects to something else, so to make it to connect to the camera again, you gotta turn on the camera and go through all of the wifi settings on your phone again, which is just a pain in the rear. The ugly: - The slip ring to turn the camera on is extremely tight and difficult to operate with one hand. If helmet mounted, you will likely tear your helmet off your head first before you turn on the camera. You will also for sure cause some misalignment while turning the camera. This really affects the way you record things. You can't just freely turn the camera on and off as you ride. It's more like let's find a good place to pull over, come to a complete stop, turn on the camera, and now let's go do some riding. In the meantime, you missed just about everything you wanted to capture on the road. - In cool riding conditions when the air temp is about 5C and with the wind chill and such, the battery on the exposed camera will last an unpredictable time, anywhere between 15min to 1hr. Forget the -5C (or something) that's written on the package. It's a lie.
Date published: 2019-04-24
Rated

5

out of

5
by
Larry
from
High quality and simple.
Used it to record a ride with my son through Borrego Desert and Joshua Tree park. YouTube Larry Debeck to see how excellent this product is. 30 three minute vids of Borrego Desert , Palm Desert, and Joshua Tree.
Date published: 2019-06-12
Questions
Does this come with a helmet mount?
Yes it does. 2 actually. A rim mount like the Sens headset and an adhesive one to mount anywhere. Good adhesive on it.
Date published: 2019-09-30