HJC CL-17 Solid Helmet
Item # : 172646
$189.99 - $194.99
$122.99 - $148.99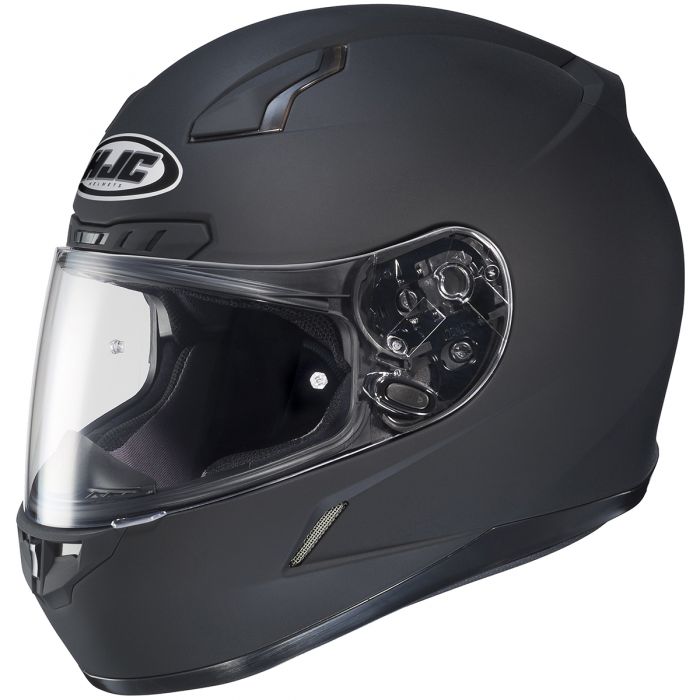 HJC CL-17 Solid Helmet
Item # 172646
Description
HJC CL-17 Solid Helmet
Features:
Advanced Polycarbonate Composite Shell: Lightweight, superior fit and comfort using advanced CAD technology.
'ACS' Advanced Channeling Ventilation System: Full front to back airflow flushes heat and humidity up and out.
RapidFire™ Shield Replacement System: Simple and secure shield ratchet system provides ultra-quick, tool-less removal and installation for efficient operation.
SuperCool® Interior: Moisture-wicking and antibacterial fabric.
Anti-Scratch Pinlock-ready face shield HJ-09 (Item #: 17089) features a 3D design with 95% UV protection. Pinlock lens sold separately.
Side face shield lock mechanism for an ultra-secure seal
Crown and cheek pads are fully removable and washable
Integrated air deflector is included
All CL-17 cheek pad sizes are interchangeable for a custom fit
DOT & SNELL M2015 approved: Sizes 3XL-5XL are DOT Only. Depending on the manufacturing date, this helmet may come with a Snell 2010 sticker instead of a Snell 2015 sticker.
Reviews
Rated

5

out of

5
by
Lived to tell about it
from
Saved my life
Purchased this helmet after reading many reviews, which I found to be quite accurate. Comfy fit, good vision, ventilation, and found wind noise (I never rode without earplugs) to be good. I primarily ride hwy on my sportbike, for 3 - 7 hours at a time the days I rode. While riding on a hwy last month I was t-boned by a car that ran a stop sign. My HJC helmet undoubtedly saved my life. This was my first crash on the street after 27 years of riding. I am uncertain if I will decide to ride again..... but if I do, I would definately replace now smashed helmet with another HJC CL-17.
Date published: 2015-08-03
Rated

5

out of

5
by
Christian
from
A LOT of bang for your buck
This is my 5th helmet. I gave it a 5 stars because, at this price point, it doesn't get any better. The fit is really snug, but true to size. The ventilation is awesome, while the wind noise is really low. Note: this is not a noise cancelling headset; you can still hear our engine. I find that a good thing. The indentation in the cheek pads for eyglasses is a nice touch. I like to wear sunglasses with a clear shield. The visibility is excellent and the pads material very comfy. Yes, the shield only has 3 stopped positions, but I personnally don't need any more. All in all, I find the lid comfortable and performant, be it for leisurly cruises, daily commute or for a ride at higher speeds. By the way: the service from Canadasmotorcycle was great. I'm camping happy.
Date published: 2014-06-02
Rated

5

out of

5
by
Dan German
from
HJC for the win
Just received my CL-17 (sooner than expected) and could not be happier. This is a replacement for a (very) old HJC that I was quite happy with. It is lighter, quieter, and appears to be even better quality. I don't normally give 100% ratings, but I can't think how this helmet could be better at the price. The fit is as stated on the size chart--my hat size is 7 5/8, so I bought the Large (sizing was the same as my old HJC: L=7 1/2 to 7 5/8). It is a bit tight, but when it settles in, it will be perfect. The "cracked open" position on the shield is perfect, and locks into place nicely. I ride in a wet environment (Vancouver Island) so fogging is often an issue. I may try a pinlock insert next winter, but for now the shield stays clear. I will probably buy the chin curtain as well. Considering the low cost of the chin curtain, it could probably have been included, but no biggie. I shopped for a new helmet when I bought my motorcycle last year, but didn't find anything that I liked enough to buy. Went with HJC because of price and past experience (I have owned Shoei and Arai, and loved them, but I don't have that kind of coin these days.) My old HJC was the helmet I stuck with longest (longer than I should have) and I suspect this one will be the same.
Date published: 2016-04-07
Rated

4

out of

5
by
Marvin Miller
from
Excellent Value / DOT / SNELL Approved
Replaced a CL-16 (which was a great helmet) with this new version (CL-17). Both the CL-16 & the CL-17 have consistently been rated as one of the best helmets out there and it's true. Everything works on this helmet. Peripheral vision has been improved since the CL-16. The vents have been improved and work! Sound level is quieter. The one thing I hate about leaving these reviews is how this site edits them thinking they are doing someone a favor - they're not. If they edit this one it will be my last review.
Date published: 2014-05-22
Rated

5

out of

5
by
AliS
from
Comfy and Awesome
I just bought the CL-17 Redline helmet, in Gray/Hi-Viz Yellow. This is my first helmet and I wanted to make sure people see me on the road with it's bright yellow pattern which is really quite beautiful when you pop it out of the box. The helmet fits my intermediate to slightly round head in a medium so it's comfy and not restrictive at all. I am really enjoying wearing this helmet because of the neat venting system by the mouth and at the top of the head. Really great airflow which is one of the things I wanted in a helmet since I sweat a lot during the hotter seasons and I need all the help I can get! I highly recommend this helmet. :)
Date published: 2016-03-23
Rated

5

out of

5
by
SeanL
from
Awesome Helmet
Bought this helmet yesterday, Arrived today with regular shipping. It was inexpensive. Fits Great, Super Light, and an unobstructed view. Buy this helmet!
Date published: 2016-04-07
Rated

5

out of

5
by
nowherebound
from
Great service, quick delivery!
Ordered an HJC helmet. I ordered just before the holidays so I called to see when it would ship. The person I spoke with knew my order from my phone number, had the info at her finger-tips when I called and gave me the info I was looking for. And the delivery was 1 day earlier than I expected. Excellent.
Date published: 2016-02-07
Rated

4

out of

5
by
chelito
from
good value
prone to fogging if you ride under 5 degrees at stops or red lights ,as soon as you ride again clears the visor thanks to the chin air intake, definitely heavier than my Scorpion or my Nolan.
Date published: 2015-05-01
Questions
Are thé helmets DOT?
This helmet is both DOT & SNELL M2015 approved.
Date published: 2018-12-21
Does the CL-17 come with a chin curtain out of the box or do I have to buy one separately? Anything coming with the helmet out of the box?
For the CL-17 the chin curtain is not included. This is something that you can purchase separately. It can be found under our item #173058. The breath deflector (173061) and snow chin curtain (290133) are also sold separately.
Date published: 2018-06-21
What headshape does this helmet fit best? Looking for a long oval helmet.
This helmet is a round oval. You can find long oval full face helmets here: https://fortnine.ca/en/motorcycle-full-face-helmets?helmet_shape[0]=15191
Date published: 2019-11-18
Are all your helmets dot approved ?
Most helmets on our website are DOT compliant, I would suggest reading the description of the helmet, the information will listed.
Date published: 2019-04-03
what year is on the snell sticker?
SNELL M2015 approved: Sizes 3XL-5XL are DOT Only
Date published: 2019-12-05
Hi- looking to retire my HJC CL-MAX modular. My head is pretty round and 61 cm. My old CL-MAX is a Large and fits perfect. Should I go by the chart and get an XL or stick with a large? Thank you.
Looking at the sizing chart I would still suggest to go with a size large, however the newer helmet will be slightly tighter as it won't be as worn in for the padding. If you find that you may have issues working a slightly tighter helmet, the XL might be more suitable.
Date published: 2018-12-21
Can you get electric shild for this one for snowmobileing 
The part number for the electric shield for the HJC CL-17 helmet is HJ-09E. We unfortunately do not carry it, but it can be found easily online.
Date published: 2018-06-21
Does this come with dark smoked visors or just clear?
Clear
Date published: 2017-01-11