This product has been discontinued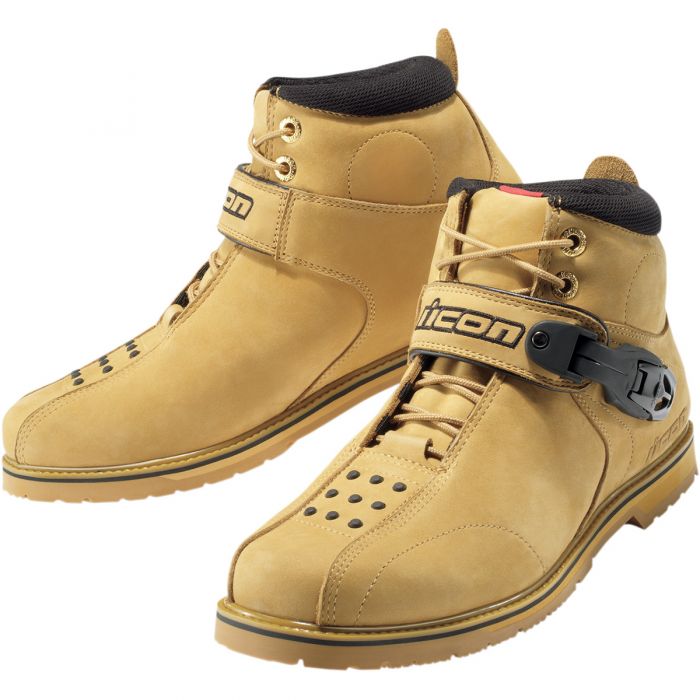 Icon Superduty 4 Boots
Item # 52631
Description
Icon Superduty 4 Boots
The fourth iteration of our industry defining Superduty boot pays direct homage to its SDI patriarch. The visually defining rubber nub interface and clean pattern lines keep the boot's appearance smooth. The new bottom unit provides increased support, durability, and grip while layered foam increases comfort. The mid-foot support strap, with upgraded aluminum buckle, provides increased foot retention. Finally, the reduced toebox height provides a greater range of fitment. The Superduty 4, the next step in motorcycle footwear.
Features:
Durable leather upper
Axial metric steel shank
Slip resistant rubber sole
Footpeg interface arch
Internal ankle protection
Adjustable mid-foot stabilizer strap
Aluminum positive-lock buckle
Low profile lacing system
Shifter interface nubs
Reviews
Rated

5

out of

5
by
Gutzirelli
from
Nice
Great boot all around!
Date published: 2014-03-22
Rated

5

out of

5
by
iron1250
from
Great boot.
Really comfortable. Fit true to size. You'll like them.
Date published: 2013-05-30
Rated

4

out of

5
by
Johnny
from
Excellent Value
Once again Icon has made an excellent product that won't break the bank. These boots aren't marketed as waterproof, and I wouldn't by any means recommend stomping around in mud puddles or dirt biking in these; but I was caught in a good rain a couple weeks ago, after about a 45 min ride in a downpour, my feet stayed dry as a bone. These boots are stylish, comfortable, and well priced. I'm a fan of icon.
Date published: 2015-11-04
Rated

5

out of

5
by
Helthor87
from
Great Boots
I bought these boots in September and have been riding with them ever since. Really comfortable boots. People usually mistake them for Timberland's or Lugs, nice not having to bring a backpack everywhere I go when riding. I can just walk around with these boots and they look great with a pair of blue jeans.
Date published: 2015-10-20
Rated

5

out of

5
by
Stubbs
from
Perfect Fit abd Very Comfortable
Absolutely a perfect fit. An 8.5 is an 8.5 so ordering on-line should not be a concern. I have about 2,500km of riding with these and I am totally satisfied
Date published: 2013-10-09
Rated

3

out of

5
by
FPT1971
from
Not great, but could be worse
I bought these boots in preparation for a motorcycle licensing and safety course. Shipping was prompt, and my shipment was on time. The boots, on the other hand, are okay at best. They look good, but wearing them over the 2 day practical portion of the course resulted in deep abrasions and blisters where the back of the top portion of each boot meets my calves above the ankle. The wounds were so bad that they were still healing over a week later. The inside is very firm, and can be somewhat uncomfortable, but that is easily rectified with an insole. Armor around the ankle consists of what appear to be 1 1/2" metal or plastic discs that cover the ankle bone - not really adequate ankle protection, in my admittedly neophyte opinion. Beyond that, they appear to be reasonably well made, and I expect they'll wear well, as long as the uppers break in well above my ankles. Knowing what I do about them, I would likely not buy these again.
Date published: 2015-10-22
Rated

4

out of

5
by
badbrouss
from
Tres confortable, impermeable mais salissant et l'attache de plastique a tendance a ce detacher tout seul mais tres bonne botte.
Date published: 2017-08-18
Rated

5

out of

5
by
Marcin
from
Great boots
I've been riding with these boots for a couple weeks. Very good riding boots. Comfy. Nicely padded ankle and tough sole. I don't expect to wear these out for many years.
Date published: 2017-08-16
Questions
How much do these boots weigh?
Not sure of exact weight as should check with the manufacturer but they do not feel heavy and I have been very happy with them and would recommend. 
Date published: 2016-09-08