Alpinestars Andes V2 Drystar Jacket
Item # : 544006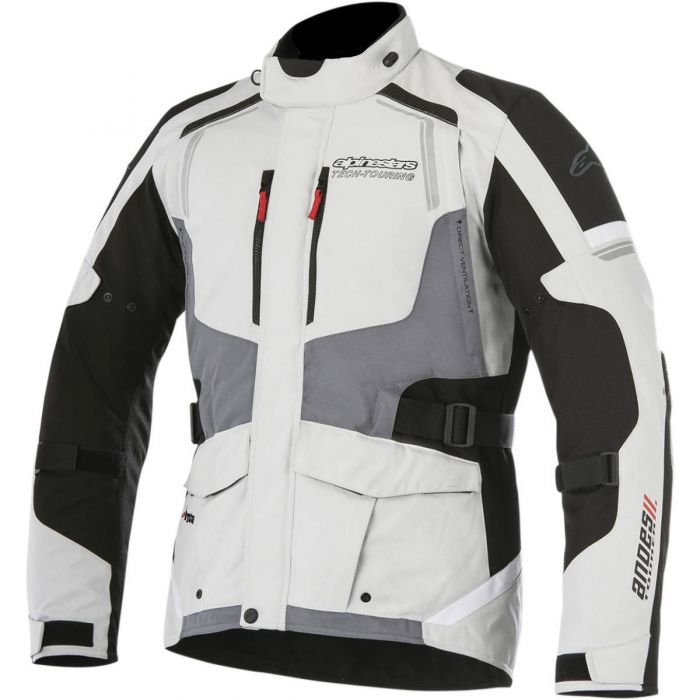 Alpinestars Andes V2 Drystar Jacket
Item # 544006
Description
Alpinestars Andes v2 Drystar Jacket
Standing on the summit of the original Andes, the Alpinestars Andes V2 Drystar Jacket takes multi-season functionality to new heights with vastly improved temperature control.
Where venting was previously somewhat limited, affording only exchange of heat and moisture through the Drystar membrane (and restricting application to the colder 3 seasons), highly efficient direct venting has been incorporated into the version 2 Alpinestars Andes Drystar Jacket, achieving true 4 season adaptability for the adventure and touring rider.
Features:
Advanced reinforced poly-fabric textile and Drystar waterproof and breathable construction
Direct Ventilation System (DVS) zippered chest air intakes and back exhaust ports
Internal impact protection provided by removable CE-certified elbow and shoulder protectors
Chest and back pad pockets with padding (Nucleon chest and back protectors sold separately)
Reinforced polymer-printed texture in critical elbow and lower arm areas for abrasion resistance
Reflective graphic details and logos improve rider visibility in varying light conditions
Upper chest zippered hand pockets feature internal cord which works in tandem with ventilation opening to ensure personalized levels of ventilation
Front waterproof cargo pockets for convenience and peace-of-mind closure
Large external utility pocket on lower back plus waterproof internal pockets and insert wallet pocket
Integrated soft edge collar and 3D mesh construction for comfort over long distances
Pre-contoured sleeves with accordion stretch panels on elbows
Premium YKK zipper with double sliders for main front closure offer adaptable and secure convenience
Removable long-sleeve thermal liner (100g body/80g sleeves) ensures comfort on hot or cold days
VELCRO® brand waist adjustment fastener for highly customizable fit
External zippered pockets for safe peace-of-mind storage
Reviews
Rated

4

out of

5
by
Snod
from
Great jacket - poor zip
Great jacket but the zipper is a real issue. There is definitely something badly wrong with it. It doesn't match and can be very difficult to do up and take off. Needed the jacket so couldn't send back but I'm going to send it back for repair hopefully they replace the jacket. Apart from that it's a very comfortable and indeed waterproof jacket. Spent two days in torrential conditions and remained dry throughout. It is warm though. Even without the vest. I would have given this five stars but the zip is a major flaw.
Date published: 2017-06-24
Rated

4

out of

5
by
Brennan
from
Good Jacket
I bought this jacket back in April and went for the high visibly option. I got it in a size large(probably could have gone to a medium) but I wanted to allow for additional layers as I reside in Canada. I'm 5'11 and the sleeves comes right down the my cuff with no issue. In the summer, I found that the all the air flow vents open on the front and back with thermal lay removed that I was still sweltering most of the time. This is roughly in 25-28 degree temperature(non-freedom units). This could be likely do the having a larger size or material in the jacket. Rain wise, it keeps you dry in rain storms and from the wind. I rode through storms not of my choosing without getting soaked. Cold weather, I've been riding in the mornings in September and October where its roughly 2-4 degree in the morning. With the jackets thermal layer, you can get away with just wearing a t-shirt. It keeps you warm and the wind is sufficiently blocked. The chest and back protections should definitely be upgraded aftermarket. It is a very thin foam. I've not run into any issues that other commentators have had regarding the zippers. The tab on the neck sometimes is a nuisance when moving your neck whilst wearing a backpack. I'm happy with my purchase and think it's great product for its price point.
Date published: 2018-10-26
Rated

3

out of

5
by
jimbo
from
really nice jacket!
customer service excellent. However, the sizing is at least 1 if not 2 sizes smaller than stated. returned to Fort Nine with no questions asked.
Date published: 2019-09-04
Rated

5

out of

5
by
BigZ
from
Fabulous Jacket By Alpinestar
really please with the quality, comfort, and feature
Date published: 2019-06-11
Rated

5

out of

5
by
Greybeardharley
from
!00% Functional
Another great Alpinestars product, this is my second jacket from them and compliments my Drystar pants perfectly. Whether it's rain, sun or cold this jacket does it all. I especially appreciate the slightly longer body length to match my personal long torso. Unlike other jackets cumbersome designs that require clumsy conversions that require 2 or more changes between wet/dry, warm/cold this jacket has a thermo layer you quickly pull on and that's it. Function over fashion always, but this Drystar has a great look as well. Lastly, for the price it has great value and will last for many years if I take care of it!! Highly recommend this product. Glenn
Date published: 2019-06-11
Rated

5

out of

5
by
Thomas
from
Fantastic Apparel
I have worn my Drystar jacket and pants several times now and they are awsome. 0 degrees C and very very windy on a naked bike , I was absolutely comfortable. I would recommend Alpinestars as a great clothing choice.
Date published: 2019-04-21
Rated

5

out of

5
by
BumbleBee
from
Great jacket! Recommended
Solid feel, good protection, and NO problems with zippers. Fits well and I like the removable liner. Keeps me warm during cold days.
Date published: 2019-03-25
Rated

3

out of

5
by
PT_514
from
Beautiful jacket, but...
I bought this jacket in the camo color scheme to replace my tired Rev'it Scirocco. I'm 6'0'' and 190 lbs and the large fits well. It's a great looking jacket with interesting features, but unforunately I ended up returning it. The apparent quality of the outer shell fabric and the main zipper was a little disappointing. I ended up ordering a Firstgear Kilimanjaro 37.5, and although about 120$ or so more expensive, the apparent quality is significantly better, more reminiscent of Rev'it products. It's not much of a review, since I have not actually tested the Andes V2, but I thought I would still give feedback of my initial impressions of this jacket.
Date published: 2018-09-24
Questions
What's the recommended back protection for this product? Thank you
There is no specific back protection recommended for this jacket. You can select any armor that fits the pockets of the jacket. If you measure the armor pockets, you can select armor that will fit. You can choose between CE level 1 and CE level 2 armor
Date published: 2019-10-11
Does this jacket come in standard Canadian sizes, or is it sized in Asian sizes that run 4 to 5 sizes smaller?
I was told they fit one size small. The chart said I would be in the middle of a large and an extra large. I ordered an extra large and the fit was perfect.
Date published: 2018-04-23