Alpinestars Supertech S-M10 Alloy Helmet
Item # : 686193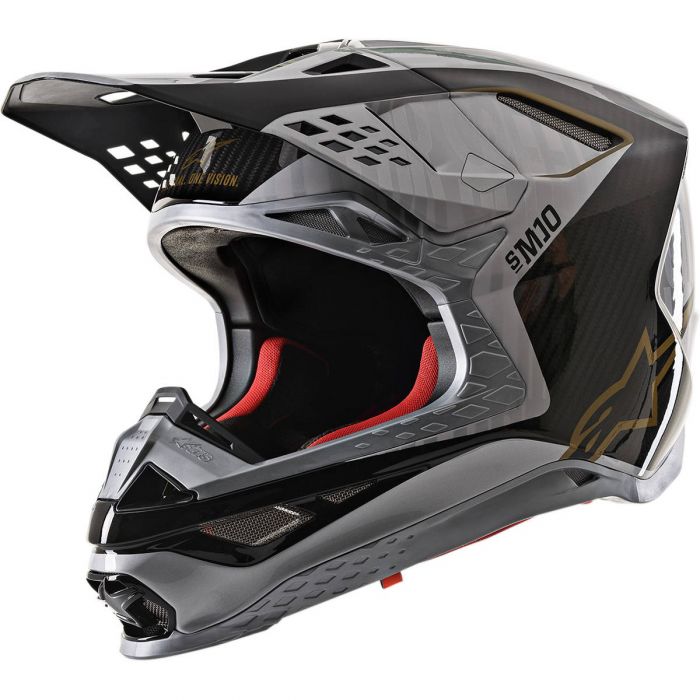 Alpinestars Supertech S-M10 Alloy Helmet
Item # 686193
Description
Alpinestars Supertech M10 Alloy Helmet
The result of over five years of intensive study, development and testing; Alpinestars Supertech M10 motocross helmet made its race debut at the Anaheim Supercross, in January 2018.
At the outset of the MX helmet project, Alpinestars product philosophy was applied and a set of specific objectives set: Create the most advanced, protective and performance enhancing helmet possible. Primary objective: protection – to create the most high-performance protection possible. Secondary objective: to give excellent ventilation, comfort and reduced weight.
Alpinestars approach to the creation of the advanced technology in the Supertech M10 draws on its depth of experience from over half a decade of world class innovation across the spectrum of motorsports and especially, its deep-rooted commitment to motocross. As with all other categories of technology that Alpinestars has mastered, bringing a new, highly complex, product to fruition requires specialist experience and know-how and a project plan led by the best brains in protection development.
Hence Alpinestars Helmet Development Department was created and given the brief to research and develop the most protective, most comfortable and lightest possible motocross helmet.The goal was to allow riders to push the limits of performance, benefiting from confidence inspiring safety technology, reduced weight distribution to minimize muscular effort in the neck, shoulders and back and improved physiological and cognitive performance with a supremely well-fitting and well-ventilated construction, optimizing comfort while riding.
The design is coherent to Alpinestars philosophy and shares distinctive themes with other products in the portfolio; a smooth, attractive, profile which is streamlined and free of any external channels and features that might act as a load point in an impact, or compromise the overall integrity of the construction. The surface curvature promotes reduced friction on impact, allowing deflection and the most efficient transfer of energy to protect the rider's head from direct force to the skull and referred to the neck and spinal column.The aperture is designed to accommodate a wide variety of goggles and the air vents in the shell are located to maximize ventilation efficiency.
The M10 shell has been profiled with performance as a priority and with a design style that identifies the profile of the helmet and its sculpted surface as uniquely 'Alpinestars'.
Another key feature is the M10 shell sizing solution; each helmet fit size has its own appropriate shell size to deliver the most anatomical solution for the wide variety of fit needs worldwide.
Features:
Lightweight outer shell constructed from carbon fiber
Multiple density inner liner
Fitted with E-2 MIPS
Easy release peak
2 peaks included, one regular and one super high
A-Head adjustable top pad height
Maximum ventilation with 19 intake and 5 exhaust ports
Side shell shape coupled with soft EPP foam to prevent damage to collarbone in case of crash
Removable, emergency release cheek pads with 3D contoured foam
Removable anti-bacterial and hydrophobic comfort liner
Hydration prepared
E-Ject prepared
DOT and ECE approved
Questions
Is helmet compatible with neck protector (neck brace system)?
Yes, this helmet can be worn with a neck brace.
Date published: 2018-09-24