Michelin AC10 Dual Sport Front Tire
Item # : 64625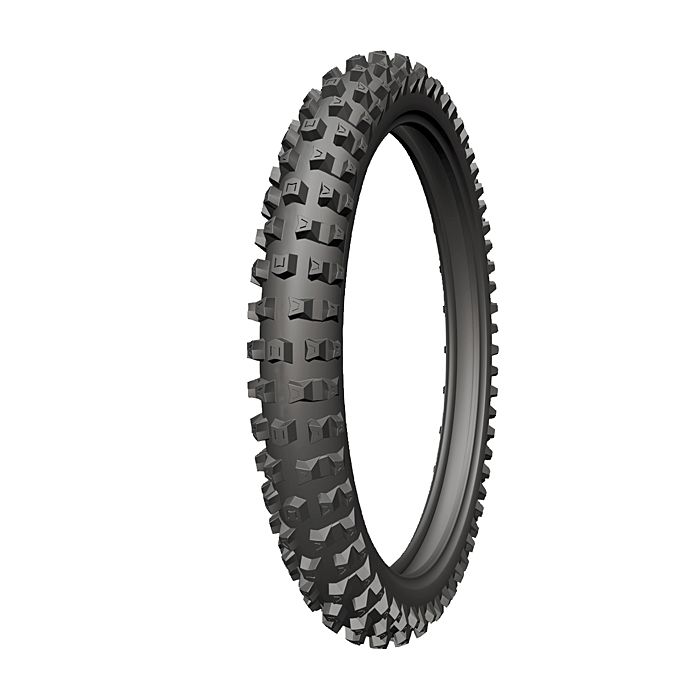 Michelin AC10 Dual Sport Front Tire
Item # 64625
Description
Michelin AC 10 Enduro-MX Front Tire
Click here to see the differences between the various Michelin Off-Road Tires.
MICHELIN Off-Road Tires Positioning Chart
10% on-road, 90% off-road
Reversible tread pattern with a tread wear indicator that clearly shows when to reverse the tire on the trim: when the "M" disappears the tire can be turned around
Mirror-image knobs provide equal traction in both directions
Excellent traction on any terrain thanks to optimized knob alignment
Good grip on asphalt; DOT approved for street use
Specially formulated rubber mix promotes impressive durability that resists tearing and chunking even under hard use
M Speed rating for maximum of 80 mph (130 kph) on the highway
Reviews
Rated

4

out of

5
by
DonPron
from
Very agressive tire!
Even though its DOT approved, this tire really looks like a motocross tire and respond like one.The only problem is that it wears out too fast, in less than 1000Km.
Date published: 2013-10-09
Rated

4

out of

5
by
B
from
Good DOT tire.
Good traction off road. Predictable on the pavement. All round good tire for more off road oriented dual sport bikes.
Date published: 2012-10-20
Rated

4

out of

5
by
Anonymous
from
Highly recommanded
Highly recommended for serious dual-sport riders. It sticks to the trail and pretty good in corners too. Maybe a bit too narrow for high speed stabilty. Very good compound and easy to install.
Date published: 2013-10-09
Rated

5

out of

5
by
Brad
from
Awesome tire!
hands down best tire I've purchased. It's fine at highway speeds and is absolutely unreal off-road.
Date published: 2017-08-09
Rated

4

out of

5
by
Sparrow
from
Great predictable tire
Very predictable response , seemed to wear fast on my 450 but in the tires defense it really did take a lot of abuse. After about 50% tread the tire really started to give up .
Date published: 2017-06-25
Rated

5

out of

5
by
Louissam798
from
Very good tire !!
I bought this tire one month ago and I love it. It's perfect for my CRF 230F
Date published: 2015-08-08
Rated

5

out of

5
by
TC
from
I will be buying this again
Awesome Tire, My first one, Have only put 140km on it so far and it's showing a little bit of wear on the middle of the main "M" on the center knob. My buddy has had 2 and he gets over 5000km on them. Best tire for offroad; able to get through pretty much anything. I will be buying another. Smoother road ride than I would of thought.
Date published: 2014-05-30
Rated

1

out of

5
by
Rubeinstein
from
Terrible
I just installed on my 530exc. I have not fallen off my bike in ten years and in one day I have three times. At anything above 40 mph it's so scary ( pavement dirt sand ) I have never taken off a tire before it was worn out but I did after one day with this ac10.
Date published: 2016-08-02