Michelin Power RS Rear Tire
Item # : 538305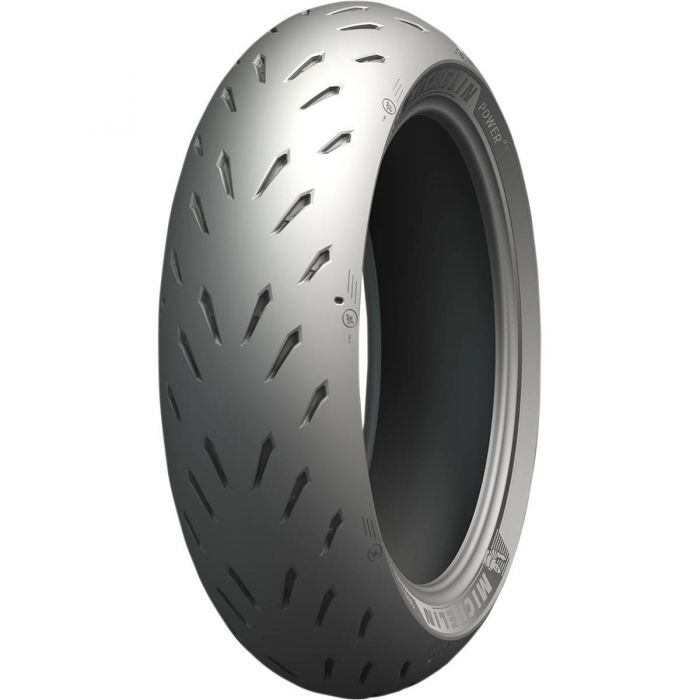 Michelin Power RS Rear Tire
Item # 538305
Description
Michelin Power RS Rear Tire
The MICHELIN® Power RS, first introduced at the MICHELIN® Australian Motorcycle Grand Prix, combines revolutionary levels of dry-weather grip, agility, stability and superior handling performance. MICHELIN Power RS stands out as the sport motorcycle road tire market's new benchmark and accordingly targets the most discerning riders.
The tire's high level of performance comes from a combination of Michelin's longstanding expertise, its experience of top-flight racing and its demonstrated history of innovation.
The combination of new rubber compounds, some of which are derived from racing, and a new casing design, has resulted in incomparable grip on dry roads and a unique experience for the rider.
The innovative rear tire features a patented construction which benefits from all new MICHELIN Adaptive Casing Technology (ACT+) for impeccable straight-line and cornering stability.
Comparison Chart
Model
Conti Sport Attack Hypersport
Bridgestone Battlax Hypersport S22
Michelin Power RS
Dunlop Sportmax Q4
Pirelli Diablo Supercorsa SP V3
Affordability
Most Affordable
Affordable
Affordable
Less Affordable
Least Affordable
Construction

Zero degree steel-belted for extra stability at high speeds

Rear tri-compound
Front bi-compound

Dual Compound Technology for both front & rear tires
Carbon black, wound strip, carbon fiber reinforcement

Front mono-compound
Rear bi-compound

Size Count
3 Front, 5 Rear
2 Front, 6 Rear
3 Front, 9 Rear
1 Front, 5 Rear
1 Front, 5 Rear
Rim Sizes
16, 17
17
17
17
17
DOT
Notable Features
Great option for aggressive on-road riding and weekend track days
Fantastic option for street riding, long life, also performs well on track
Excellent water dispersion, versatile track & road sport tire
Lean angles up to 62 degrees, exceptional track performance
Racetrack performance while being a street legal tire, improved mileage
Speed Rating
W
W
W
W
W
Warranty
10 yrs from DOT , 1/32" void
4 yrs from DOT, 1/32" void
4 yrs from DOT, 1/32" void
4 yrs from DOT, 1/32" void
Lifetime, 1/32" tread void
Reviews
Rated

5

out of

5
by
Autowyze Services
from
Didnt get 2kms, and had me saying wow!!
2 turns away from the shop had me in awe. They tip in great, and they want to stay there, cornering is almost effortless. Corners I took at speed and had to work through it, Im not at a comfortable position and faster. As well no where near the edge of the tire like I was on other tires, and cornering harder. Previous Power 1 and Power 3 I was 10,000kms so we will see what these get me. Even at half the life I would buy again. Traction is great I have zero concerns, totally confident in the tire from the first turn. Michelin never lets me down.
Date published: 2018-06-09
Rated

5

out of

5
by
no nickname
from
Grippy
I did a track day as soon as the tire was installed. Great turn in response. Excellent grip. I have since put 4500 km on these RS tires on the street and there is lots of tread left. Will buy again.
Date published: 2017-08-21
Rated

5

out of

5
by
Rotaru
from
Great grip on the mountain roads of baker, warm up quickly deal well with temperature changes.
Date published: 2019-08-27
Rated

5

out of

5
by
Chokaholic
from
Amazing Tire!
I bought my bike last year and it had the older model of the power RS on the back wheel. I liked it so I replaced it with another one. This tire has come a long way since the previous generations of this tire. I can't believe how great this tire feels and sticks to the road. Also, it warms up unbelievably fast! Quick shipping and great pricing from Fortnine, as always!
Date published: 2019-06-30
Rated

5

out of

5
by
TedD
from
Nice Tire
Bike: BMW K1300S Neutral Tire. Great for all around aggressive riding. Best I have tried so far.
Date published: 2019-06-08
Rated

5

out of

5
by
jackie27
from
Amazing Track Tire
I ran these tires wet and dry on the track and wow.
Date published: 2019-06-05
Rated

5

out of

5
by
Stefan
from
Very nice, impressed with the grip
Bought them at the end of the season, I was worried about breaking them in the cold as traction would suffer greatly. I was actually so impressed with their performance in the cold and wet, I'm starting to doubt they can last as long as advertised ! Would definitely recommend these tires !
Date published: 2018-11-20
Rated

5

out of

5
by
Kelly
from
Awesome
Super fast delivery time and great tire for the bike
Date published: 2018-06-12