Michelin Pilot Road 2 Rear Tire
Item # : 26417
$239.99 - $354.99
$176.99 - $239.99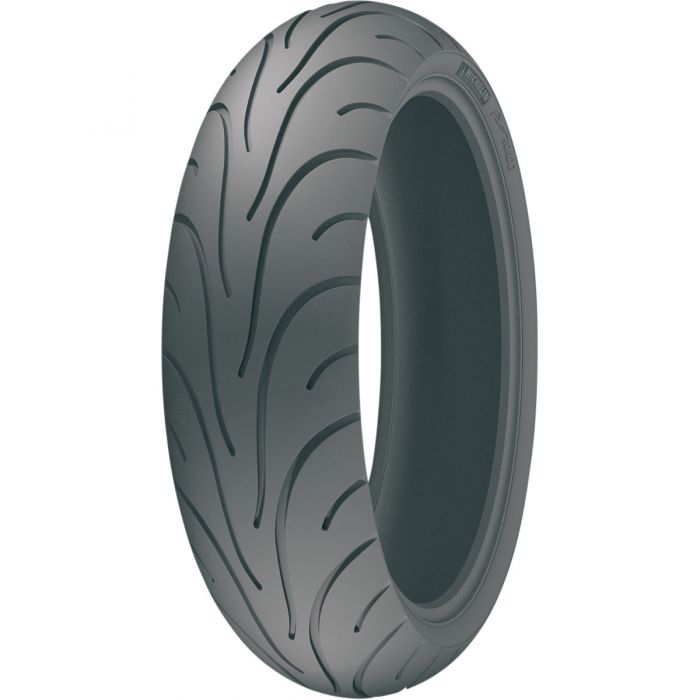 Michelin Pilot Road 2 Rear Tire
Item # 26417
Description
Michelin Pilot Road 2 Rear Tire
Click here to see the differences between the various Michelin Road Tires.
MICHELIN Road Tires Positioning Chart
MICHELIN Pilot Road 2 Cross-Section
Until now, you had to make a choice: the grip of a softer tire or the durability of a harder tire? But thanks to Michelin 2CT dual-compound technology, the new Pilot Road 2 tire offers both grip and durability in one tire. By integrating a soft rubber compound on the tread shoulders with a wear-resistant compound down the middle, Michelin gives you the best of both worlds. The Pilot Road 2 tire is like two tires in one.
Best wet grip of any comparable sport touring tire*
Longest mileage of any comparable sport touring tire*
Rider confidence in challenging conditions
11 sizes covering 94% of all sport touring radial fitments
The only dual-compound tire in the sport touring segment
Innovative front and rear tread designs
An extension of the Pilot Road line, not a replacement
Reviews
Rated

5

out of

5
by
Roadieyo
from
Pilot Road 2
I have been riding on Pilot Road 2s for about 5-6 years and I'll stick with them as long as they're available. They grip well on dry or wet pavement and I find them very quiet.
Date published: 2015-08-09
Rated

5

out of

5
by
johnnyg
from
Excellent tire for my connie.
20,000 km I think is great mileage for a rear tire. Good handling and confidence.
Date published: 2016-08-13
Rated

5

out of

5
by
113rtti
from
Incredible Sport Tour Tire
I just installed this tire as a replacement for the previous Michelin Pilot Road II, which I had on the front of my FJR1300. That tire had 17000km on it, with perfectly even wear, and no balance issues throughout it's lifespan. It was used in subzero, 30 deg, dry, and torrential downpours. Traction is unbelievable. To get this kind of mileage from a fast, stick z rated tire is amazing.
Date published: 2018-02-19
Rated

5

out of

5
by
Diderot
from
Too early to tell.
I bought these tires because they are rated as being the highest mileage tires on the market. I also use Michelin tires on my car and bicycles. I have been very impressed by the quality. The tires on my bicycle run true. As they rotate the centre bead on the front doesn't wave left/right. I have never had this happen with other bicycle tires. I have read Michelin uses CAD/Cam to produce tires of unprecedented dimensional tolerance. This seems to be true from my observations.
Date published: 2016-09-12
Rated

5

out of

5
by
Rorrr
from
fz1 Yamaha 2001 132 hp very good tire in wet and cold. my last tire lasted 19,000k
Date published: 2015-08-08
Rated

4

out of

5
by
npottage
from
great service
I ride from march to november and this is the second set of these tires i have installed. approx 40000 k per year in all weather including snow on occasion. these tires have excellent durability, awesome wet weather grip and superb cornering
Date published: 2013-10-10
Rated

5

out of

5
by
Mudslinger32
from
Pilot Road 2
Great set of tires. Super fast shipping. Awesome pricing.
Date published: 2016-08-23
Rated

5

out of

5
by
Skibow
from
Great quality
Delivery was prompt and the tracking was great to monitor progress. Great service
Date published: 2015-10-18
Questions
peut on poser un pneus michelin pilot road 2 en avant et un pilot road 3 a l'arriere sur un concours 14 2008
De façon général, les pneus ne devraient jamais être mixé sauf si il est spécifier de le faire par le manufacturier du véhicule. Il est important d'éviter de mixer des pneus avec une bande de roulement, une construction intérieure ou une grandeur différente des pneus d'origine. Ceci étant dit, il y a plusieurs personnes qui mélangent leurs modèles de pneu sans problème. Pour éviter toute complication, il est conseillé de contacter votre mécanique ou le manufacturier de votre moto.
Date published: 2017-06-14